The wait is over. An exclusive to Bellari Home - available now for pre-order in three stunning silhouettes. Inspired by the multifaceted concept of strength, as seen in the resilience to overcome adversity, the ability to learn from life's challenges, and the power to appreciate the beauty that surrounds us.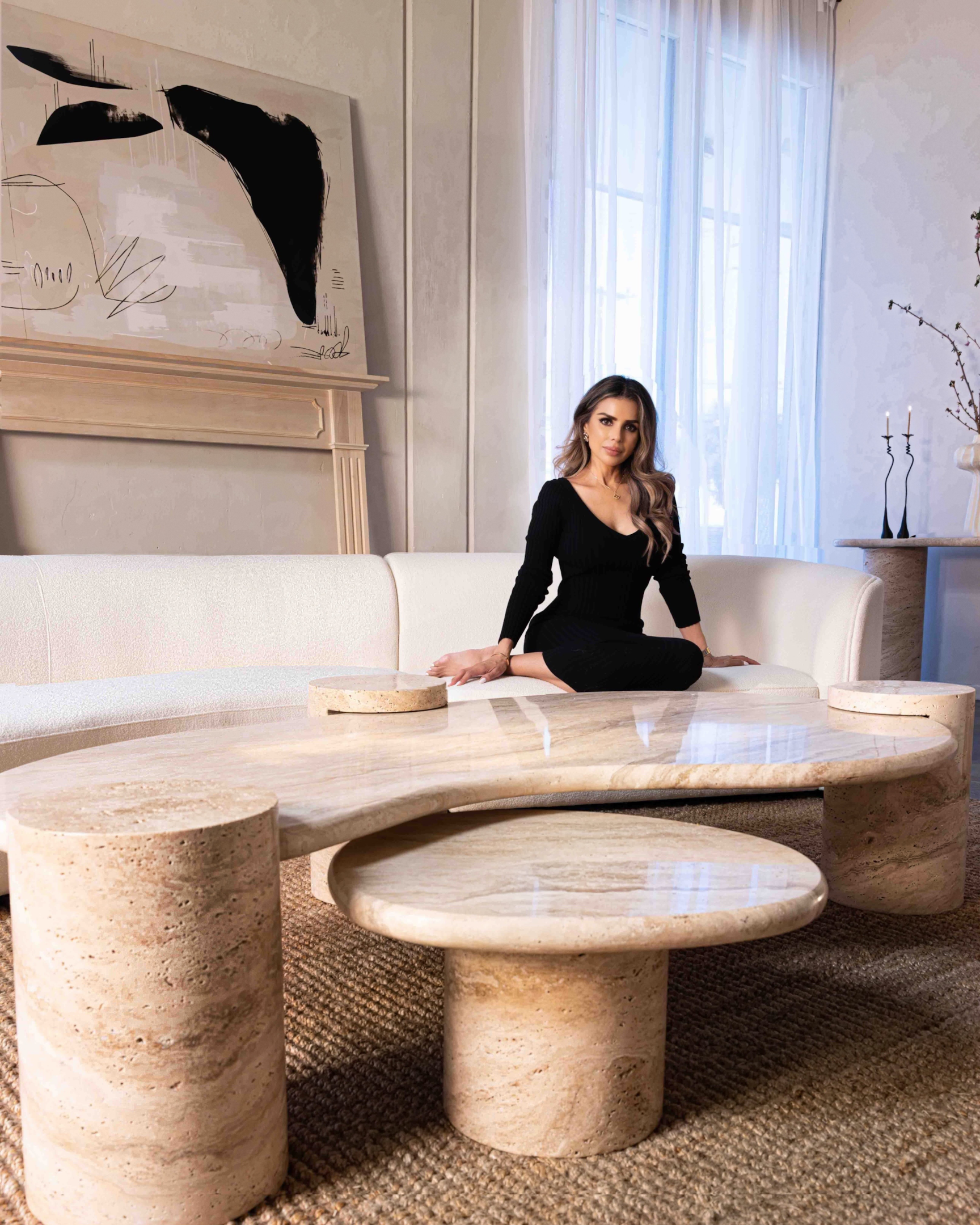 "We are here to elevate homes with conversation-starter pieces to make homeowners feel proud about their space," says founder, Maria Zare. "The natural beauty of travertine stone makes these tables stand out, and we are confident that they will be a popular addition to our product lineup."
Behind the collection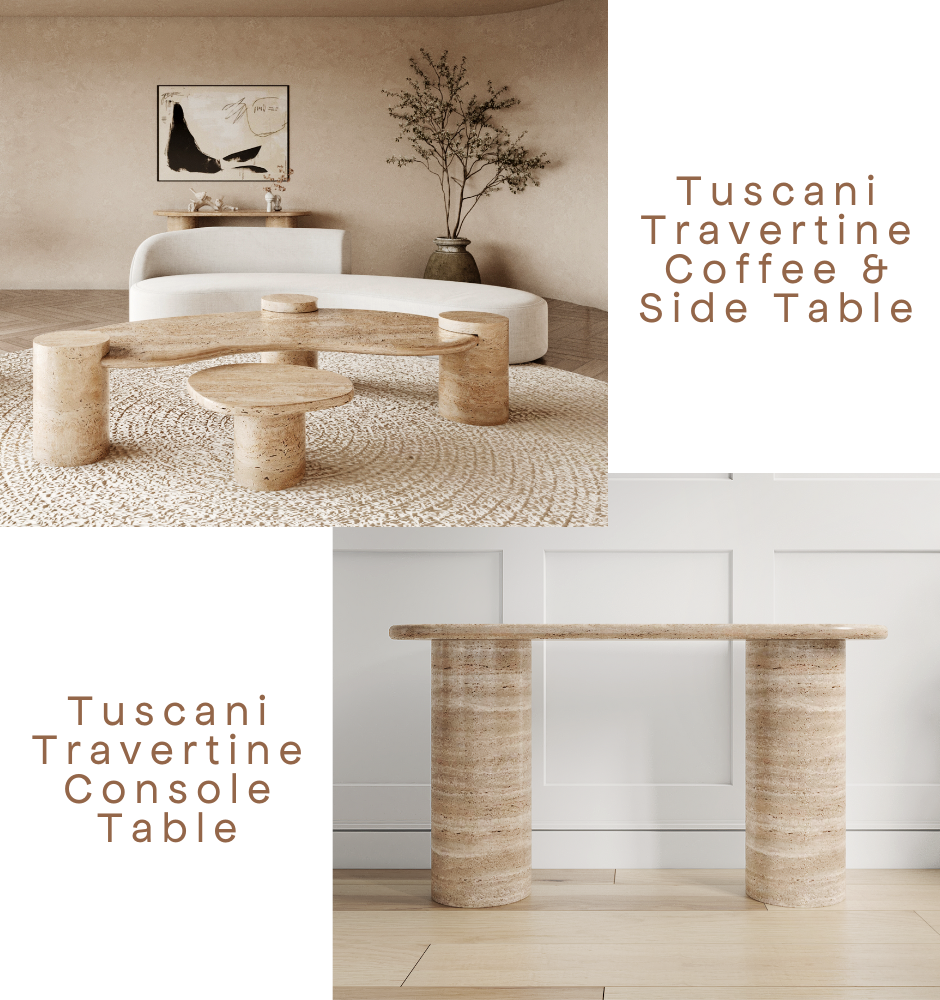 Strength is found in many forms - from the inspiring surroundings we allow within our lives to our daily abilities to evolve as individuals from our challenges and educating moments. Strength, however, is not a linear journey, and is found in both our darkest and lightest days, whether noticed or unrecognized. It is an unwavering moment that grounds and carries us through our path of transformation, ultimately reminding us of what it took to get there in the first place. 
Growing up, Maria was inspired by her father's innate passion for finding the beauty within every vintage artifact he collected. Each piece had a story and he always recognized this, as he contemplated the intricate details and craftsmanship that went into making their unique forms. She often thinks back to the times she accompanied him to source these storytelling objects, leaving her in awe of his intrinsic love for design and history. His passion further transpired into eventually opening a vintage shop of his own in Mexico and a 10-year long journey of building a home entirely from the ground up. She recalls the warm, rustic palettes that went into the design of the home and the vintage and intentional pieces that filled his space - memories she will always hold close.
When he passed away in 2020 from Covid, Maria inherited that same feeling she was able to witness her father experience. The fire he had lit inside her was one she knew she could not let burn out and the strength she accumulated from recalling her father's passion was one that transcended into her own story. 
Today, we proudly introduce the launch of our Tuscani Travertine Collection, the outcome of the strength that is curated through hard work, dedication and the ability to persevere even when life gets heavy. Through the power of artistry, late nights, and trial and error, this collection represents the beauty found within imperfection and the appreciation of the natural elements we are often surrounded by. 
With this collection, we hope to show you that greatness, strength and durability is not only encapsulated within grand home decor, but within the timeless memories created when encompassed by inspiring handmade objects.
WHY TRAVERTINE?

 Travertine is a type of natural limestone formed by mineral deposits typically found within hot springs. It is formed through a process of rapid precipitation of calcium carbonate, generally located at the entrance of a hot spring or within limestone caves. The common features of travertine contains a rusty-brown, beige and tan hue with a fibrous or porous appearance and a trusted sturdiness that can withstand many conditions, the main contributors as to why travertine is well sought after. As a natural stone, travertine holds a unique demeanor which is comparable to that of marble, however unlike marble, travertine tends to contain a weathered, antique finish that is unlike any other material it is typically categorized with, like granite or terrazzo.
Bellari Home is known for an effortless demeanor within all of our decor staples, creating a space that is welcoming, warm and impactful - all characteristics that are found in natural travertine. Designing a travertine furniture collection, containing the decor essentials, was important to us as we wanted to provide not only style to your home, but decor that will last a lifetime. Travertine is known to be water and moisture resistant, easy to maintain, and gracefully ages with wear-and-tear without appearing dull and overused.
Considering this aspect, we were further drawn to the neutral palettes that are offered by travertine stone, making for versatile options that can be utilized in nearly any home settings. We aimed to create a set of pieces that will resonate with anyone, whether that be for practicality or beauty.
DETAILS & DESIGN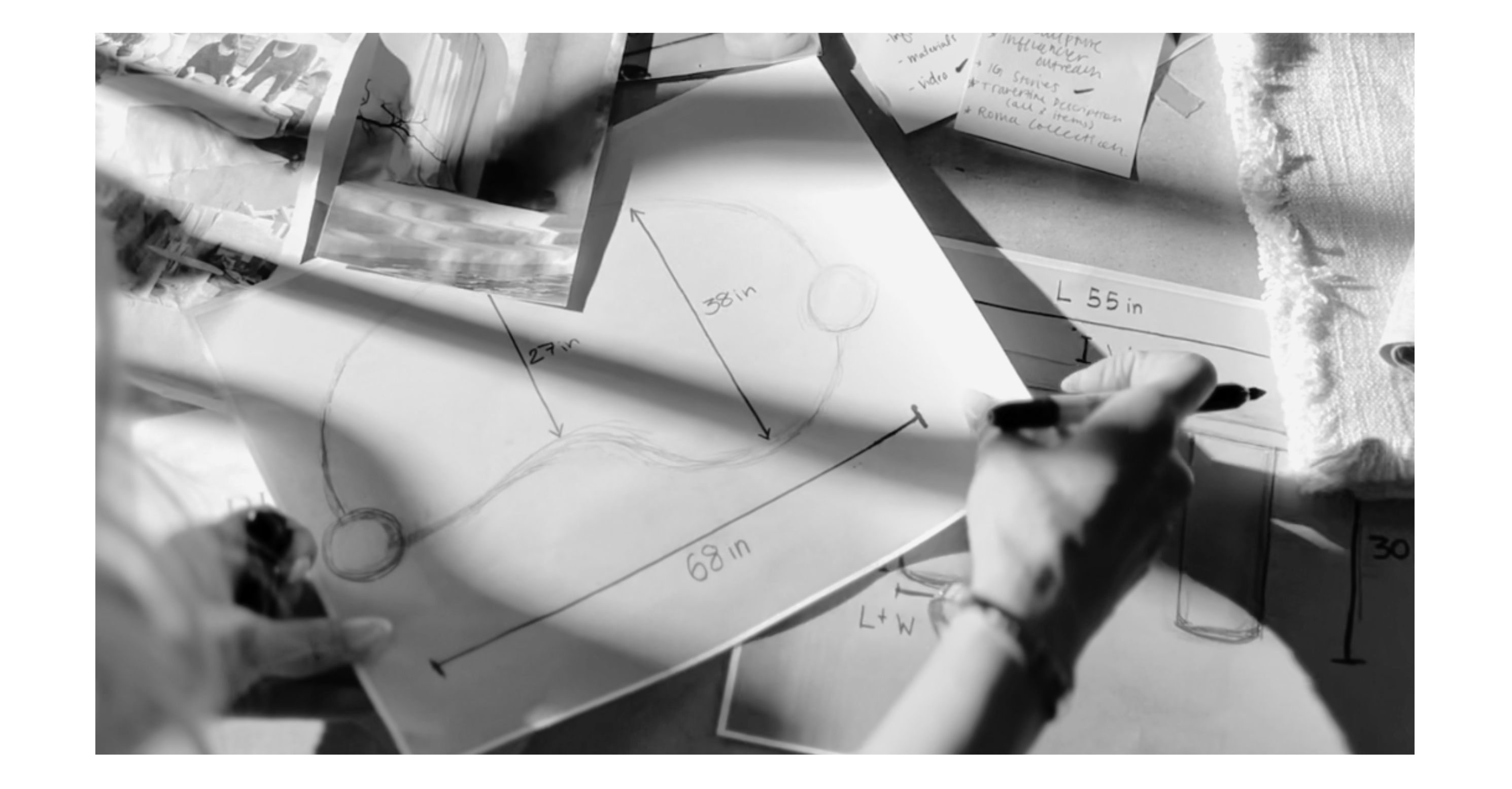 Blending form, function, and aesthetic, the Tuscani Travertine Collection, exclusively designed by Bellari Home, features a coffee, side, and console table, crafted with high-quality travertine from Italy. The beautiful marble-like patterning, warm earth tones, and stunning swirls of creamy hues of the travertine stone create a striking visual appeal that draws attention and adds an air of sophistication to any living space. Within this collection, you'll see eye-catching, irregular silhouettes drawn specifically from the inspiration of the commonalities between strength, beauty and organic elements.
When choosing this design, we have kept in mind the functionality of travertine, as well as the aesthetic aspect it will provide for your home. We gravitated towards the rich, neutral colors found naturally within travertine stone and the porous appearance that is long-lasting and carries the ability to inherently enhance your home. This travertine table collection is not only visually stunning but also reflects exceptional durability built to stand the test of time in all facets of life.
We strongly believe that furniture items should be the catalyst to building connections and creating memories in the comfort of your own home. Through this mindset, we were able to properly conceptualize which key pieces of furniture to include into our collection that would start conversations, as well as adequately support them. In virtue of our own experiences, we concluded that shared moments often occur within the living room, especially sat aside a coffee table. Thus, we came up with a design plan that included the three living room essentials - the coffee table, the side table and the console table.
Each piece is crafted to feature a form that is unique in its own way, simultaneously embracing curvaceous edges with sturdy pedestals upholding the tabletops. Inspired by the trends of the 70's and other various vintage aesthetics, our contemporary designs feature soft curves and rounded shapes, that stray away from the block-like feeling of harsh lines and sharp edges. Not only does curved furniture allow for movement within the home, but it carries the effect of making a home appear more spacious, airy, and soft.
Within every stage of our process, from concept to sketch to design, all of our choices have been guided by providing the highest-quality and easily adaptable furniture collection that will bring warmth and depth into your home, and contribute to the endless possibilities of finding beauty and inspiration within your everyday environment.
Tuscani Travertine Coffee Table
With a unique design, this striking travertine coffee table features a kidney shaped top secured by a set of three, large cylinders making for an eye-catching appearance that evolves the look of any room. Formed with a curved construction, this coffee table will bring more than aesthetic to your home, but is practical in purpose.
SIZE: 68"L x 38"W x 17"H (560 lbs)
Tuscani TRAVERTINE Side Table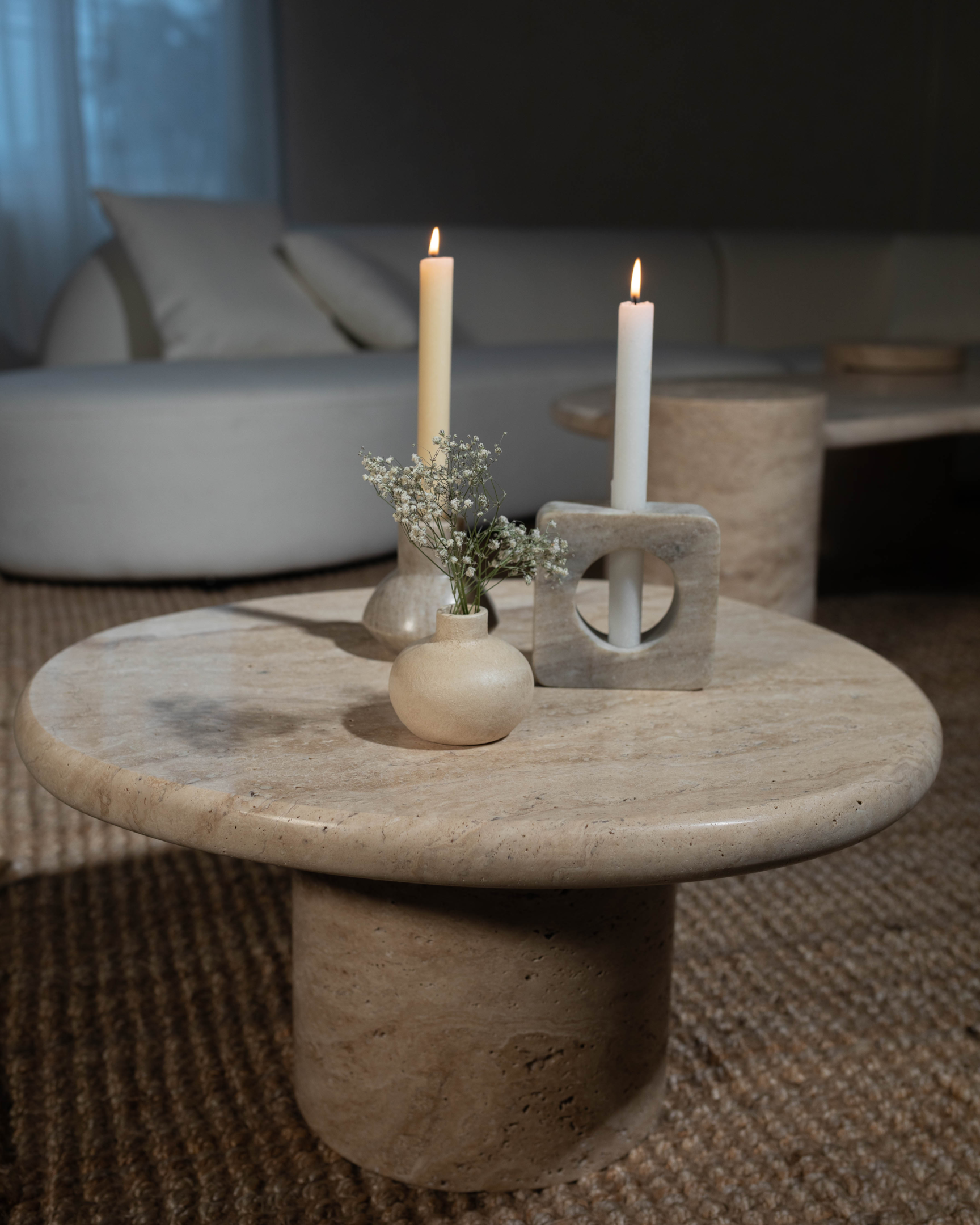 The side table, featuring a raw edge and imperfect round shape, adds both interest and intrigue. The rounded top is secured by a solid block of travertine pedestal making it striking aesthetically, while maintaining durability.
SIZE: Overall 24"L x 21"W x 13.50"H (156 lbs)
Tuscani TRAVERTINE CoNSOLE Table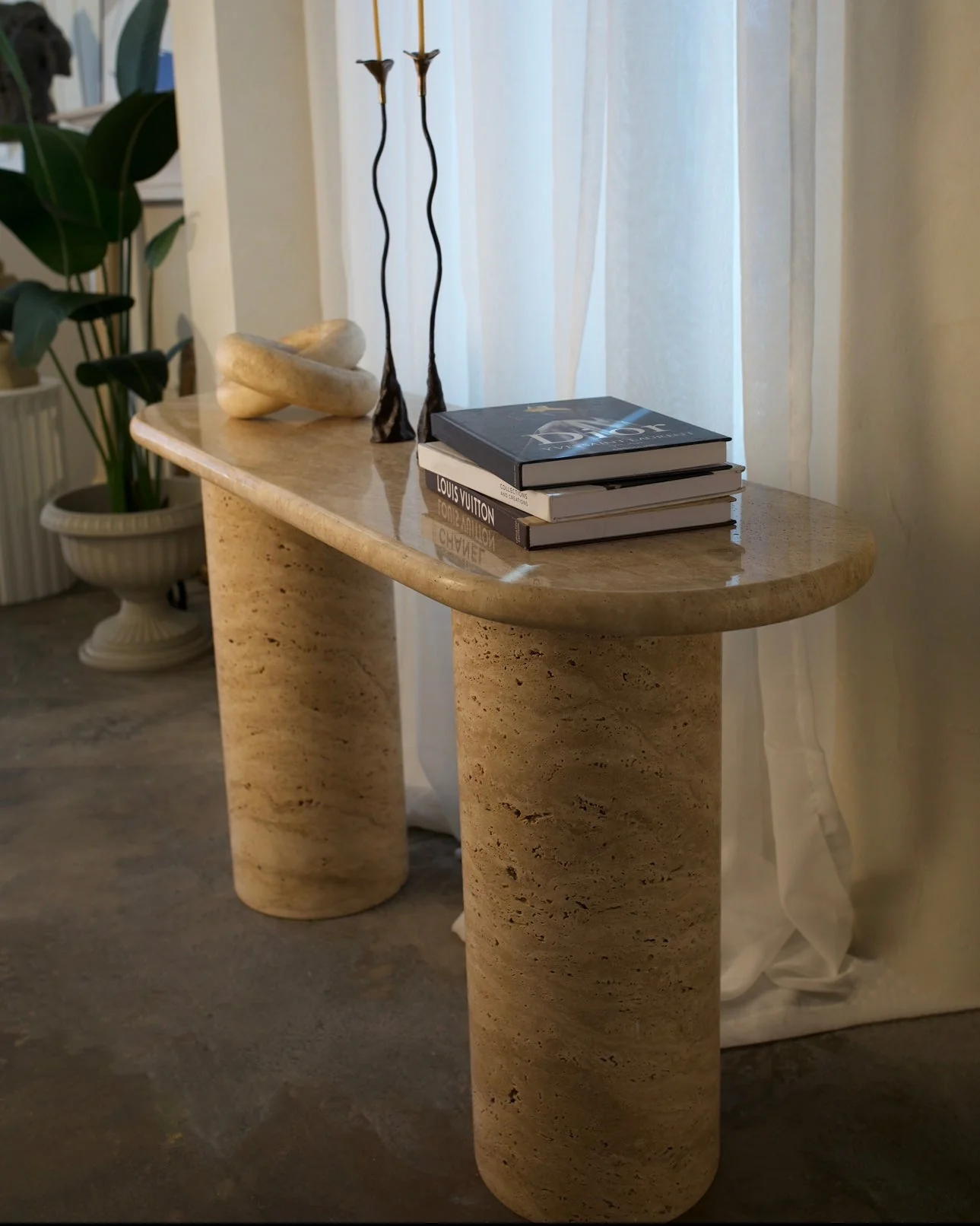 The console table features an elongated oval table top secured by two solid blocks of porous travertine pedestals making it beautifully striking and durable. Whether showcased in your living room or placed in your entry way, the console table will add shapely design to your home.
SIZE: Overall 55"L x 17"W x 30"H (443 lbs)
A THANKS TO YOU
As we unveil our new collection, we'd like to take the time to reflect on our community whose support has allowed us this opportunity to provide you with our timeless creations, custom designed and specially made by Bellari Home for you. We are humbled and grateful for your trust in our ability to provide you with high-quality decor to welcome and display in your abode.
From concept to design, the Tuscani Travertine Collection was derived from the idea that the essentials of home decor are more than what meets the eye, allowing for unforgettable moments to be discovered within your day-to-day life. With this beautiful collection of furniture, we offer you timeless elegance for everyday use, inspiring the infinite possibilities of finding beauty and strength within your surroundings.
This collection is centered around our ability to work through life's challenges, and is a testament to the strength found in our lives when we overcome tremendous obstacles, especially when we come together. With this at the forefront, we hope you are able to create your perfect home, made with enduring pieces that are representative of who you are and what you value. After all, our homes are an extension of ourselves.
Visit our website to learn more about the Tuscani Travertine Collection, and pre-order yours today!