The shift from summer to fall is one that enlightens us to be inspired by the charm of our surrounding beauty. We gaze upon the transformation of the leaves, the refreshing chill in the air, and the snug feeling of autumn, all that allows us to find solace in the comfort of home.
As we contemplate the arrival of fall, we find ourselves reflecting upon the familiar symbols of the season - warm hues and common fall colors, pumpkin-filled homes, and the rich scents of cinnamon, apple pie and pumpkin spice.
Fall decorating provides us with the chance to immerse ourselves into a cozy and inviting atmosphere, welcoming an ambiance that evokes contemplation about the significance of change, in our lives and in our surroundings.
As we discuss the ways in which to add autumnal touches to your home, we hope the return of the fall season will exude warmth into your spaces, allowing your creative juices to inspire your home decor this upcoming season.
Swap Out Your Summer Accents for Fall Decor
As we bid farewell to the bright colors and lightweight fabrics of summer, we are greeted by the rich hues and plush textures of fall. With the moody allure of the autumn season, we are encouraged to embrace these characteristics within our homes, filling our spaces with heavier textiles and warmer decor.
Create a cozy space by swapping out your linen pillows and sheets to warm and cozy throw pillows and blankets. Change your candles and candle holders to ones that offer an autumnal touch and amplify your living spaces. Swap out your dining room decor and coffee table displays for pieces that accentuate the fall feeling.
Rearrange Your Furniture For A Quick Refresh
In the midst of the autumnal shift, find comfort in rearranging your furniture. Whether it be to accommodate loved ones during the fall festivities or to cultivate a more intimate atmosphere, readjusting your decor can breathe new life into your space as we embrace the arrival of a new season. This effortless act offers a refreshing change, revitalizing your surroundings with ease.
Set The Mood At The Front Door
As soon as guests arrive to your home, assure that your entryway is adequately designed to establish a warm and comforting feeling upon arrival. Setting the tone at the front door will not only provide an instant allure, but will set the tone for the rest of your home. Style a vignette on your entryway table with seasonal decor and autumnal arrangements to establish this inviting atmosphere.
Fall Decorating Calls For Seasonal Accessories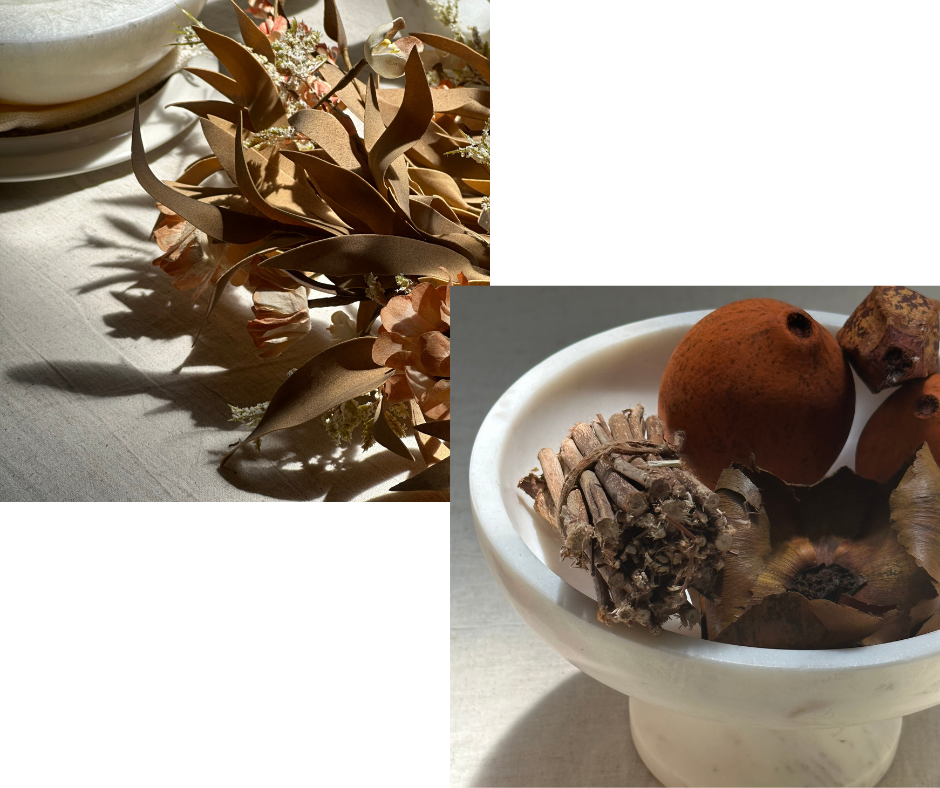 Featured above is the Marble Footed Bowl. 
Embrace the essence of autumn by adorning your surroundings with seasonal accents. In ode to the tradition of fall decor, common motifs tend to come to mind when we ponder the necessities for fall staples. Pumpkins, leaves, pinecones, seasonal fruits, cinnamon sticks, fall inspired art - the possibilities are endless!
Elevate the ambiance of fall by arranging baskets, bowls, and vases filled with an arrangement of pine cones, autumn foliage, and mini pumpkins of varying sizes. Experiment with various textures and types to create an opulent and indulgent atmosphere. Utilize cinnamon sticks and scented candles to set the mood, or style a fall vignette with an arrangement of seasonal decorative pumpkins, stacked candles and textural vases.
If you're a lover of all things neutral, you can still achieve a fall home by utilizing lighter palettes, such as white pumpkins and ivory candles, for example.
Fall Foliage Is A Must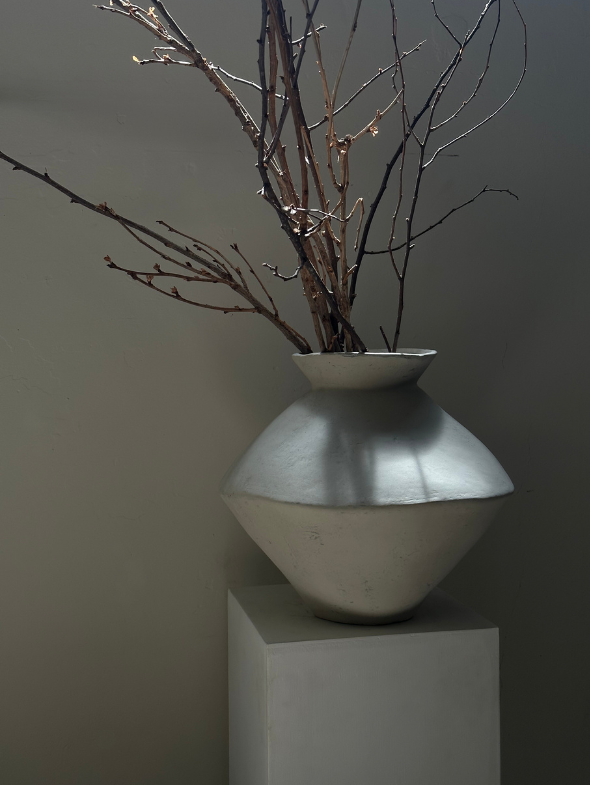 While the leaves turn golden-brown and the air grows crisp, allow nature to find a way to bloom anew. This season offers us a bountiful selection of fresh flowers and plants that effortlessly infuse our homes with a natural charm and bursts of vibrant colors. When placed in unexpected areas, like a bathroom or corner nook, your home will feature playful personality and character in the midst of this cozy time.
From dried flowers to luscious leafy branches, incorporating a variety of autumn-inspired greenery can breathe life and add a captivating palette of colors to our spaces. Maple leaf stems, cimicifuga ramosa branches, amaranth and marigold arrangements, or dried branches are common adornments seen during the fall months. Further, arrangements made with fruit, like pears or berry branches are also exceptional elements to feature within fall decor and will provide an organic sense to your decor.
Allow the warmth and charm of fall to envelop your living space in all corners, transforming it into a sanctuary of nature's beauty.
Featured above is the Medium Thora Vessel. 
Elevate Your Dining Table For Autumn Hosting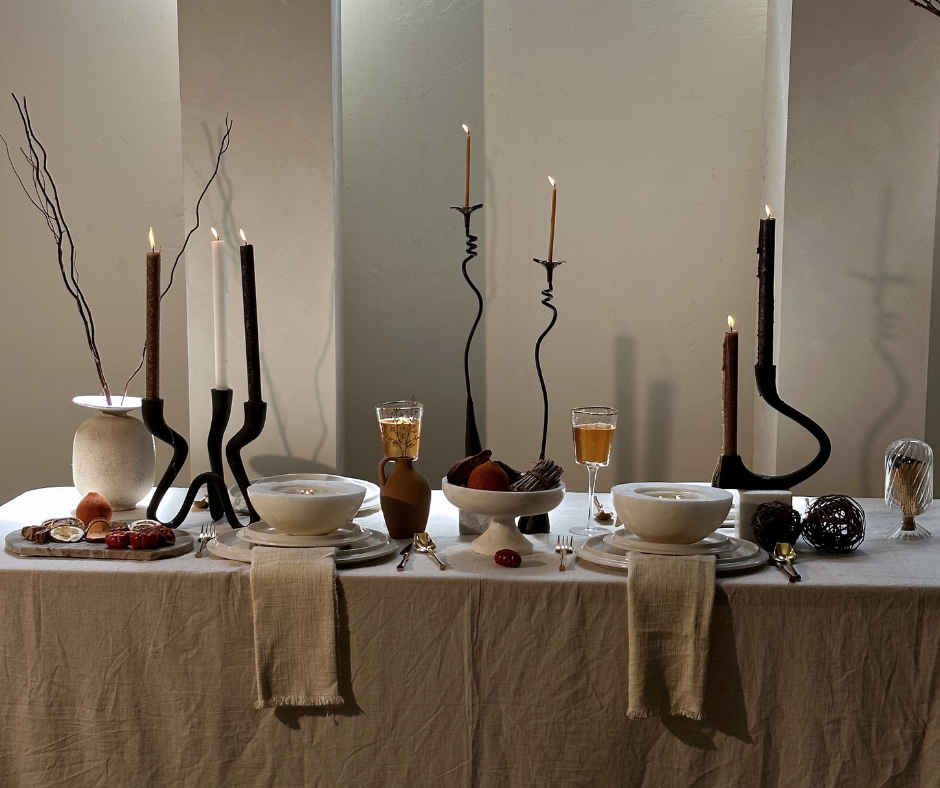 In the art of decorating a fall tablescape, one must craft an ambiance that encapsulates the spirit of the season, featuring elegance and timelessness. Fall themed elements and centerpieces, earthy textures, and the warm glow of ambient candles all come together to form a perfect feel and aesthetic.
An autumn tablescape is incomplete without displays of the elements of nature, including the ever-changing leaves, blossoms with autumnal hues, and an array of seasonal fruits, like pears or pumpkins. Upgrade your dining essentials, like glassware and silverware, to pieces that are luxe, classic and exude elegance. Utilize a linen table runner or tablecloth and style your earthy vases with tall branches or fall blooms. Lastly, an autumn tablescape calls for varied candles and candle holders to provide a beautiful focal point and glowing lighting.
Create the dreamiest fall tablescape with our stunning diningware featuring the Oro Nero Silverware Set, Roma Collection and Fel Fringe Linen Napkins to truly encapsulate the feeling of fall. When accompanied with the warming shades of autumn, savory dishes for opulent dining, and the radiating glow of candlelight, your tablescape will be special for an evening to remember.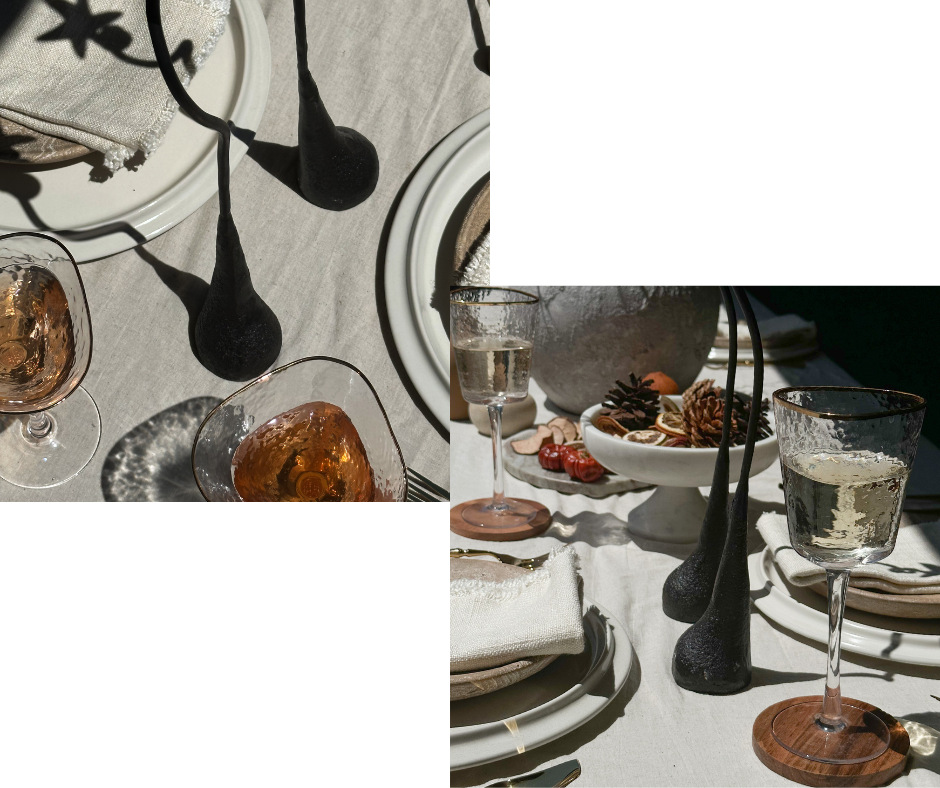 Mix In Warm and Earthy Tones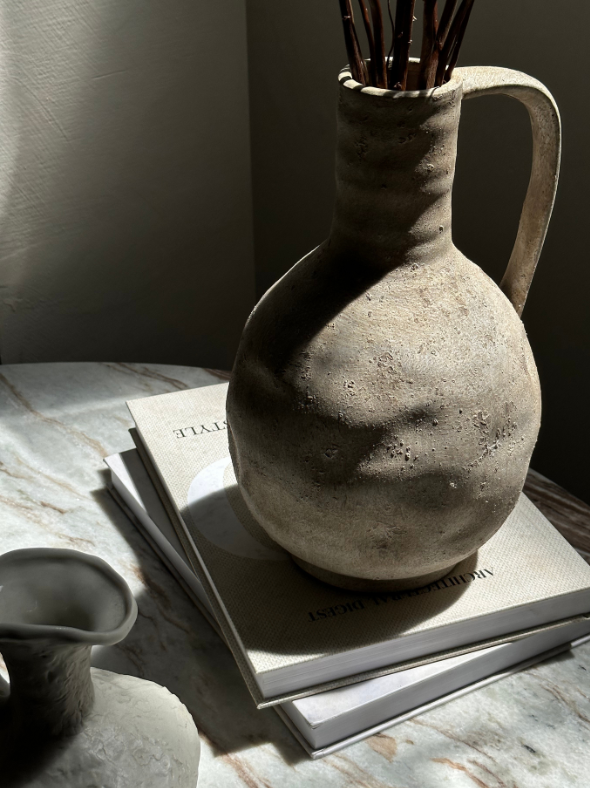 Incorporate the warmth of the season into your home by infusing it with rustic charm. Embrace a palette of honey, beige, warm golds, browns, and deep oranges, like terracotta or burnt orange, to capture the essence of autumn.
These colors can be fused into your space in countless ways, ranging from large amounts, like rugs or curtains, to subtle and simpler ways, like changing out pillows, vases, throws and greenery. In the dining room, consider swapping out your bright, summery linens for warm, earthy tones like terracotta or burnt orange. These colors create a cozy and inviting atmosphere that's perfect for fall entertaining.
While these palettes are typically associated with fall, there are ways to create a neutral and lighter design for the season. Incorporate light candles, white or beige pumpkins, and softer floral arrangements to achieve a serene and gentle ambiance, still reminiscent of the coziness of fall.
Featured above is the Thalia Vessel. 
Natural Elements Provide An Earthy Allure
Fall beckons an opportunity to encompass yourself with the beauty of nature. Incorporate texture and a rustic feel into your space with the use of natural materials. Consider implementing elements like wood or stone into your home decor. These natural elements add a warm and earthy feel to your living areas, emphasizing the seasonal charm, the perfect way to add an autumnal vibe within your home.
Style with a variety of natural objects, such as a stone or wood coffee table and terracotta or ceramic vases - an instant way to fuse an organic feel.
Lots Of Textures Will Provide Visual Interest
Featured above is the Sicily Accent Tables, Sentiment Collection and Terra Vessel. 
Fall is commonly paralleled to nature, as major changes in our environments tend to take place. Noticeably, nature tends to reflect a variety of textures, which when brought into our homes, will provide visual interest and a cozy atmosphere. Cozy textiles like wool accents, cable-knit throws or rich boucle decor will provide not only texture to the touch, but visual texture as well.
Keep In Mind Your Personal Style
When it comes to fall decorating, it can be easy to want to feature themes that are common for the autumnal season. While this may be the case, to have a cohesive look throughout your home, take note of your personal style.
Keep in mind what makes your home uniquely yours and what colors, styles and trends you typically feature within your designs. A fall look can still be completed when you accentuate your individualism, while still incorporating fall hues and motifs.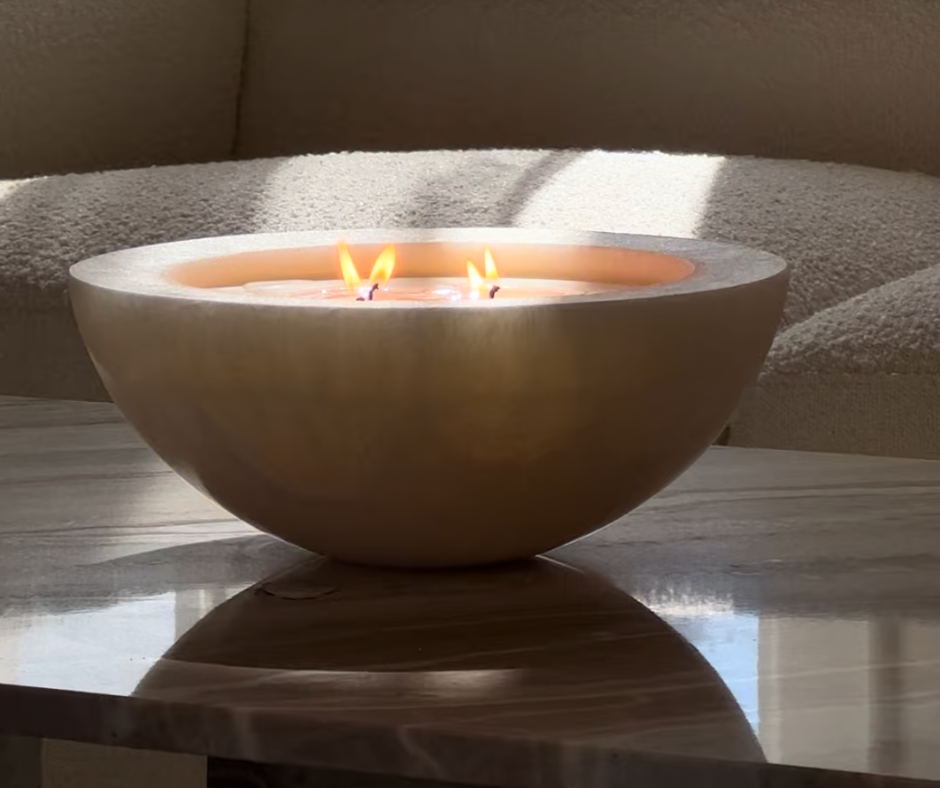 Featured above is the Crystal Candle Grande. 
As summertime departures and fall is on the horizon, we are reminded to slow down, take in our surroundings, appreciate the beauty of change, and spend time with those we hold close. When we implement fall decor into our homes, we are embracing the comfort within the shift in seasons, changing from the bright, warm summer aura to the crisper, cozy feeling of fall.
This change of season beckons us to find solace not only in our altering surroundings and nature, but within our homes as well. From the reminiscent hues of browns and oranges, the familiar fall scents of cinnamon and maple, and the endless presence of pumpkins, we are more than mere witnesses to the transformation happening before us, as we are welcome to participate in a myriad of ways.
As we have just delve into the countless ways to fuse the fall seasonal spirit into your home, we aim to inspire you to find meaning in every object you choose to place into your home. May the coming season be filled with happiness, love and all things magical, as we embark in our own evolutions.