Featured above is the Roma Hammered Wine Glasses, Oro Nero Silverware Set in Gold, the Fel Fringe Linen Napkins, and the Sentiment Vase Collection. 
Summer beckons an opportunity to indulge in the encapsulating beauty expressed through nature's welcoming charm. The summer ambiance shaped from the warm breeze and radiant sun, evokes a lighthearted feeling that is both irresistible and idyllic.
Shared recipes, heartfelt laughter and the ability to form irreplaceable memories with those we hold close, and even those from afar, calls for the perfect summer tablescape, designed for a day or evening spent basking in the summer aura.
Entertaining friends and family invites the ability to get creative, find inspiration and to remind those special individuals within our lives the value of their presence, through a uniquely planned gathering.
Constructing a beautiful tablescape happens when you combine unexpected elements, a welcoming atmosphere and summertime florals, accompanied by exceptional food and drinks. Each and every aspect of your tablescape will hold its own significance, therefore we have curated a list of tips to guide you on hosting the ideal party with a beautiful summer arrangement.
Find The Ideal Setting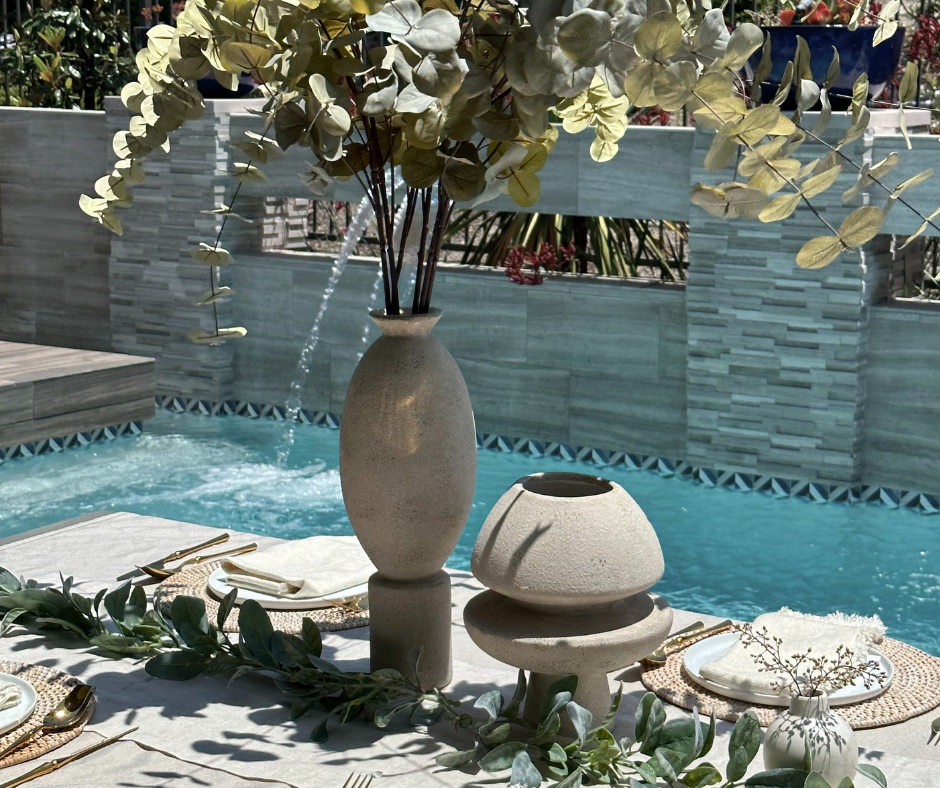 The power of location in creating an enchanting tablescape cannot be underestimated. The atmosphere, weather, and scenery all play an essential role in shaping a party that is enjoyable and alluring, aside from the intricate details of decorating and the delicious dishes you will be serving.
The climate is a profound influence in our dining choices, determining whether we dine indoors or outdoors. However, in the midst of summertime, dining al fresco offers the ideal atmosphere and landscape for entertaining guests, as you cannot go wrong with the intrinsic beauty of being surrounded by nature.
Placing your table near your garden, atop your patio area, aside your florals or under a tree, all offer surrounding grace that is elegant and impactful. While these are solely suggestions, you can still create a delightful setup in the comfort of the indoors. After all, hosting brunch or a dinner party calls for more than just aesthetics, but being comfortable and enjoyable as well.
Find A Summer Theme
Whether an Italian, Coastal or Country inspired look is your vibe, establishing a theme will amplify the experience of your tablescape. Choosing a theme not only allows you to properly prepare your tablescape, such as knowing what decorative pieces to search for or what dishes to concoct, but this is a great way to have your guests feeling exciting and involved.
To fully immerse everyone in the experience, encourage them to dress in accordance with the chosen theme, or invite them to contribute with a potluck!
Choose Complimenting Color Palettes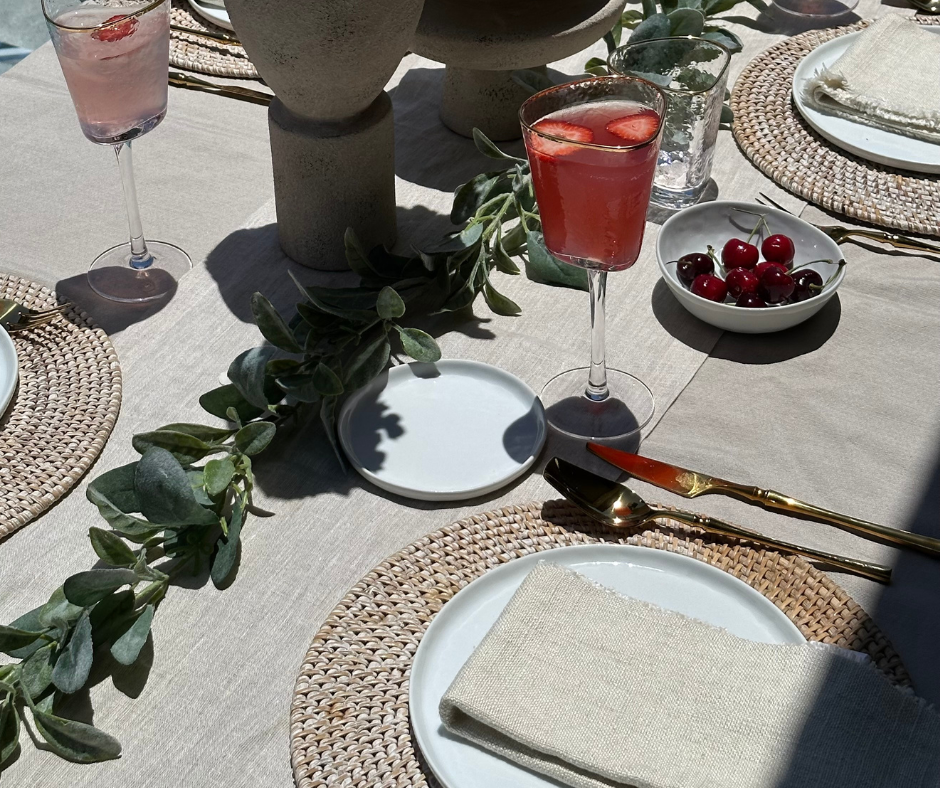 Featured above is the Roma Hammered Wine Glasses, Oro Nero Silverware Set in Gold, the Fel Fringe Linen Napkins., and the Sentiment Vase Collection. 
Similar to designating a preferred theme for your summer tablescape, discover the color scheme of your table for a fully cohesive and eye-catching look. The key is to strike a delicate balance, avoiding an overwhelming fusion of patterns and hues.
When determining the color scheme for your summer table arrangement, it is important to consider your surroundings and environment. You may want to incorporate the color of the flowers you are surrounded by or potentially the existing elements within your space. To infuse an extra sense of vibrancy, bold colors can be showcased through floral arrangements or refreshing cocktails, adding a touch of liveliness to your setting that looks natural and soft.
The power of colors lies in their ability to harmonize with our surroundings. Matching your tableware to the elements you are surrounded by often makes for a beautiful look. Coordinating your tablecloth with accessories such as napkins, candles, serveware, and vases is a crucial element to consider. A valuable tip is to establish a baseline colorway and explore different hues and tones within that palette. As seen above, there are various neutral and beige tones accented with a pop of greenery, making for a coordinated appearance.
Add Touches of Greenery & Statement Vessels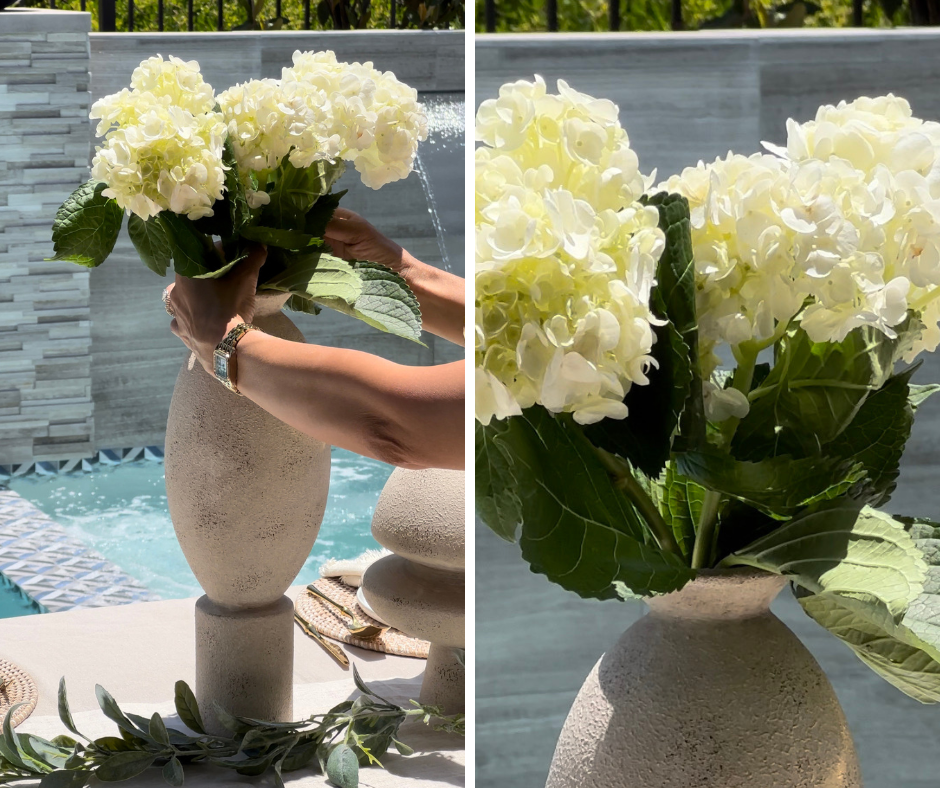 Featured above is the Ravena Sentiment Vase. 
The perfect summer tablescape lies in a design that exudes individuality, graced by the eternal and effortless elegance of seasonal blooms.
When designing your summer table, it is beneficial to have focal points that further serve as a centerpiece. Incorporating floral arrangements is an impactful yet simple method to infuse beauty and the essence of the season, evoking a natural feeling and visual interest.
Flowers and foliage will always set a mood that garners attention. As an innately compelling focal point, summer florals and greenery are a touch that every summer tablescape needs.
While roses, hydrangeas, ranunculus, peonies, lilies, and sunflowers are common choices, it is essential to select those that truly speak to your design. Choose the blooms that captivate you the most and work well with your set up, in both color and style. Mix and match varying sizes and heights to create vast dimension.
Adorn Your Summer Table With The Essentials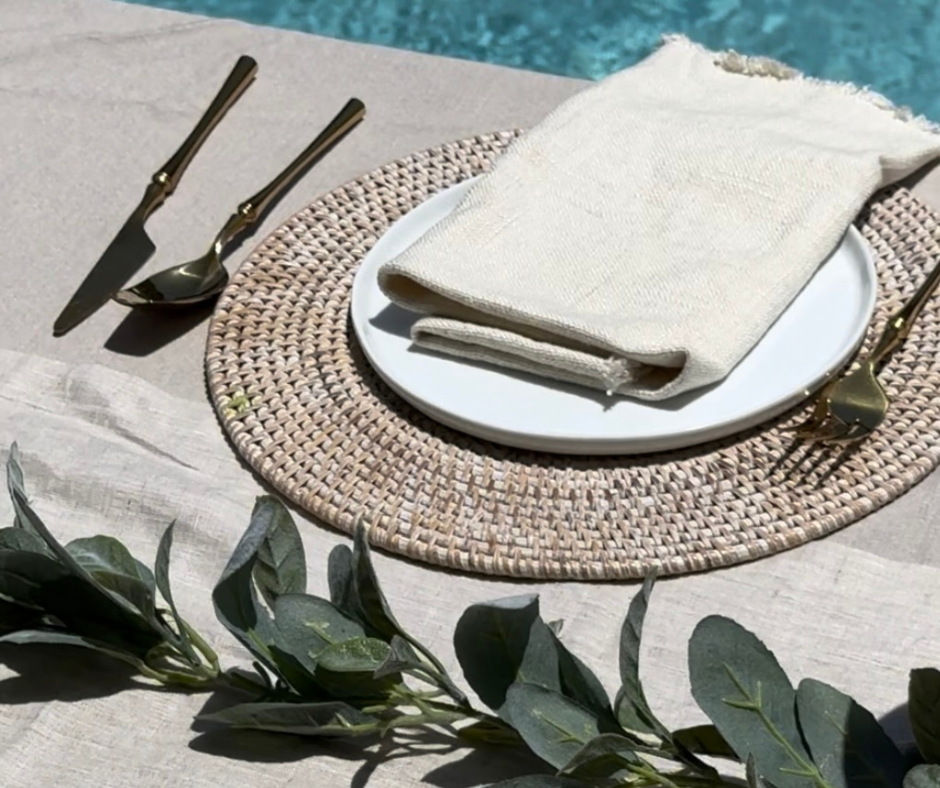 Featured above is the Oro Nero Silverware Set in Gold and the Fel Fringe Linen Napkins. 
Allow your creativity to take lead when it comes to designating the ideal tableware. While it's important to have all the necessary essentials for each course and drink, make sure to select a table setting that not only looks stunning, but also complements your theme.
Remember to include placemats, wine glasses, water glasses, dishes, napkins, napkin rings, silverware and serveware for a complete and stylish table.
Our Oro Nero Silverware Set, Roma Collection and Fel Fringe Linen Napkins will adorn your table with their natural luxury and effortless beauty. Allow the charming silhouettes and hues to make for a table that is warm, inspiring and reminiscent of summertime charm.
Illuminate Your Table With Candles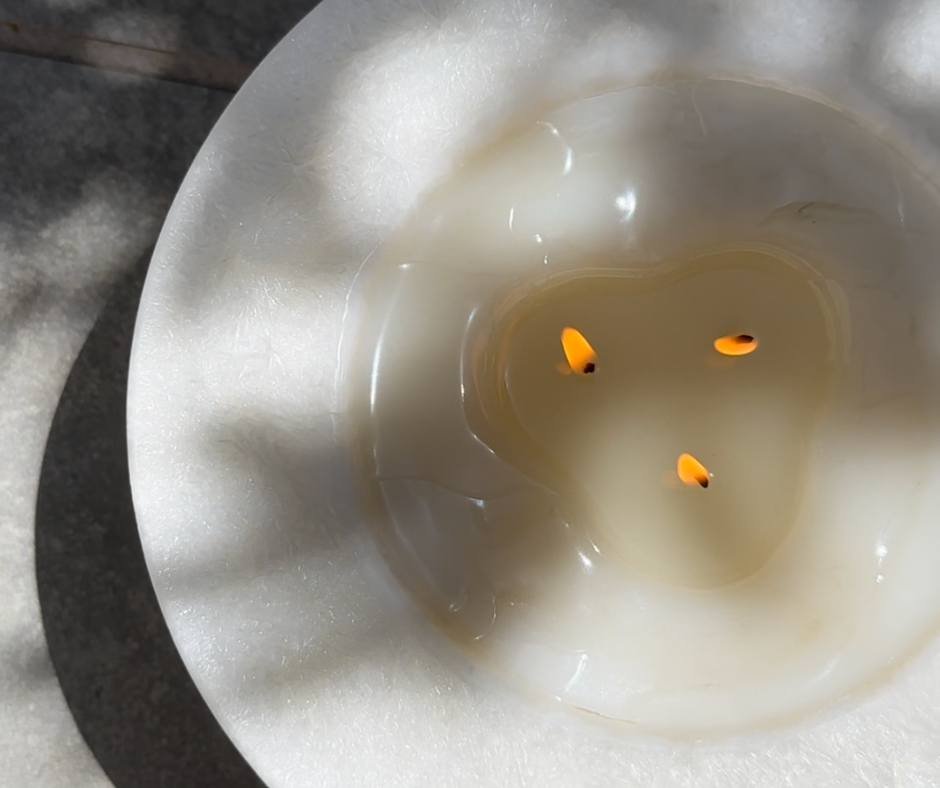 Featured above is the Petite Crystal Candle. 
Candlelight offers an appeal that is natural, ambient and bright. When styling varying statement candles and candle holders, your tablescape will appear multidimensional and radiant. Ideal for hosting a party at night, or if you're looking to add that extra bit of scent and aesthetic. Additionally perfect to fill space, if you are contemplating what to place on your table.
The Crystal Candle Collection, our customer-adored and best selling statement candle, allows the opportune to embark in an evening or day full of grace and aesthetic. The powerful and refreshing scent of white tea ginger root offers a beautiful aura that transcends throughout wherever it may be placed. An eye-catching piece to bring into your home!
Know What Food & Drinks To Serve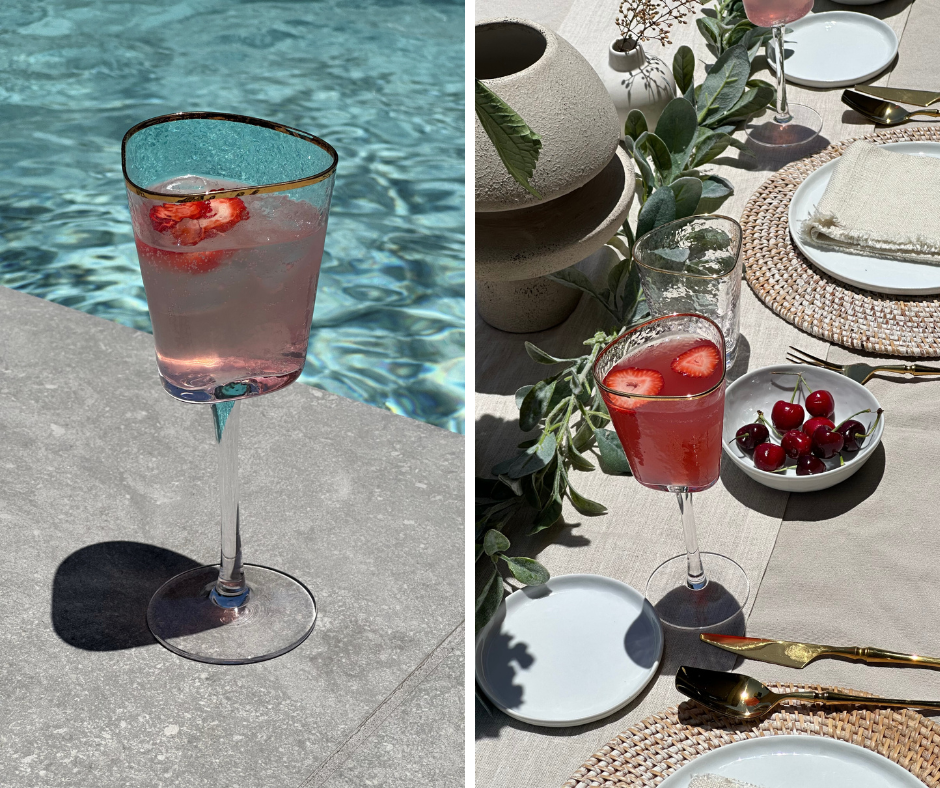 Featured above is the Roma Hammered Wine Glasses, Oro Nero Silverware Set in Gold, the Fel Fringe Linen Napkins., and the Sentiment Vase Collection. 
Just like any table decor and accessories, the refreshments can be quite the decorative elements! Aside from the quality of your meal plan, which is additionally important, the presentation of your courses and beverages will further enhance your tablescape.
Aim to keep your meal aligned with seasonal ingredients, as you'll want to keep the balance of summertime charm at the forefront. Dishes such as a vibrant garden salad, a light lemon pasta, or a delectable fruit cake are a few examples of maintaining the summer aesthetic. Choose a refreshing cocktail, or mocktail, like a strawberry spritz to help cool off in the summer weather. Refreshments like these will add a touch of vitality.
Furthermore, use decorative pedestals and dishes to elegantly display your courses for a completed look.
Every Detail Matters
To finish off your ideal tablescape assure that every detail is accounted for. Make sure that you table is cohesive, tidy and well put together. Your effort and planning will not go unnoticed and will be valued when it comes to creating the perfect summer tablescape for an extra special occasion.
In the quest for intricate design choices, dare to surprise your guests with unconventional elements - such as a name card gracing each place setting. A decorative element, just like this, will fully evolve the summery vibe.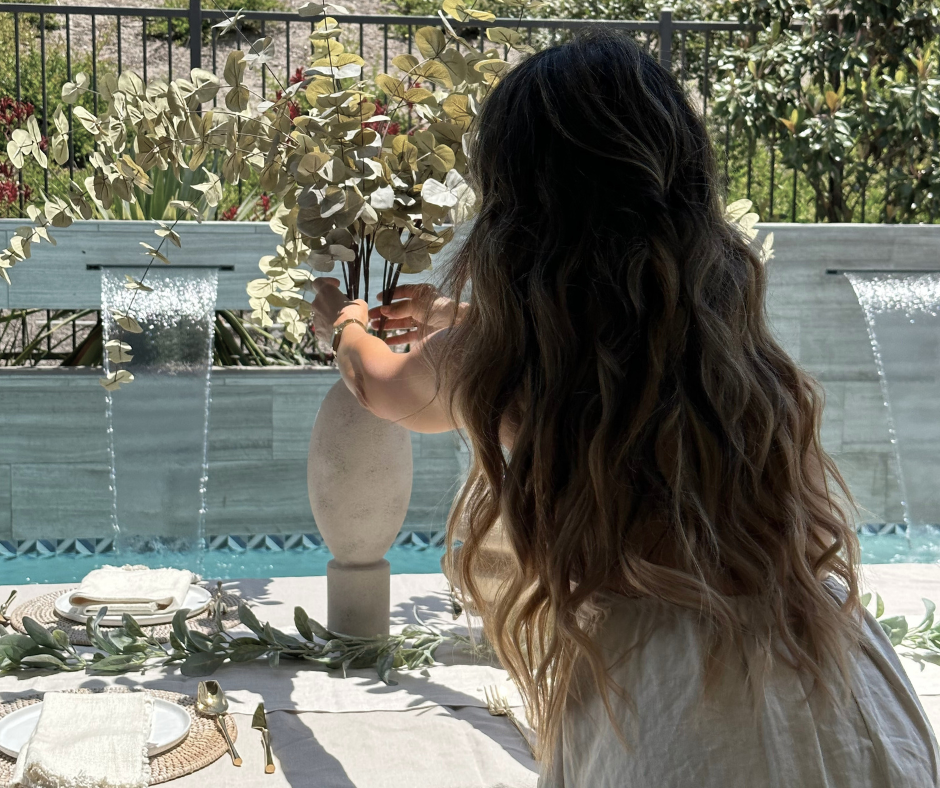 As we journey through the warm summer season, we offer you the chance to gather with those you hold close, the extended family you may not have seen in a while or your significant other. With these essential tablescape ideas, the undeniable beauty of the summertime will be reflected in your effort and time by showcasing your meticulous attention to detail and heartfelt commitment to being an exceptional host.
Summer is the perfect time to dine al fresco and create lasting memories around a beautiful summer tablescape with the people you love.
Referencing these tips as a guide, we aim to remind you that you do not have to be an expert in design, nor the perfect cook, to enjoy the company of others and great food. All it takes is a leap of faith and a wellspring of inspiration to orchestrate an unforgettable and extraordinary gathering.
Allow the beauty of your surroundings to inspire and elevate your table arrangement to new heights, showcasing your creativity and individuality. We wish you a happy summer filled with boundless joy and happiness.
If you're looking for more tips on decorating and styling your home for the summer season, be sure to check out our latest blog "Decorating Your Living Space For The Summer Season" for more design inspiration.