What comes to mind when you ponder home? Is it the comfort that is brought by familiar surroundings, the thoughtfully curated decor that was chosen for its representation to your character, or the congenial time spent with those we hold close. Home is often thought of as a place to encompass the basics of your living, but it is simply more than this.
What we choose to exist in our everyday space is a sole contributor to how we feel and the memories we create. Home is a haven made to allow our individualities to prosper in the form of tangible objects and in inspiration-led moments, compelling us to step outside our comfort zones and try anew each day. Shared recipes, warm laughter and intimate moments are the outcome of the home we purposefully created with our time and dedication.
With value on the essentiality of creating a space that evokes comfort, home decorating should be as pleasant as your concluding result. Don't permit the tediousness of the evolution of your home halt your journey of creating your perfect space. If you find this to be an area of perplexity, we have prepared a variety of essential tips to have your home look as though it was decorated by an interior designer.
Follow along for decorating ideas to invite your inspiration!
Begin With One Room At A Time
Style your home, a room at a time!
Whether you are decorating for the first time or even refreshing the current state of your home, deciphering where to begin can be overwhelming and cause frustration. Allow yourself to ease the interior-stress by aiming to style a single room at a time. This will catapult your creativity and can further inspire how you plan to decorate the entirety of your home, without the rush and early-on commitment.
However, assure that you remain consistent with your theme and maintain commonalities throughout each room. You want to avoid the room to feel as though each has been decorated separately.
Prepare With The Essentials
Are you are new homeowner beginning your styling journey, or simply looking to refresh your living space? An impactful and simplified way is by locating your everyday living essentials. While this depends on the room, such as a bed for the bedroom and coffee table for the living room, finding the necessities is key to decorating your home. These objects are the best to invest in, as you may want to locate durable, trustworthy and long-lasting pieces.
Ready to find your perfect piece? See our furniture for a few statement and luxurious home necessities that will take your space to the next level and bring enduring comfort for time to come.
Decorating Starts At The Front Door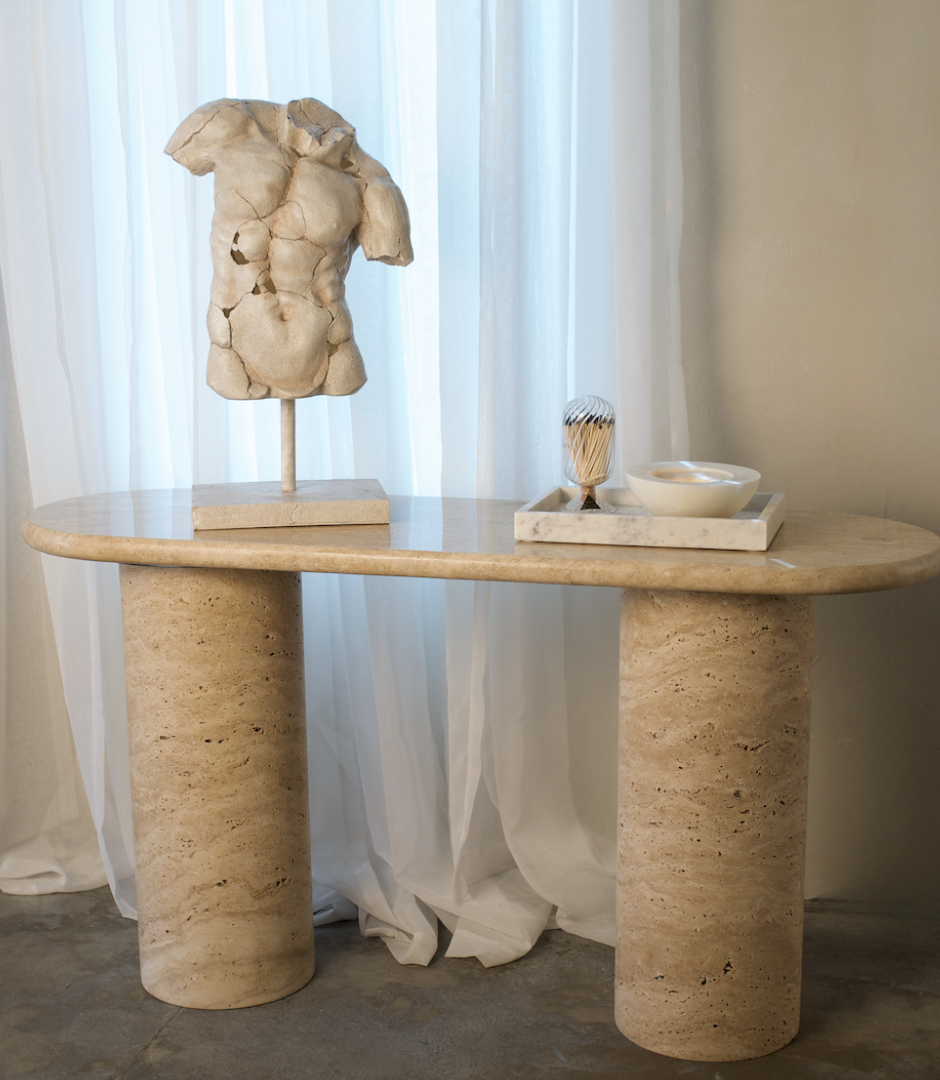 Featured above is the Romano Torso Sculpture in Stone, Organic Stone Marble Tray, Crystal Candle Petite and Voltaire Match Cloche atop our Tuscani Travertine Console Table. 
When you arrive to someone's home, imagine the first area you lay your eyes upon right when you walk in - the entryway.
Styling your entryway with decorative objects like bowls or coffee table books, table lamps or vases with greenery placed atop a beautiful console table will make your space feel complete, and create an eye-catching moment for guests when they arrive, essentially setting the tone for the rest of your home. You do not want to leave this detail out!
Set Your Furniture Up For Conversation & Movement
If you love to host or simply want to create a welcoming family room for your household and yourself, arrange your seating area in a way that is suitable for conversation and movement.
When you know the function of the room, such as the dining area being a place for coming together to share meals or the living room for a place to share laughter and discussion, you will be better equipped for arranging your pieces. While all living rooms are set up differently, having your sofa face towards your accent chairs is a way to assure better entertainment.
Your family and your guests will appreciate the whole room transcending a sense of warmth and comfort, designed for their presence. Furthermore, this is beneficial for making a small space appear larger and to have enough movable legroom.
Create A Focal Point In Every Room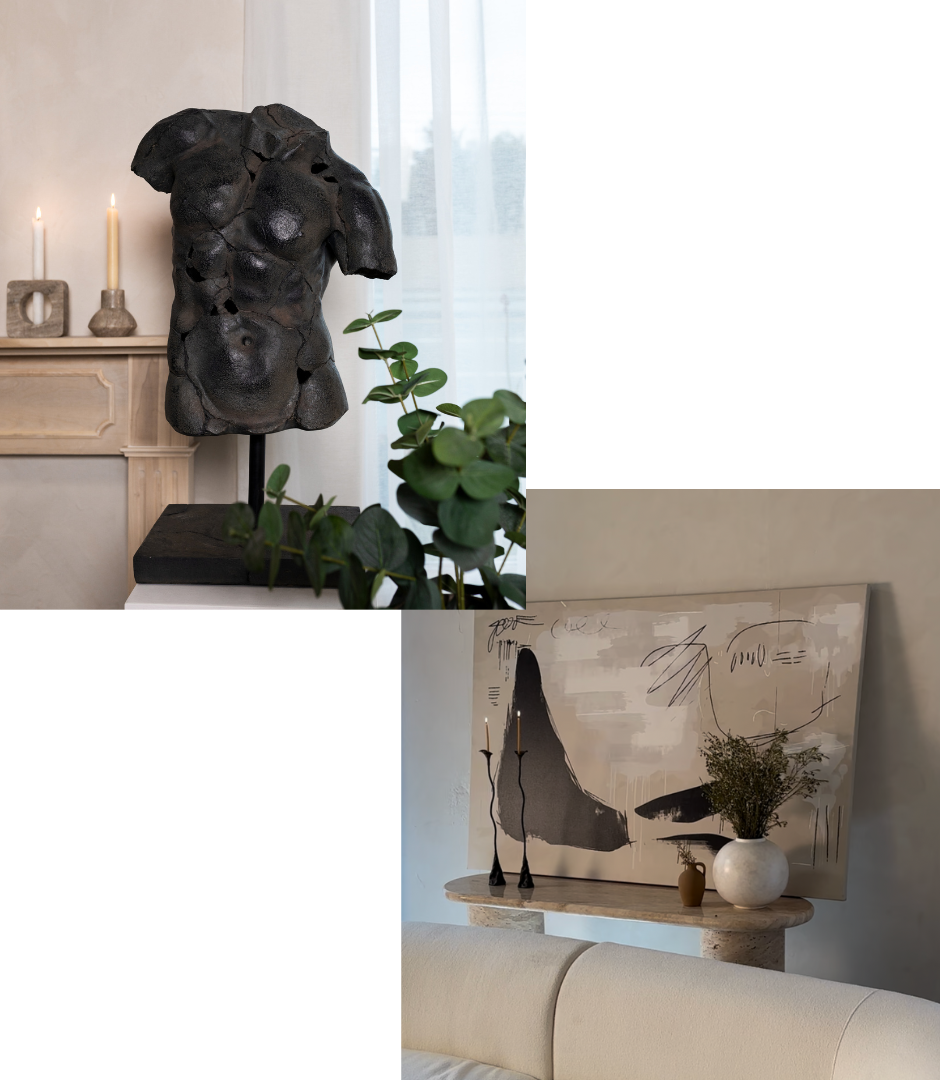 Featured above is the Romano Torso Sculpture in Aged Black and Descanso Marble Taper Holders Set in the first image. The second features the Ferra Rose Candle Holders, Il Giro Stacking Vase, and the Wilderness Canvas, atop the Tuscani Travertine Console Table. 
Creating an intriguing focal point in each room makes all the difference in your home, as it provides visual interest.
From standout vases atop an accent table to a detailed gallery wall to fill blank walls, your ideal focal point can take place in many forms. Assuring that you've styled a focal area in one location of each room will help to avoid the overwhelm that can occur when too many eye-catching objects are arranged together.
These areas tend to serve double duty as conversation starters ideal for entertaining guests.
Style With Varying Proportions and Dimensions
A significant option to add interest to your home is by experimenting with varying proportions and dimensions. Guaranteeing that you implement this into your design plan will evade from the room appearing flat and dull, making your space feel dynamic and visually pleasing.
You can achieve this is a surplus of ways including arranging furniture with varied heights, wall art of different widths and lengths, or asymmetrically styled decor. Nonetheless, assorted levels creates an eye-catching look.
Measuring Your Space Will Make All The Difference
Measuring the area you are decorating is a must for selecting the appropriate furniture and decor. You wouldn't want a dining table that is too large for the dining room, a sofa that doesn't take up enough space, or a small rug for a wide area. Knowing your given space and your measurements can make or break the entire room and picking the wrong size will only make your decorating harder.
Use Multifunctional Pieces
Just as the essentials are important to implement into your decorating plan, multifunctional pieces can be just as impactful. Multifunctional decor can serve as great storage solutions and provide versatility within your display. For example, if you are styling a small room, you may want to keep your furniture to a minimum. Opting for a sofa or side table that provides storage would be a beneficial solution.
Commit To A Color Palette & Home Style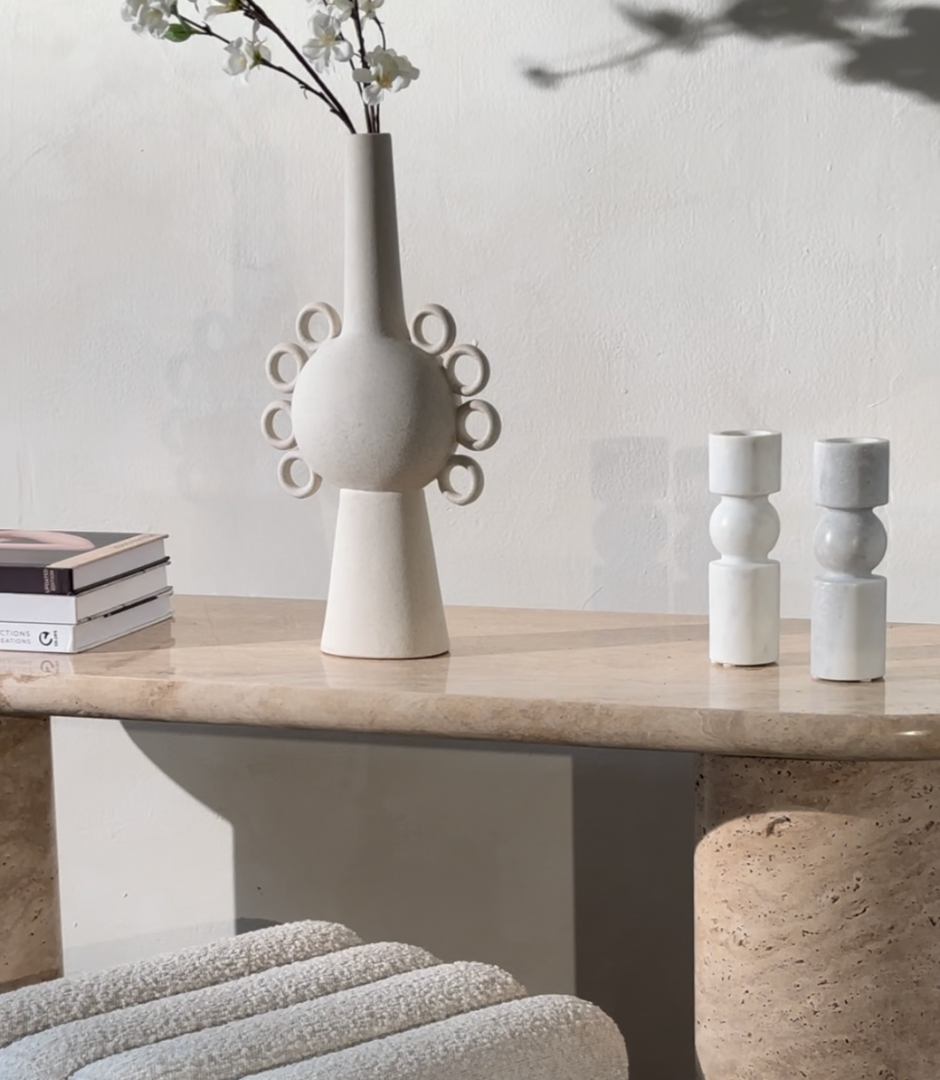 Featured above is the Valentina Ringlet Vase, Decorative Books, Rocco Candle Holders Set atop the Tuscani Travertine Console Table. Sat aside is the Lucia Ottoman. 
When it comes to decorating your home, the color you choose can completely transform the look, as well as the feeling. What colors you designate to implement into your space will primarily shape the atmosphere and induce a specific mood within a room.
Light colors and neutral tones tend to make the room feel airy, relaxing and larger, which is great for decorating a small room. Darker and richer colors can cause the room to appear smaller, however this may not necessarily be a bad thing. Using black paint on your walls or as an accent color, for example, can create a mood that feels intimate and will add character due to its contrast to your decor.
Quite like choosing your color palette, determining your home style is necessary for optimal home decor ideas. In every aspect of your home, you will be designing your space in accordance to your home decor style. This can be creating a Japandi-inspired, Contemporary or Minimalist space, and so on. Every home will have its own narrative so researching, building mood boards and finding inspiration will narrow your desired look.
Upon deciding which palettes and styles to choose, a few ideas to keep in mind is to find inspiration from your own personal style, take into account how the natural light affects the room, and understand the feeling you are trying to evoke. Selecting palettes that are versatile, like neutral or warm tones, or maybe shades you have had your eye on are beneficial to your decision-making, as they can be appreciated over a long span of time. Testing swatches, finding influences, and knowing your space will avoid rushing into a hasty choice.
Be mindful of the fact that you don't want to choose your wall paint first, use your furniture and decor as a guide.
Mix & Match Furniture & Textures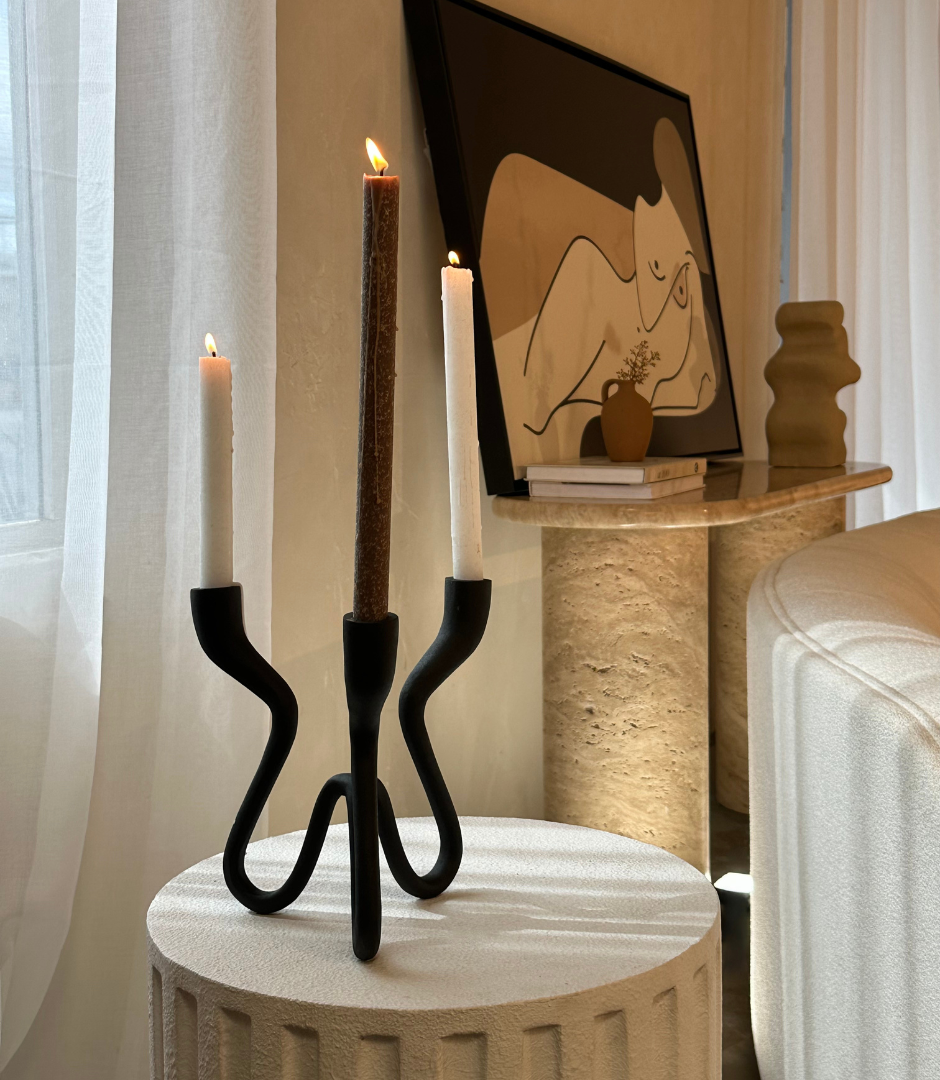 Featured above is the Ebony Elevated Candelabra atop the Column Fluted Side Table, and the Sorento Sculpture and Seduction Canvas atop the Tuscani Travertine Console Table. 
What provides depth and dimension to a room? Varying textures and contrasting furniture items.
Although remaining consistent with a theme throughout your entire home will guarantee a well-curated space, mixing and matching with different elements will make your room appear more lively, dynamic, and dimensional.
For example, when decorating a living room, using an accent chair that is opposing to your sofa or side tables that vary from your coffee table will create an ideal balance that is visually compelling. For something simple, try using throw pillows and soft furnishings like rugs and throws to offset the texture of your sofa.
Be that as it may, using too many opposing textures and styles can cause overwhelm to the eye and make the room appear inharmonious. A tip to keep this at a stable amount is by committing to two to three differing materials or elements.
When In Doubt, Style In Three's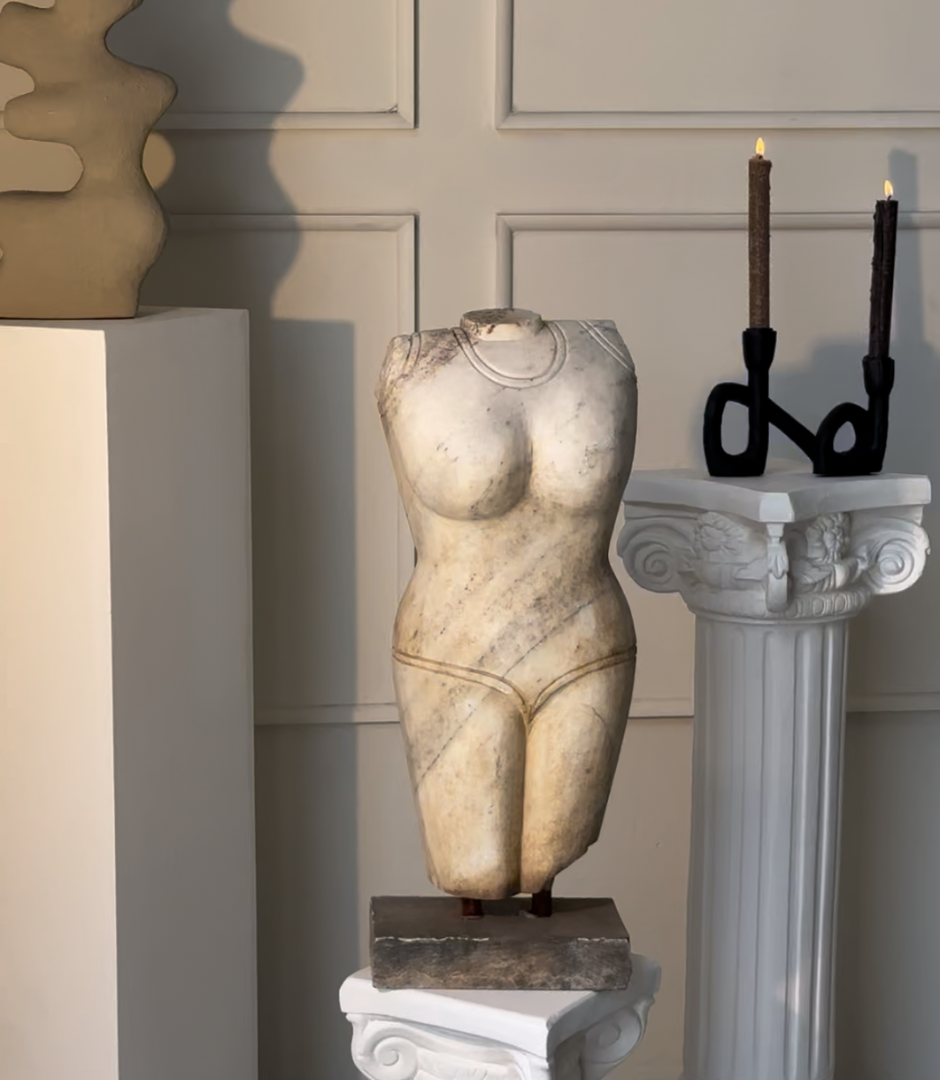 Featured above is the Sorento Sculpture, Athena Marble Bust Sculpture, and Louvre Taper Candle Holder. 
The Rule of Three is a monumental and well-known concept in the world of interior design. Time and time again, this theory has proven to be beneficial when it comes to decorating your home, as it is the foundation to a simplified, yet effective way of styling. From larger furniture pieces to simple decorative elements, this philosophy can be utilized throughout your entire space.
The Rule of Three testifies that objects styled in an odd number appear more appealing to the eye and provides visual allure. While three tends to be the most favorable to work with, 5, 7, and 9 are further suitable for this result. This means, asymmetry is advantageous to home styling.
Refresh Your Coffee Table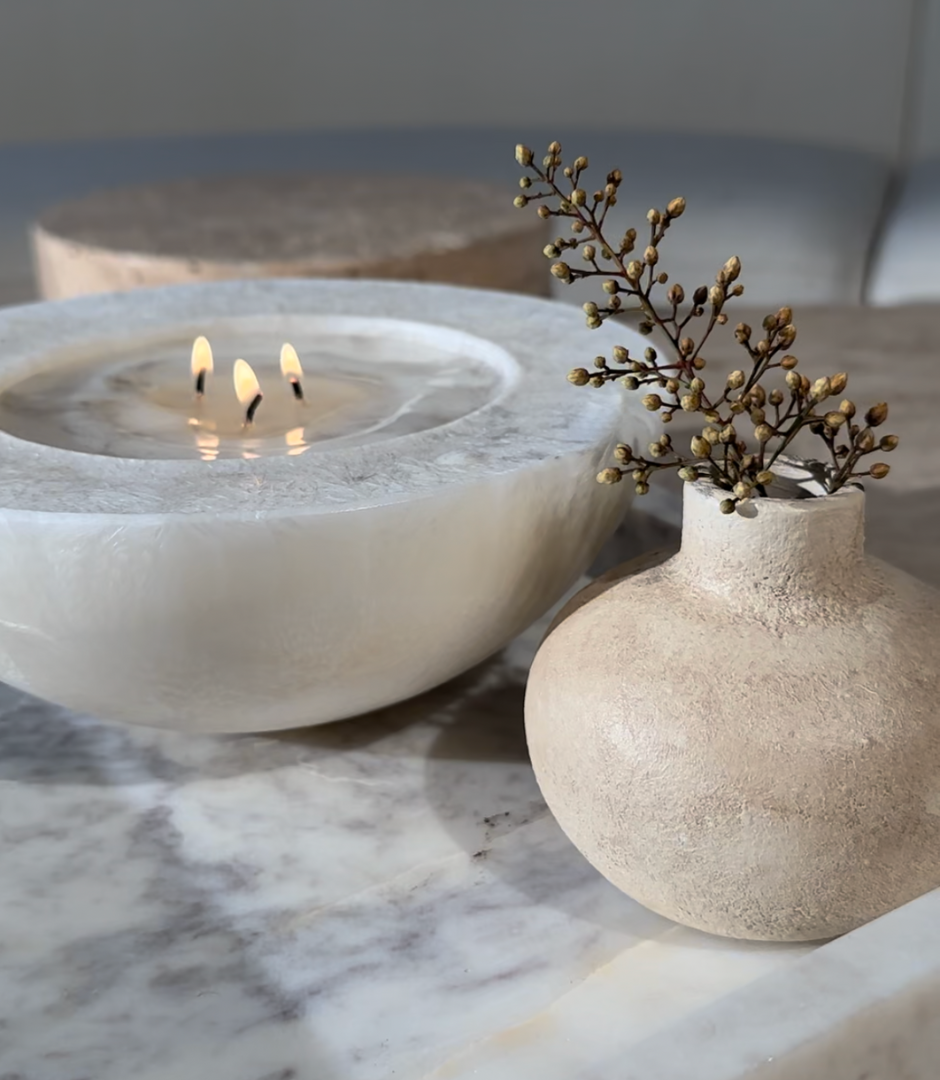 Featured above is the Organic Stone Marble Tray and Crystal Candle Petite.
Periodically refreshing your coffee table set up is a simple way to start anew. Whether rearranging current accessories or swapping out with new finds, rearranging your table decor is a manageable way to alter the feeling of an entire space without the need to redo each detail of your abode.
As we have just delve into the Rule of Three, a favorable way to guide your lay out is by using this philosophy as reference, since asymmetrical styling has proven to be effective in interior design.
Refresh your decor with our timeless options - explore our decor for your ideal home.
Always Opt For Greenery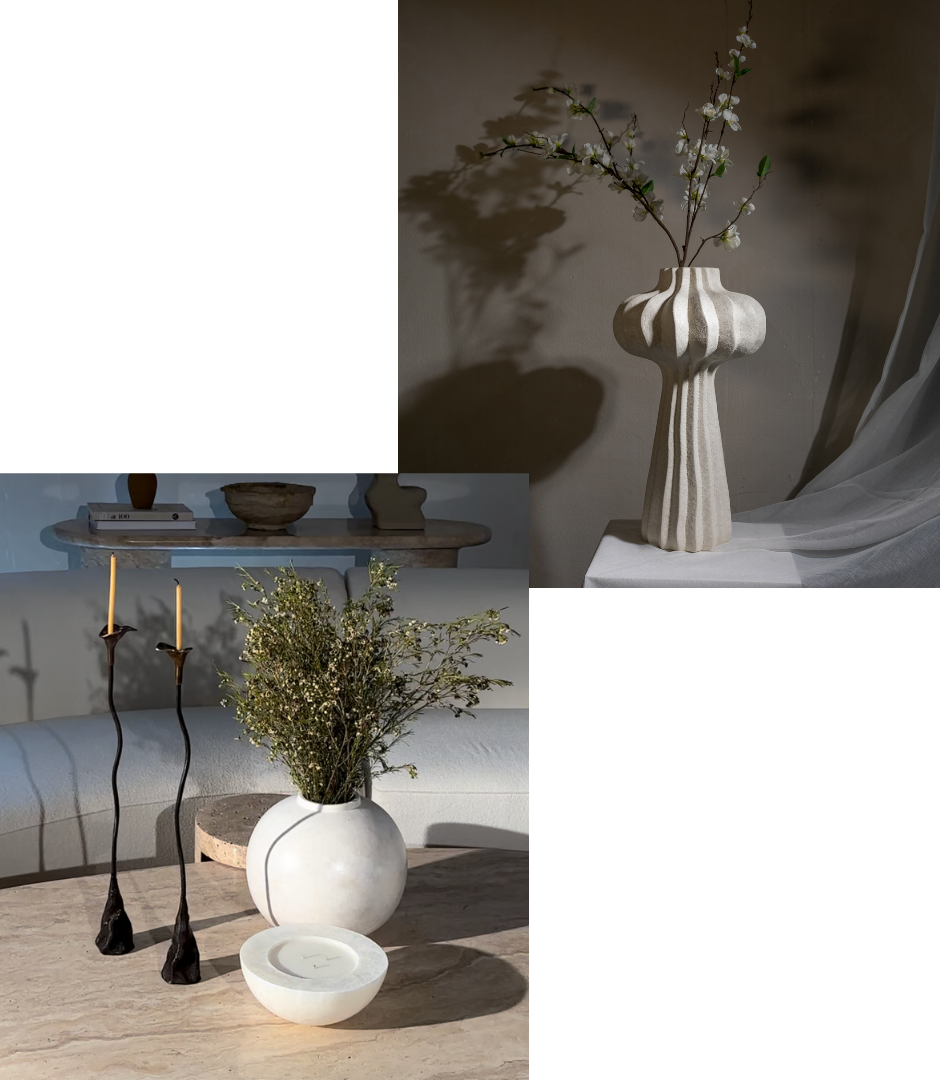 Featured above in the first image is the Ferra Rose Candle Holders, Il Giro Stacking Vase, and Crystal Candle Petite atop the Tuscani Travertine Coffee Table. The second image features the Loretta Vase. 
Bring life into your home with indoor plants. Greenery not only adds a sense of energy and freshness, bringing natural elements into your space will add texture, bold color, and inspire everyday relaxation and serenity. Fresh flowers, rustic branches, or leafy plants serve as a decorative accent that will take the whole place to new heights.
However, if you find yourself reluctant to caring for a live plant or real flowers, substituting for faux foliage will incite an identical effect.
Pair your earthy elements with our elegant and charming vases to fully enhance your home.
Through these home decor ideas, while there are many to consider, we aim to fulfill the purpose of outlining where to begin and to encourage you to find joy in your decorating journey, within each step along the way. Your home should feel like more than just a place, but like a testament to your true self-expression and how you desire to live.
We hope you achieve a beautiful space that was effortlessly designed and well thought out, serving as a reminder that you don't have to be an interior decorator to achieve an established look.