In the gentle embrace of the wintry months that are upon us, we are summoned the opportunity to encompass our abodes with cheerful adornments, symbolic of a festive time. From nostalgic motifs to newfound embellishments, the warmth of the season is found within the objects we choose to fill our homes with, especially surrounded by our loved ones.
From garlands made of Norfolk pine or ceramic villages graced across your mantel, each corner of our home comes to life with the spirit of the festive season, setting the tone as we make way into a new year. The fresh scents of fir and cinnamon and the embellishment of holiday symbols, our homes are a canvas in which becomes a symphony of cherished heirlooms and novel traditions.
Although the season is often characterized by the abundance of playful tchotchkes and vibrant palettes of green and red, in order to create an effortless look within your minimalist home it is best to thoughtfully curate your holiday decor in a way that is representative of you and your space.
Decorating with minimalist Christmas decor involves embracing simplicity and elegance, accentuating the clean lines and uncluttered spaces characteristic of the minimalist aesthetic. To grasp a better understanding of the ways in which to find the balance of Christmas decorations and a minimalist space, we aim to provide you guidance to establish your dreamy winter wonderland in the comfort of home.
Bring In Branches & Greenery
Holidays are incomplete without the presence of lush greenery. From the natural, simple garland placed across mantels, staircases or tabletops to the striking wreaths placed upon doors, integrating greenery is a thoughtful approach that will invite the holiday spirit, while maintaining a minimalist look. More so, using fresh greenery will provide a beautiful earthy fragrance to disperse throughout your home.
Inviting a sense of the outdoors in will create a natural, organic feel within your home, that serves as suitable Christmas decorations when utilizing greenery that is common during these times. Elegant vases hosting sprigs of fresh winter branches and eucalyptus or evergreen trees, including pine, fir, and spruce, take center stage as idyllic Christmas trees, adorned with twinkling lights and opulent ornaments.
To further an organic, minimalist feel to your greenery, embellish your branches with dried orange slices or pine cones, in addition to any natural ornaments that will be used.
A Minimalist Christmas Tree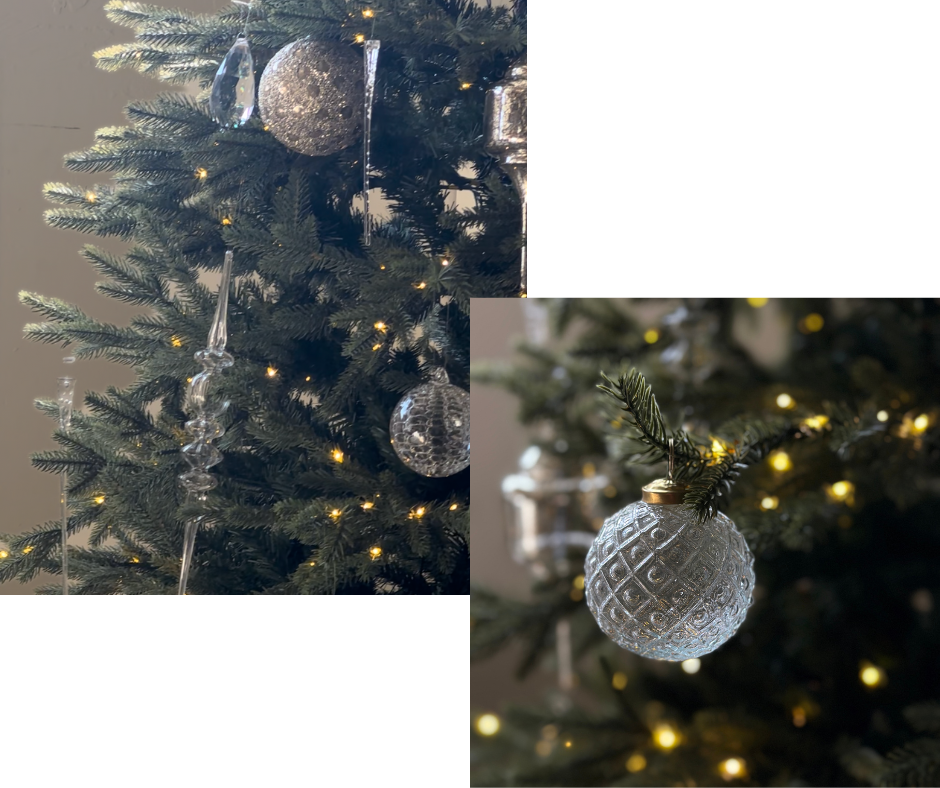 The Christmas tree is a vital focal point in the midst of your holiday decorating, being an eye-catching moment that is necessary for any holiday decor. Designing your minimalist Christmas tree involves a thoughtful selection of subtle and refined elements that employs a clean, calming and uncluttered aesthetic.
Opt for a neutral and delicate color palette, such as soft monochromatic tones or muted shades, to sustain a sense of both simplicity and holiday cheer. Select a limited amount of minimalist ornaments with elevated designs or natural textures to infuse the tree with a touch of understated elegance. Employ soft and warm-toned fairy lights or Christmas lights to generate a gentle and inviting ambiance, avoiding excessive illumination that may overshadow the minimalist charm. Avoid using any cool toned lights upon your tree, as this will take away from the warmth of the room.
Top with organic elements like dried citrus slices, wooden accents, or delicate twigs to infuse the tree with a warm and organic allure. Select a simple and subtle tree topper, such as a sleek star or modest ribbon, to complete the tree with a refined and elegant touch. When discovering the perfect tree skirt, opt for one that contains a soft, neutral palette or potentially a basket for an earthy touch.
Utilize Lighting & Candles to Set The Mood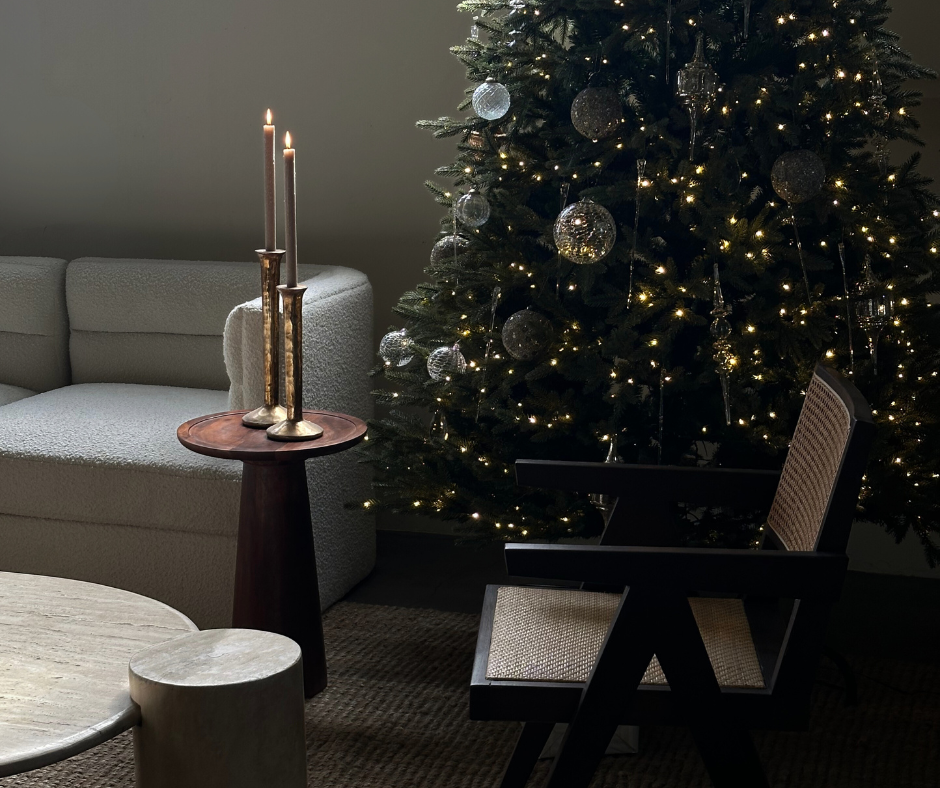 Delicate lighting and ambient candles are essential to provide a balance between festive warmth and maintaining the uncluttered feel within your minimalist home. Crafting a gentle and inviting atmosphere is possible when utilizing the appropriate lighting and set up.
When decorating a minimalist home for Christmas with lighting and candles, it's essential to balance between festive warmth and maintaining the home's simple, uncluttered aesthetic. Opt for delicate fairy lights arranged along the mantel, shelves, or doorways, creating a cozy and inviting atmosphere without overwhelming the decor. Integrate soft string lights or warm-toned fairy lights amidst the greenery, such as garland or vase displays. Incorporate sleek and understated candle holders in thoughtful areas, like the dining or coffee table, even atop your mantel, to introduce a soft, intimate glow that adds a touch of warmth to the serene setting.
Lighting and candles are a vital factor in generating the holiday spirit, so implementing this into your home is a must!
Organic Tones & Neutral Colors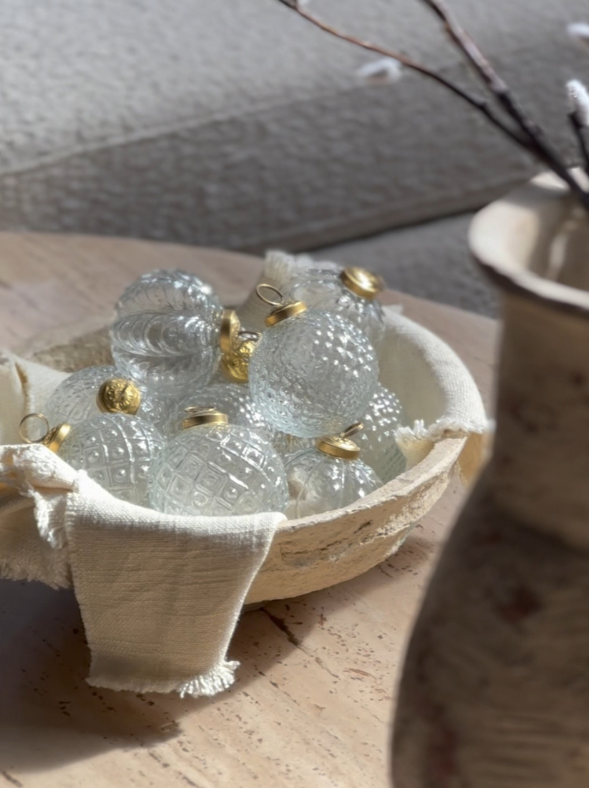 In the essence of a minimalist home, often colors to be found are neutrals and softer tones, such as white, beige or browns. To emphasize these palettes, implement understated ornaments and decorative elements in shades of ivory, taupe, or beige ensuring a cohesive display that seamlessly blends with the minimalist aesthetic. Combine natural elements such as pinecones, twigs, or dried foliage in their original hues, adding a rustic touch that complements the neutral color scheme and further promotes an organic aesthetic. Utilizing greenery will create that sense of holiday color that is natural and not overbearing. If you find yourself missing the traditional hues of Christmas, consider fusing these colors in a minimal way, such as berry branches or taper candles.
Simplify Your Wreath
Simplifying your wreath can be achieved when carefully designed with the combination of natural elements, festive charm and an elevated, minimalist aesthetic. Minimalist wreaths are a staple for holiday decor, tying in the beauty of seasonal essentials.
Discover the ideal wreath, crafted with eucalyptus, evergreen or fir, either faux or real. Often simple wreaths featuring solely greenery and foliage make for an elevated holiday look. Implement accents of pinecone or dried oranges for an earthy touch, further adding subtle color to your design.
When adorning your Christmas wreath, it's essential to adhere to a design that embodies simplicity and sophistication. If you are aiming to implement Christmasy decor, the perfect way to attain this is by adding minimal ornaments or ribbons. For a more dainty look, consider adding florals such as baby's breath or roses.
The Minimalist Christmas Tablescape
The holidays are a time of connection, fostering the beautiful adoration between loved ones surrounded by comforting recipes and shared laughter. The key to crafting timeless memories is to be encompassed in a welcoming atmosphere, designed with detail and care to ensure the festivities are enjoyable.
Crafting a minimalist Christmas tablescape calls for the thoughtful curation of simple, yet elegant elements that infuse an organic aura.
Begin with the foundation of the table with a neutral-hued table cloth and table runner. Top your setting with modern tableware, such as sleek glassware, radiant flatware and chic plates and bowls. Adorn your essentials with subtle touches of greenery, such as sprigs of eucalyptus or delicate pine branches, to infuse a touch of the festive spirit. Incorporate a focal centerpiece and taper candles in sleek holders, allowing their gentle flicker to cast a soft, inviting glow across the table.
Gift Wrap Is A Decor Element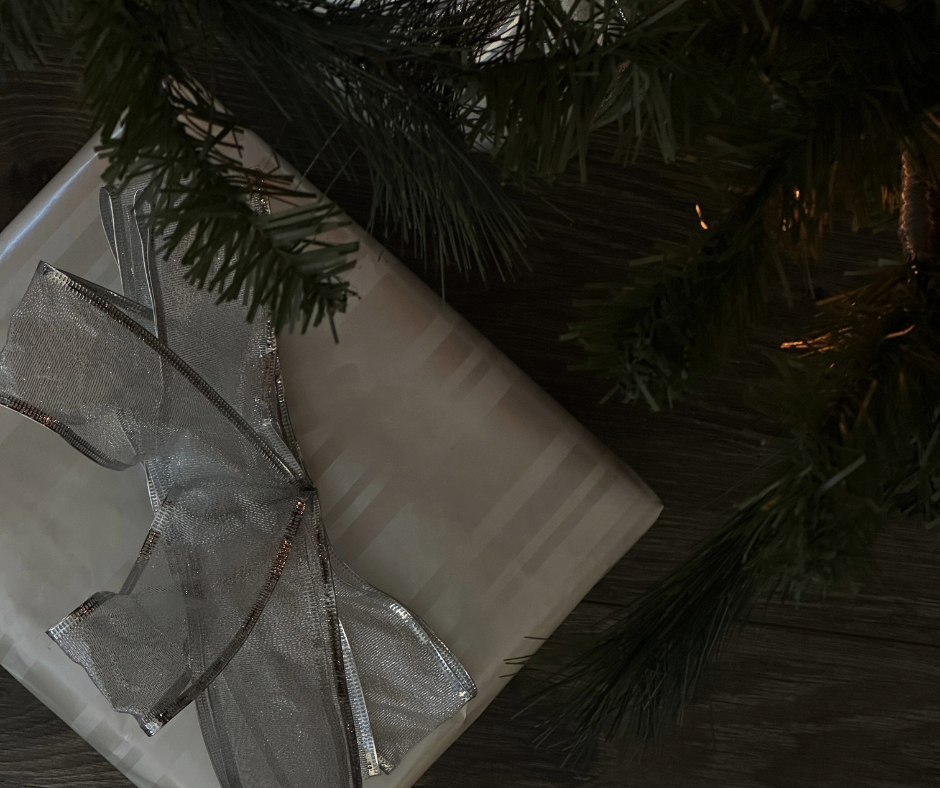 While often overlooked in the realm of holiday home decor, the selection of gift wrap for your holiday gifts serves as a necessary accessory, contributing to the overall aesthetic of your space, as well as the minimalist ambiance.
Choosing gift wrap for minimalist Christmas decor entails selecting understated and refined designs that harmonize seamlessly with the minimalist style. Consider wrapping paper with subtle and muted shades, such as warm beige, pristine whites, or earthy tones, to preserve a polished and delicate appearance. For a more organic feel opt for kraft paper or linen for a rustic touch that further embraces sustainability. Highlight the use of sleek and soft ribbons in complementary tonal hues, providing a delicate finishing touch that will complete the overall minimalist allure.
Less Is Always More
In virtue of a minimalist home, the phrase "less is more" is one that is valuable in the art of holiday decor. Traditionally, festive adornments often revolve around an extravagant display of vibrant greens and reds, evoking a sense of joyous abundance. And while this may be delightful to perceive, if you're aiming to decorate a minimalist home, it may be beneficial to carefully plan what elements to bring into your own home.
When styling a minimalist home for the holidays, it is impactful to steer clear of excessive tchotchkes or overwhelming holiday embellishments to maintain simplicity and sophistication. Embrace a less-is-more approach, selecting a few carefully considered objects that align with the minimalist aesthetic of your home. Select pieces that are both functional and aesthetically pleasing, such as sleek candle holders, minimalistic ornaments, or elegant wreaths. Mini Christmas trees placed aside sleek vases or decorative bowls will add a subtle hint of festive spirit, without feeling too cluttered.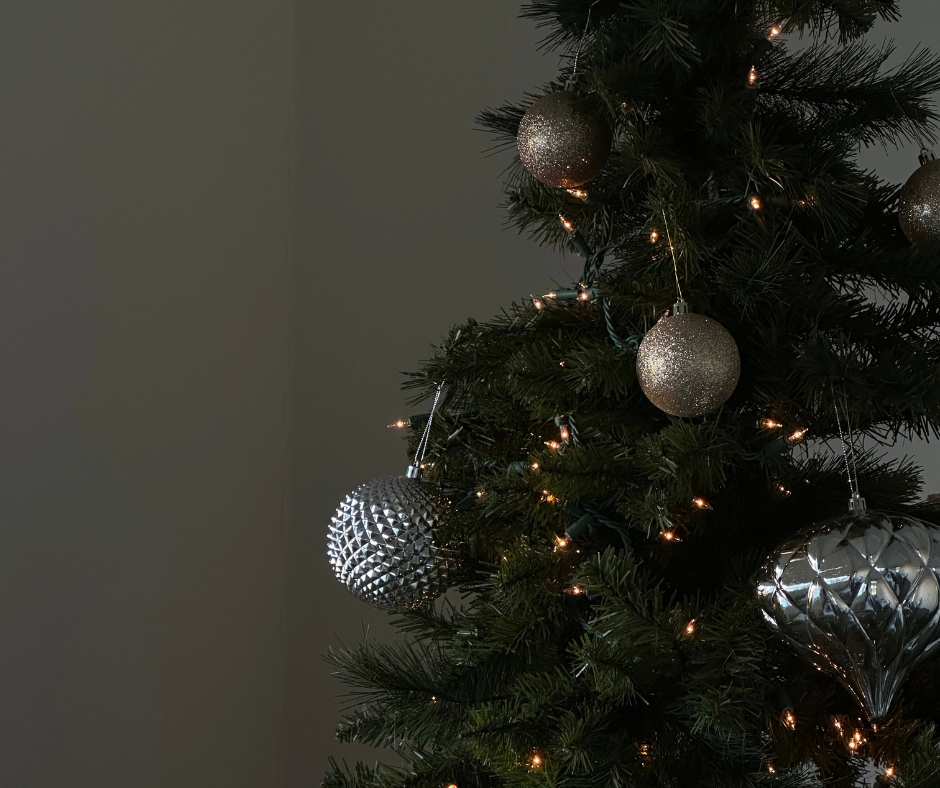 As we approach this festive time, we are reminded of the beauty within holiday decor that sparks a sense of warmth and joy. Building upon symbols of nostalgia and tradition, the decor we bring into our home is essential for crafting an ambiance that welcomes the spirit of the season.
While the holiday season beckons traditional hues and festive adornments, the art of decorating a minimalist home calls for a discerning eye and a thoughtful touch. With these helpful concepts, we aim to guide your celebrations with a few minimalist Christmas decor ideas, with the intention of simplifying your holiday decorating.