A coffee table can be one of the most essential pieces in your living space. It is the main focal point you see when you walk into a living room and the place where guests come together to hold conversation, share laughs, and create memories. It is a symbol of togetherness, as we establish meaningful and beneficial friendships and relationships through the experiences we share when we all gather.
While the coffee table serves as much more than a simple decorative object within your living room, there is an undeniable pressure to find the best ways to style your table that truly represents your home style, decor and personality. With that being said, there are an exceptional amount of ways to style a coffee table that can be purposeful, intentional and refined.
With our guidance, we aim to inspire you with a few of the easiest and most optimal strategies to styling your coffee table and assist in easing the stress of creating an ideal look within your home. Follow along to learn more about how to decorate a coffee table!
Find Your Ideal Coffee Table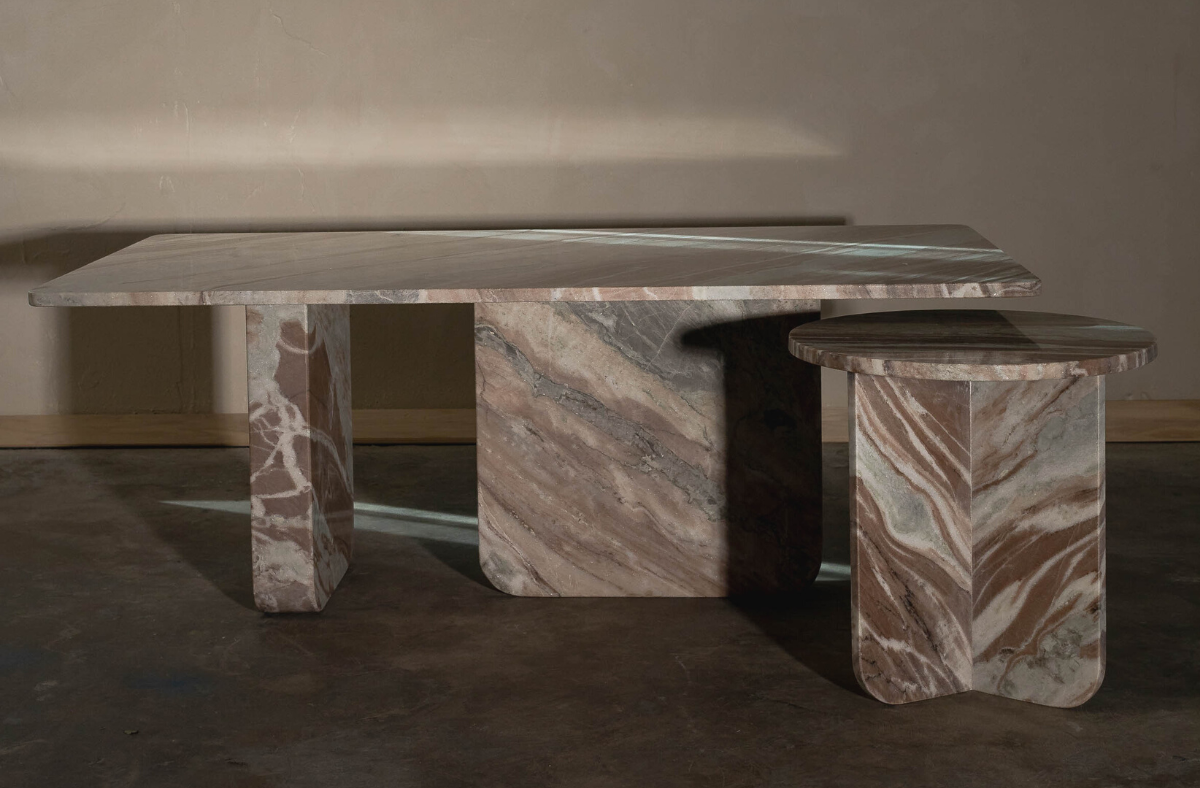 Before you begin strategizing on how you want to decorate, you need to find the best coffee table that is ideal for you and your home. Although this can seem laborious, there are a few steps to help you narrow down your search.
One of the most important steps is to measure your current space, as you don't want to purchase a coffee table that is too small or too big for the room. Keep in mind the look you are going for, as well as the function of the coffee table in the area it is being placed in, as you'll always need enough space. A coffee table should be roughly 14 to 18 inches away from the sofa or any chairs in order to maintain room for comfortable movement. It is also key to find a table that is two inches lower than the sitting height so any guests you have over can sit with ease. You'll also want to find a coffee table shape that pulls together the look of the room. If you have a smaller space to style, try using an oval or a rectangle coffee table. A square or round coffee table is ideal for styling larger living areas, as this is most suitable for larger and longer seating arrangements.
Now that you've learned the basics, here comes the fun part – finding a coffee table that fits your particular theme and style. With an array of coffee tables to choose from, such as glass, wood, marble or travertine, aiming to maintain your decor theme should aways be on the top of the list. Try finding a table that coordinates with your sofa and other decor elements that are existing within your space, acknowledging the textures, color scheme, materials and shapes.
Since coffee tables are quite an important item to include in your space, investing in high-quality, durable and long lasting pieces are well worth it. Find our Livella Marble Coffee Table to be both a stylish and substantial option that will function well in any space, with a neutral color palette, polished rectangular shape, and sturdy marble material.
Style Your Coffee Table In Odd Numbers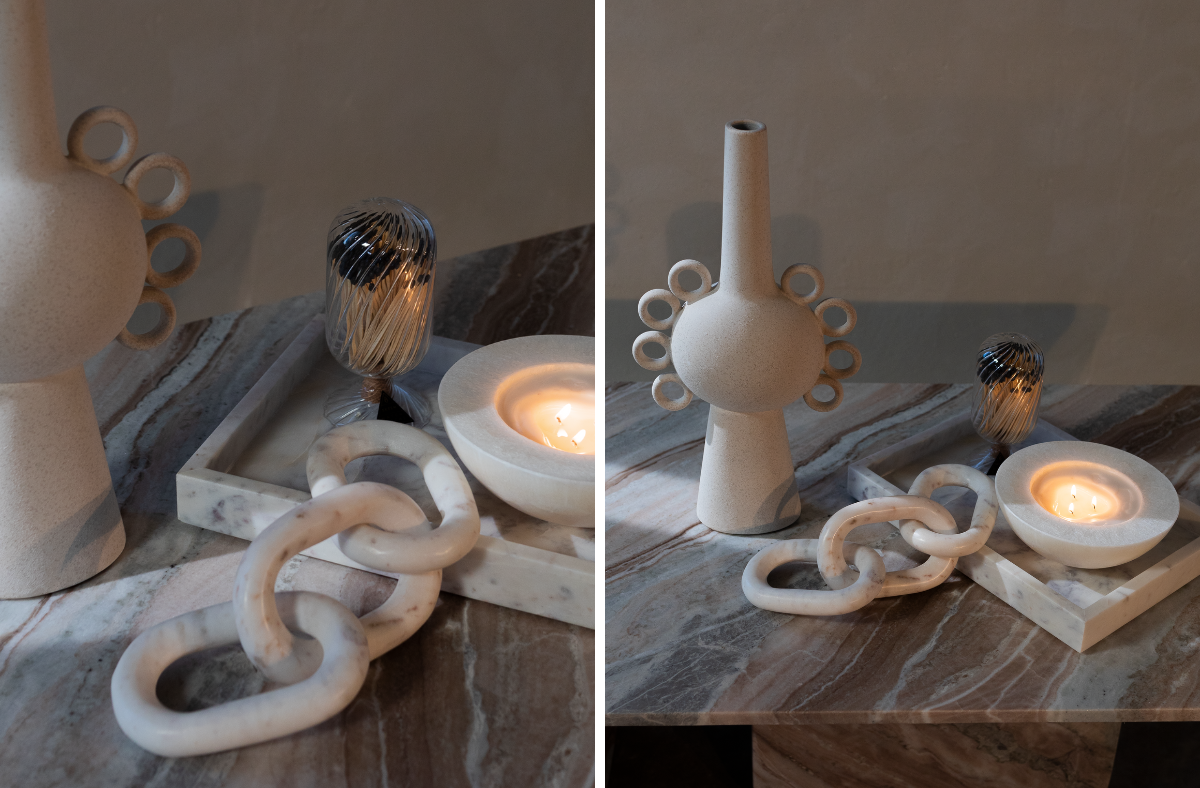 Of all of the styling tips to utilize as you decorate your coffee table, styling your pieces in odd numbers can be one of the simplest and most beneficial in guiding your decorating, not only when it comes to your coffee table decor, but throughout your design journey in any area of your home.
The Rule of Three is an ancient interior design tip that has proven to work in many decor settings. This standard finds that styling your objects arranged in a set of three makes for a more appealing and balanced table design, and is much simpler to manage when it comes to styling.
The reason the Rule of Three is so successful is due to the way our brain arranges items when they are visualized, as three is the smallest number that can be used to create identifiable pattern within our minds, and odd numbered items allows our eyes to graze between each piece making for focal intrigue. In order to adequately accomplish this look, divide your coffee table into three sections and style your pieces accordingly, within each of those sections.
Quick tip: While three is a superb way to start styling your table, you can also achieve this look with five, seven, and nine.
Design With Decorative Books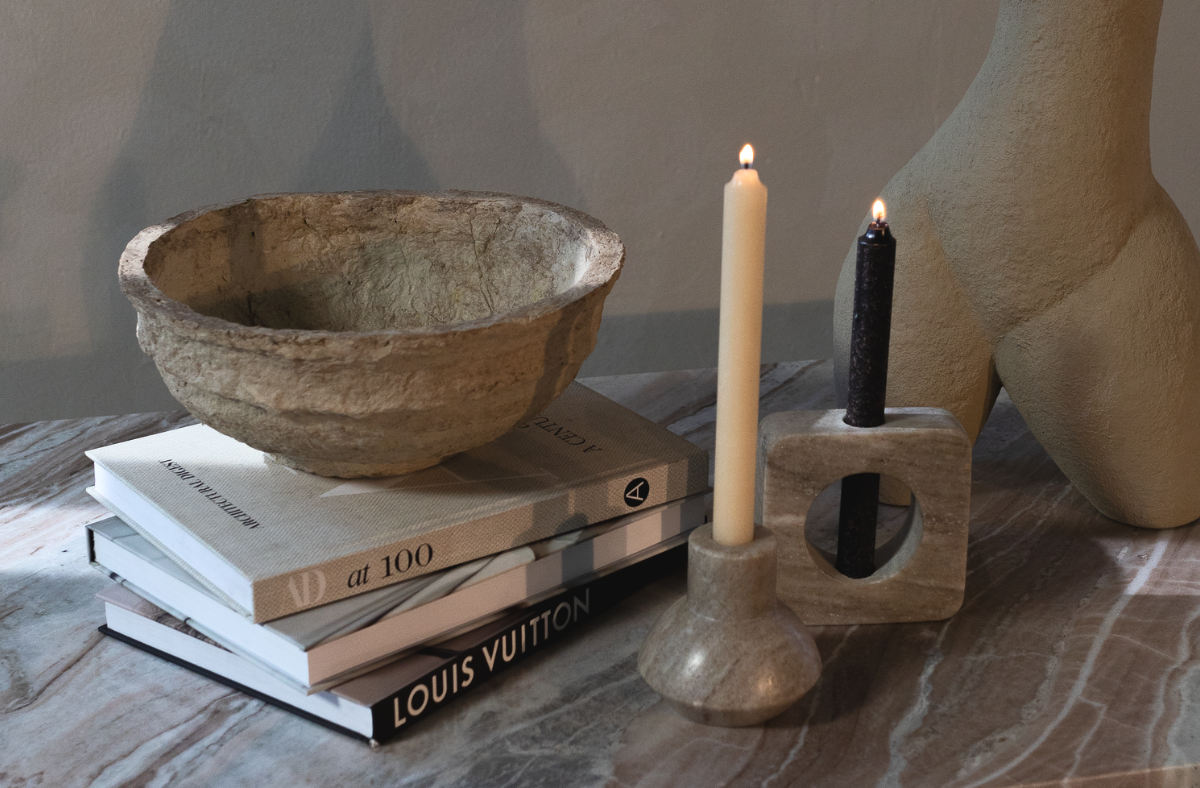 A quick and easy way to add height and character is to utilize books! Decorative coffee table books can be great conversation starters, or enjoyable reading material for you and your guests to flip through, but can also serve as a great styling tool for layering multiple items. Stacking books will implement height and perfectly house any smaller decor items, like a small vase, decorative chain or a candle. You can additionally use books that reflect your interests and personality which will be superb in adding a sense of your identity into your decor.
In need of the perfect coffee table book? Look no further! Our inexpensive designer decorative books are the must-have staple pieces to liven up your table with elegance and luxury, without the expensive costs.
Use Items With Varying Heights & Textures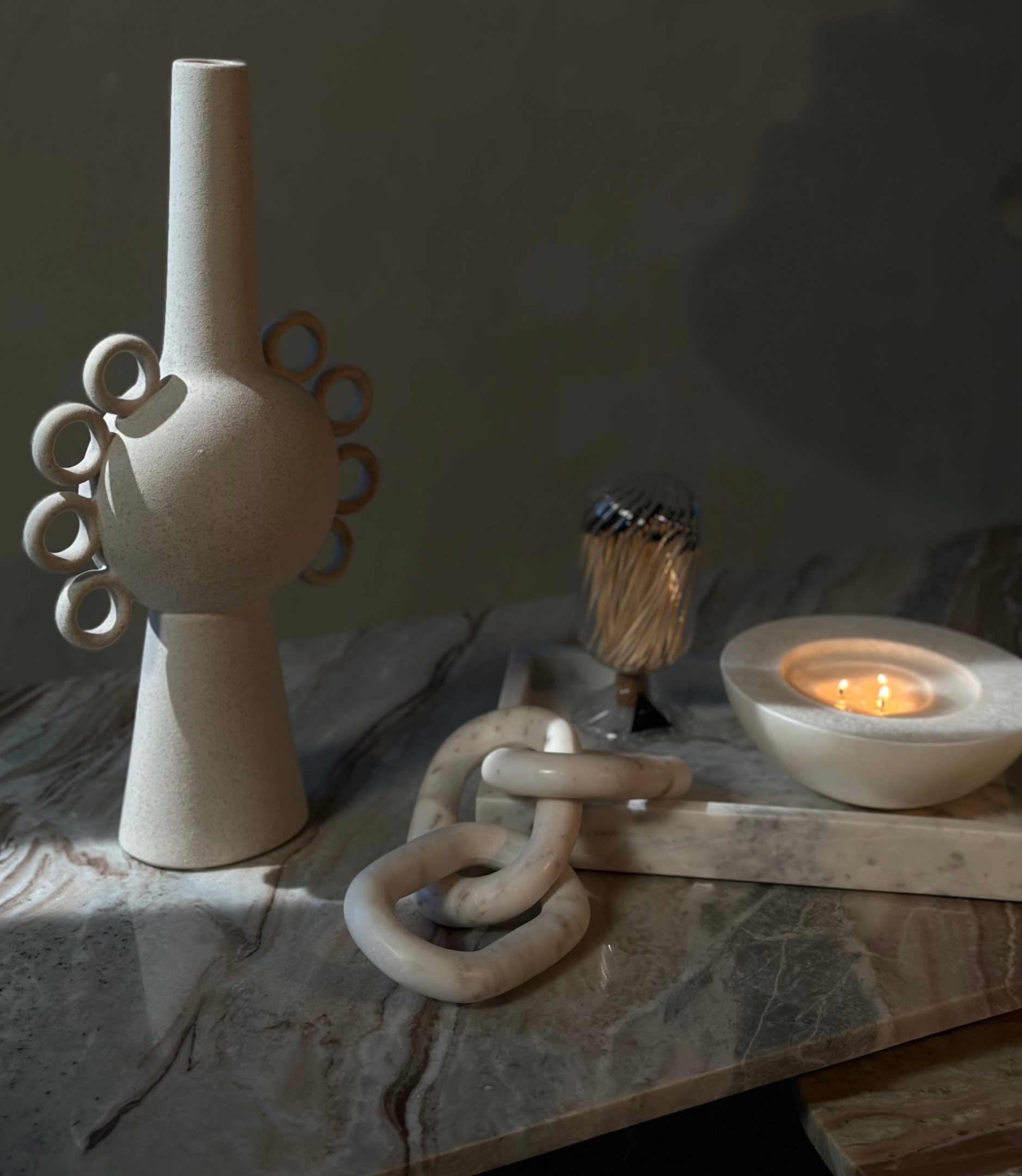 With guidance from the Rule of Three, determining your coffee table setup will easily flow when deciding what pieces to implement into your look. This design plan is key in knowing which pieces will work in your space and how to add the appropriate amount of texture and visual interest.
An important part of decorating a coffee table is to mix and match with objects of different sizes and materials. Styling decorative items with varying heights and textures will draw the eyes in, as it provides balance, warmth and dimension. Using pieces like a sophisticated vase, candle holders and coffee table books will liven up the display of your living room. Always be sure to include a larger centerpiece on your table, such as a statement sculpture or a vase filled with dried plants or a bright bouquet, as this will create an eye-catching focal point on your coffee table.
If you're looking to add texture and luxurious decorative objects to your coffee table, find an array of beautiful and timeless home decor pieces that can be utilized in a variety of ways. You'll be sure to find the right pieces for you and your home!
Use A Tray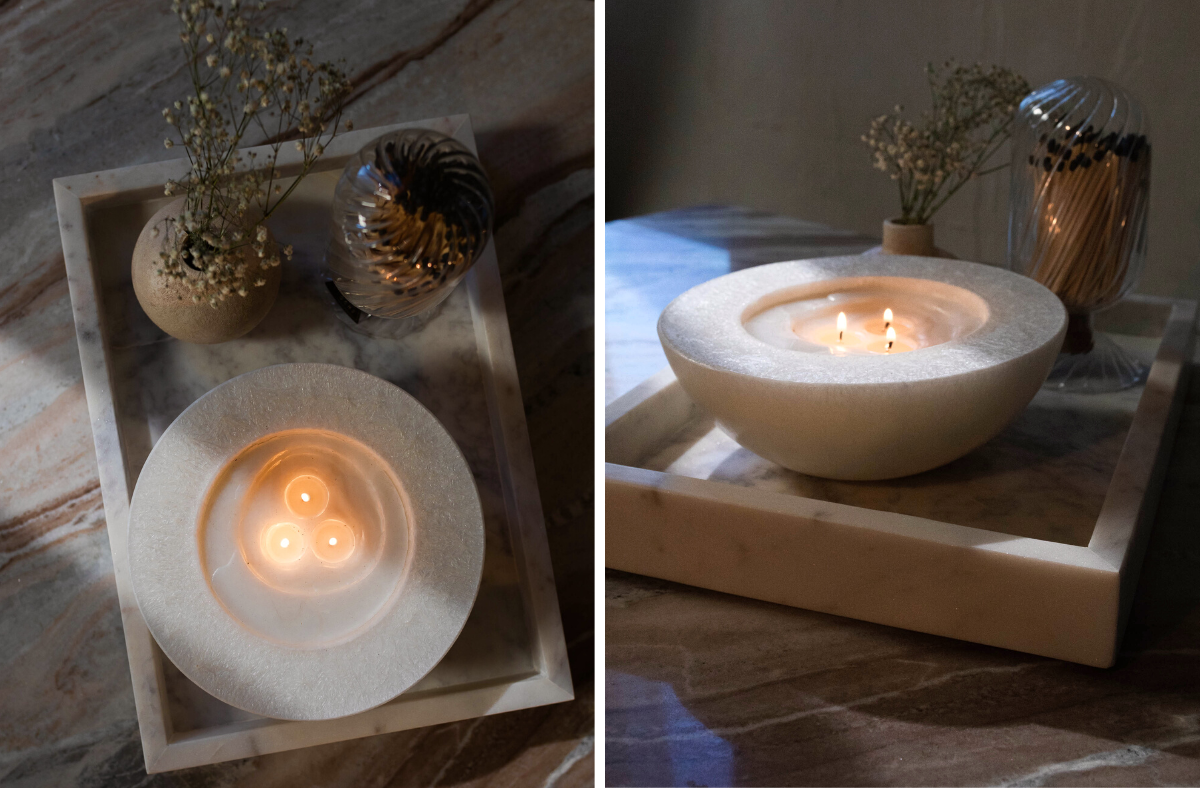 When in doubt, use a tray! An excellent way to fill up space, and to avoid creating overwhelming clutter is with a tray. A tray can be both purposeful and stylish by organizing your decor pieces and home essentials, as well as showcasing other decor elements. Stack a luxe candle, eye catching coasters or decorative books atop your tray, or simply use your tray to house your remote controls and other loose household items. Regardless of how you decide to purpose your tray, using one is a great option as they are easy to style and move around!
Looking for the perfect tray? See our Organic Stone Marble Tray to implement the idyllic amount of luxury and refined taste into your home.
Add In Some Greenery
If you're feeling as though your coffee table needs more natural elements within your styling, an excellent way to invite a touch of life to your table decor is by adding in some lush greenery. Using a sophisticated vase paired with fresh flowers and plants, or faux flowers for those of you who don't have a green thumb, is fundamental for inciting a fresh atmosphere, as well as a pop of color.
Examine From Every Angle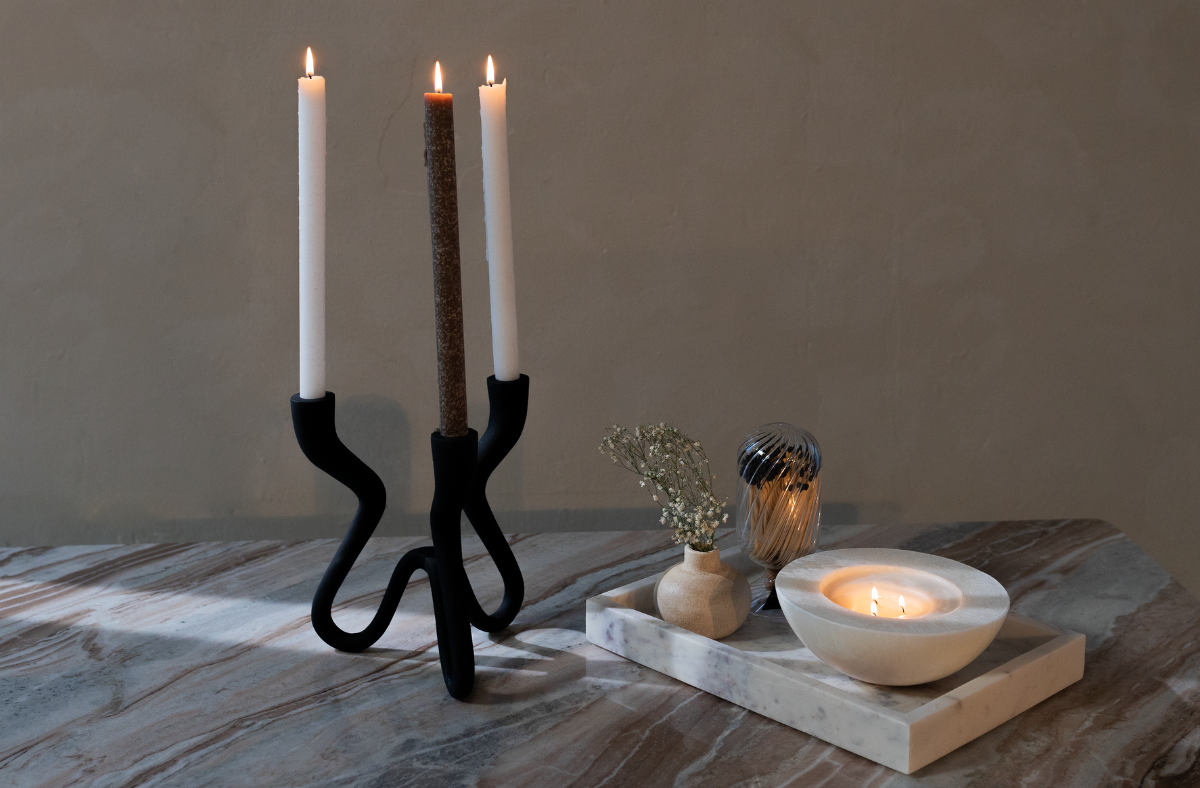 In the midst of your styling, it can be easily forgotten that a coffee table is experienced from each angle, not only from front on. Since a coffee table is naturally viewed from every aspect of the room, each part of the table decor should be taken into account. To find the right balance within your table styling, be sure to take a step back and examine your coffee table from every angle. You'll want to assure that each piece is properly placed and coordinates well with each other and still has the same effect as when you view it from the front.
Experiment Until You Find What Suits You Best
While following guidelines and how to's on the best ways to style your coffee table, discovering what works specifically for you and your own home should be your main goal, as what may work in one home may not work in another. If you are uncertain with how you desire to style your coffee table, experiment with designs until you feel like you've reached your goals.
With the universal guidelines provided above, we assure we have steered you towards a path to success with a few decor ideas that will absolutely spark inspiration and make your coffee table aesthetically pleasing. Like any room in your household, styling a coffee table can be unpredictable, but with consideration of the tips we have listed on how to decorate a coffee table, you are on your way to creating a space that is beautiful beyond belief.