In just a few short days, the beginning of Spring will be here, gracing us with the inevitable comfort that is gracefully offered. As the Winter season comes to a close, we welcome Spring with open arms, embracing the beauty of all that blooms in the coming months. The weather is a bit warmer, the days a bit brighter, and as we reflect on the evolving growth we are surrounded by, we are given the opportunity to transform our spaces and lives to expand with the season.
The start of the Spring season is the perfect time to fill our lives with warm touches that provide us boundless happiness and bliss each day we are able to experience them. Spring flowers, soft colors and enticing scents are suitable ways to fill our homes with springtime decor that is charming, tasteful and effortlessly timeless.
With some great ideas to incite inspiration into your Spring home decor, we offer you a few wonderful tips to get you started on implementing springtime elements into your decor. We aim to show you that seasonal decor can often be pieces that will not only be used within a particular timeframe, but throughout each part of your years to come. Continue reading if you are looking forward to adding a springtime feel into your own home decor.
Bring Nature Inside With Fresh Spring Flowers & Greenery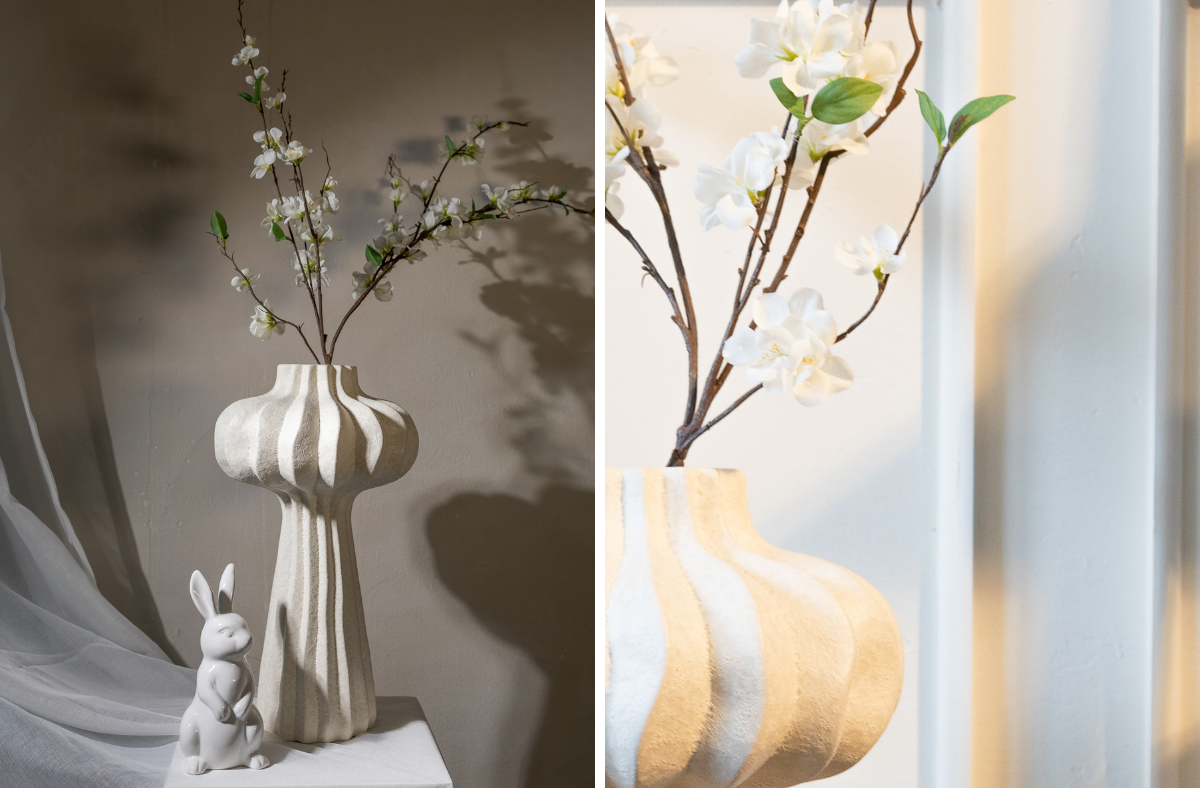 The change to a new season is the opportunity to embark on a journey of growth in all aspects of our lives, including reinvigorating our homes. When we contemplate Spring, we often connect nature's innate beauty of fresh flowers and greenery, warm sunny days and the enriching sense of new life. With this in mind, there are a few ways to bring these essential Spring elements to make a huge difference to your environment.
A simple idea to achieve a bright, springtime look is by filling your home with fresh or faux flowers, green foliage or spring branches. Whether adding subtle greenery such as baby's breath and twigs, or more focal amounts with tulips and daffodils, adding life into your home begins with a beautiful floral arrangement containing your favorite flowers or foliage. Not only are flowers inherently elegant and captivating, but they are a straightforward way to bring natural elements into your space, without the commitment of rearranging your whole decor. Whether they are placed in a Spring vignette or as a standalone piece, flowers are a beautiful touch to any home.
Pair your arrangements with a timeless vase, placed atop a coffee table, console table or a dining room table to bring earthy elements all around your home. If you are looking for a more long-lasting way to create this effect, use faux flowers instead of fresh, this way you can rid of the worry of replacing your arrangements as the weeks pass and can easily reuse for anytime you prefer. Using faux flowers is further an exceptional idea if you like to reposition your arrangements for a fresh look each week.
Finding a vase is all part of the fun and will instantly change the appearance of a room. Vases such as our Loretta Vases, Terra Vessel or Valentina Ringlet Vase, are idyllic for brilliantly displaying flower arrangements, as well as adding into your everyday decor with their timeless silhouettes and neutral designs.
Style a spring vignette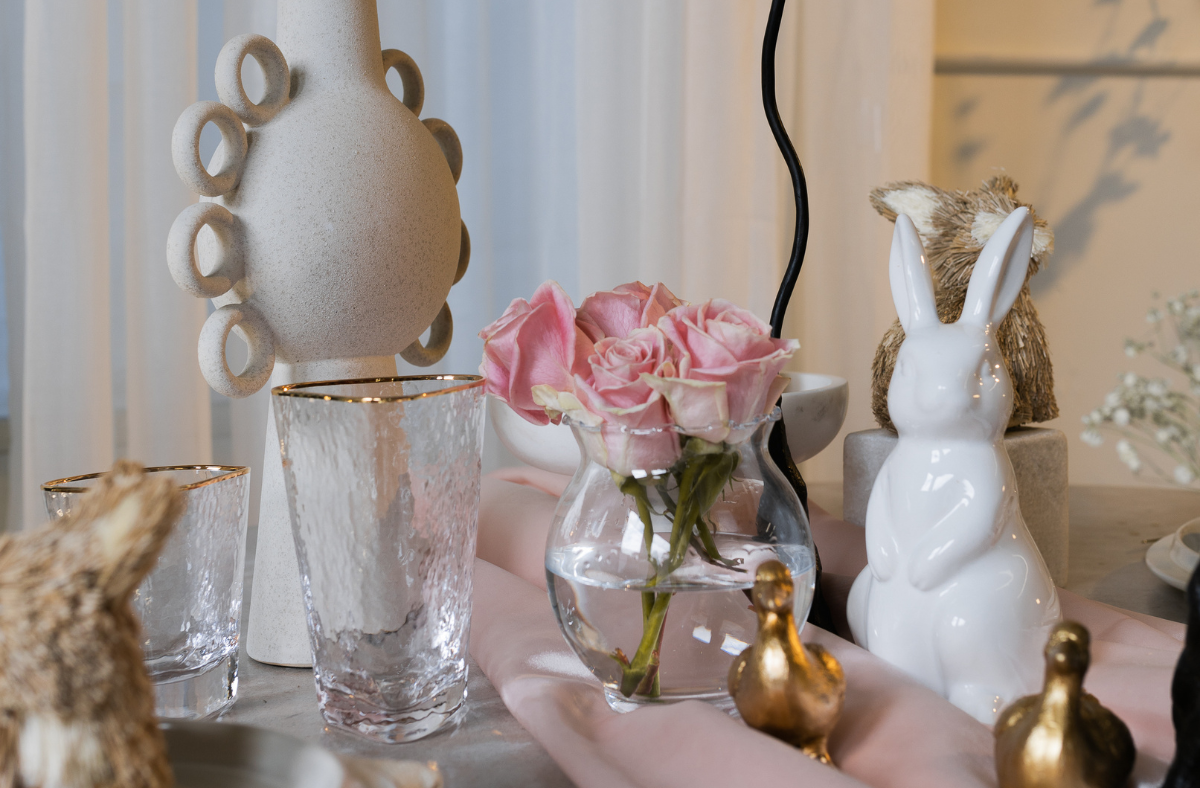 Styling a Spring vignette creates a moment within your home that tells a story and shares the ambiance of springtime. A vignette can be styled atop a dining table, within your living room on a coffee table, in your entry way, or even on your kitchen counter. When you place this styling element within your home, you create a focal point that captures Spring in a way that is paralleled to your home aesthetic. To style this, use various candles and candle holders, pops of greenery, and trays and smaller decor elements to create the ideal Spring look.
Fill Your Home With Spring Scents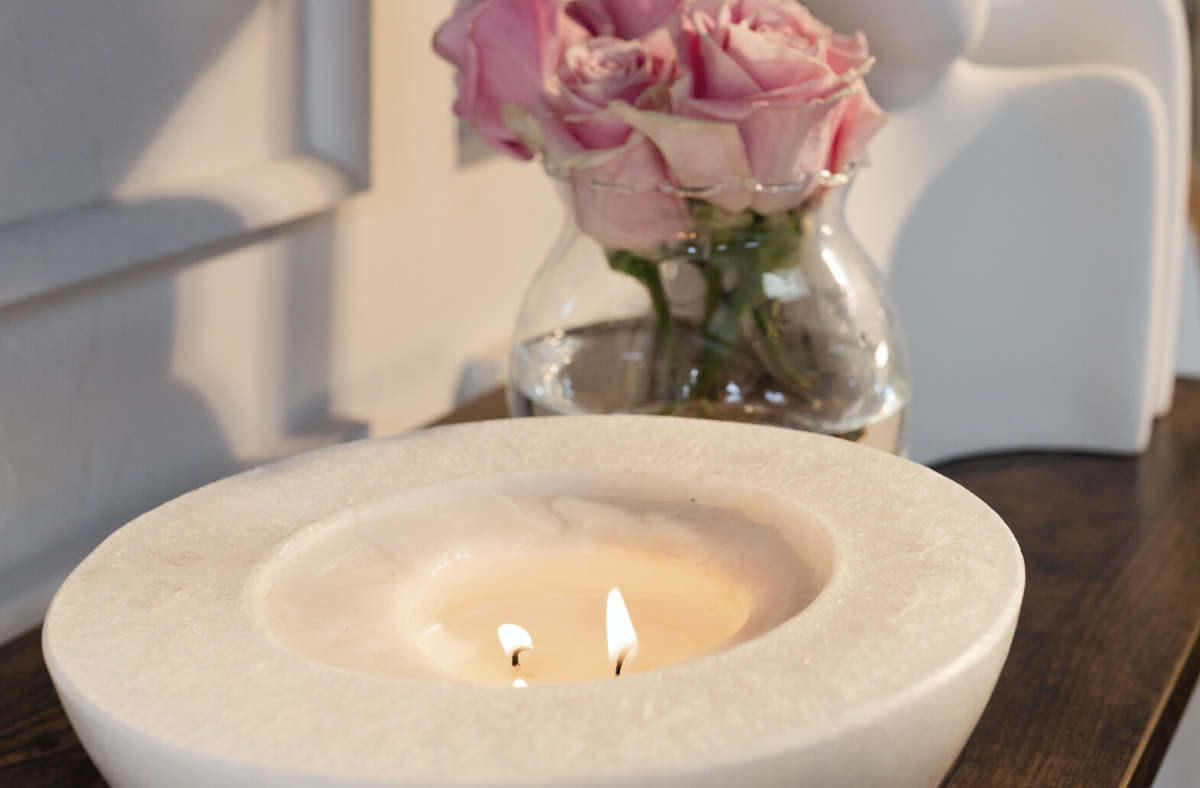 Not only can we visually experience the beauty of Spring, but we can bask in the refreshing aromas that come with it. While filling your home with particular scents is an individualized preference, many common fragrances to implement into your space this season tend to be light, airy, floral and woodsy. Using candles and scent diffusers are an excellent way to achieve this, as they can easily be interchanged and you can experiment with various scents you may be interested in.
Springtime Candles
If you aim to discover a specific fragrance to fill your home with, using a candle is the best way to do this. With candles, you are able to source certain notes that adequately represent springtime to you, such as lavender, lilies, or vanilla musk. As mentioned, scents are personal to each household, so finding your own perfect scent can be trial and error, as you'll want to locate one that is versatile enough for everyday use. Our Crystal Candle, available is three sizes, offers an effortless silhouette that will bring warmth, shape and luminosity to your home. With a neutral color befitting for every home and an intricate scent of white tea ginger root, you will easily achieve the beautiful scent of Spring within your abode with its impressive fragrance that you can even experience when the candle is unlit.
If you plan on creating a beautiful Spring tablescape or simply like to feature various candles and candleholders for depth and dimension, see our luxurious range of candles and candleholders that pair perfectly with the Crystal Candle - we know you will absolutely love them!
Use a diffuser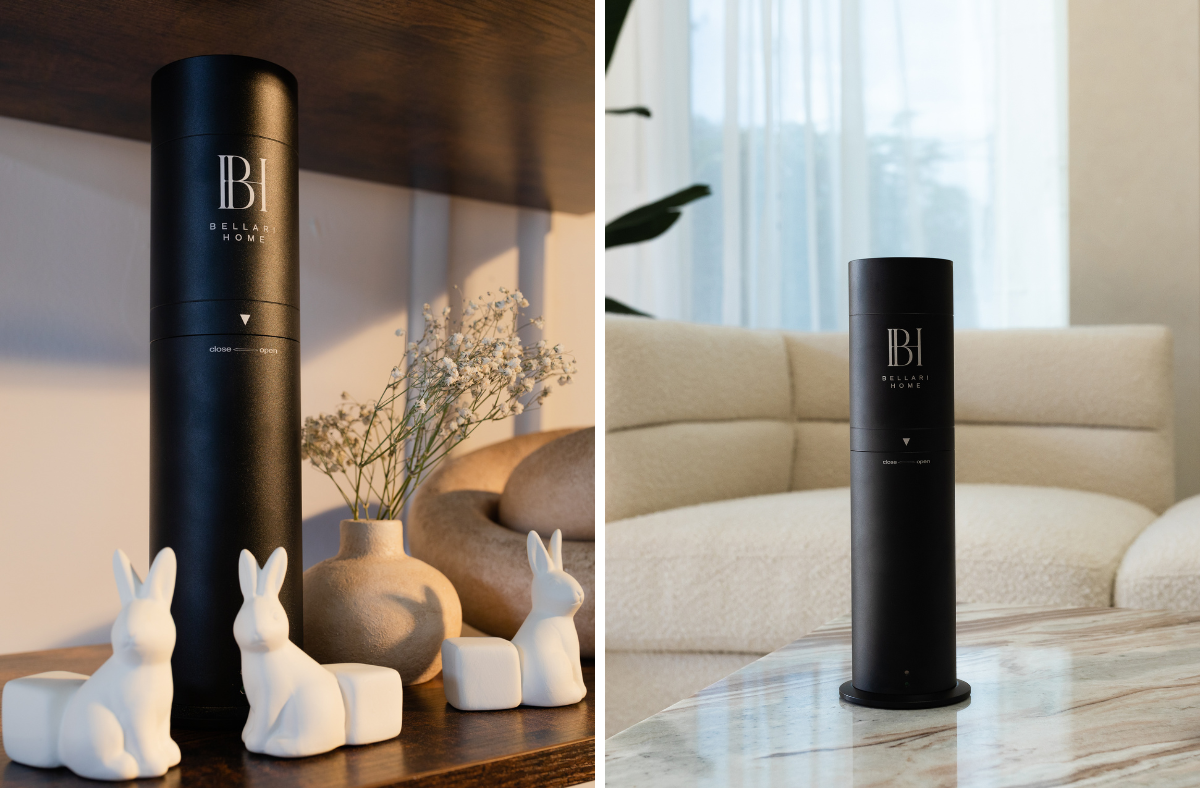 Although candles offer an alluring glow within your space, a diffuser is a substantial choice if you are searching for a long-lasting option to provide a fragrance throughout the entirety of your home. With diffusers, you are able to customize your scent or utilize your favorite essential oils over a longer duration of time, making them well worth the investment.
Our waterless and heatless, Bel-Air Diffuser, features a high-quality, innovative technology that evenly disperses fragrance throughout your home. Since it contains such a unique system and design, you will be able to enjoy your favorite scents without the worry or hassle of leaving a candle on. Pair it with our White Tea Diffuser Oil, curated from the perfect blend of white tea leaves, calming Geranium and a hint of musk and vanilla - an exceptional scent that is reminiscent of the season of Spring. Place the diffuser within your living room for optimal usage and for the best scent experience.
Lighten Your Color Palette & Textiles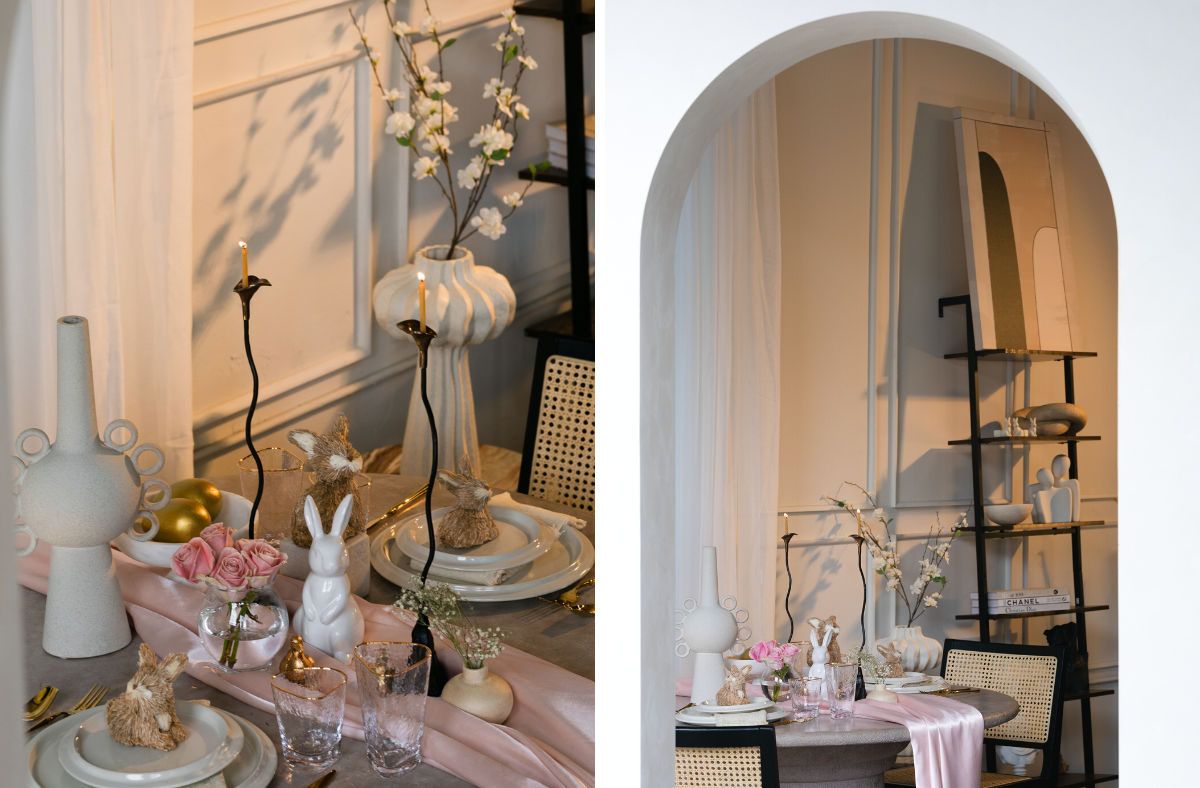 Time to put away the heavy blankets, dark pillows and bulky textures, because Spring is all about bringing in subtle, light colors and soft textiles to evoke an uplifting atmosphere within your space. Bright neutrals and gentle pastel shades are the color scheme for all that is springtime. Exchanging your darker pieces for lighter ones is essential if you are aiming for the light, calming effect of Spring decor.
Whether you are decorating a neutral home or looking to add a pop of spring color, you can achieve these visual accents in a variety of ways - from furniture and rugs to throw pillows and table accessories. Styling with light color schemes make for a spacious appearance that adds vibrancy to any home, as well as a timeless and breathtaking look.
Give your home a new life by allowing our elegant furniture and home accessories to be your ideal Spring decor, creating the serene oasis you are looking for.
Use Curves & Organic Shapes In Your Spring Decor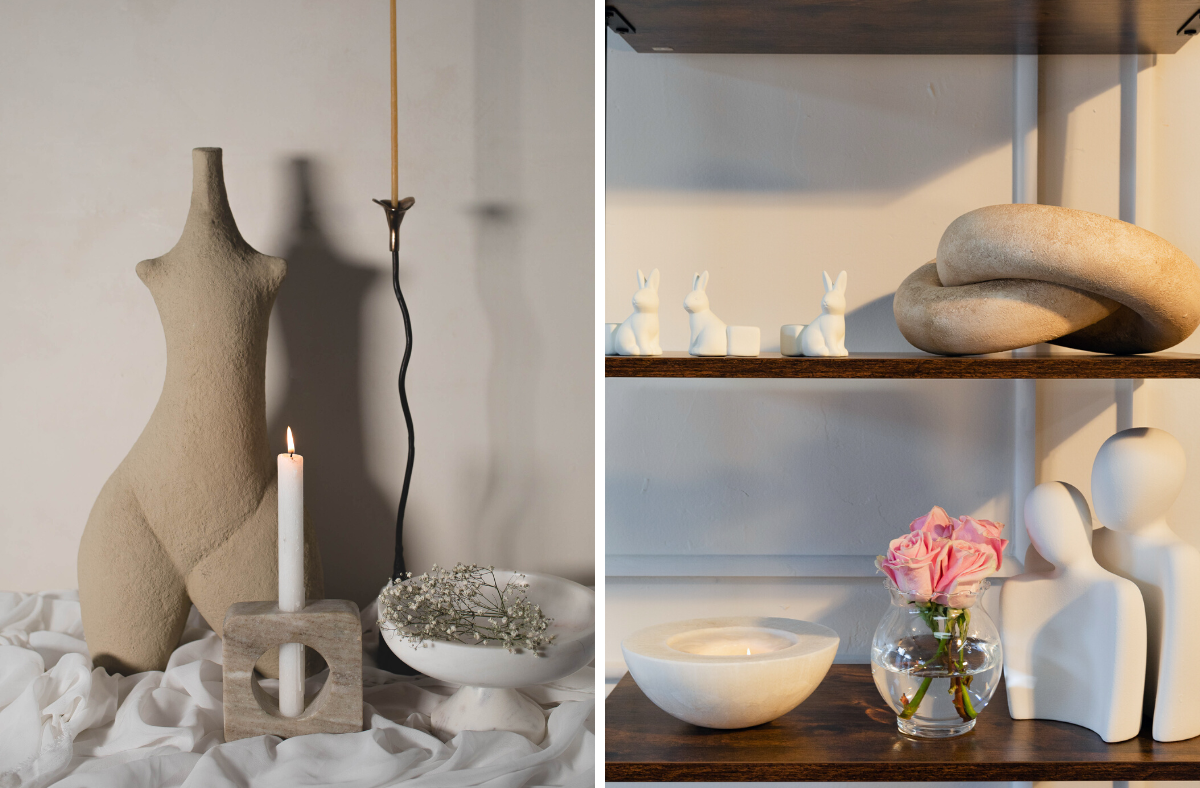 With an emphasis on bringing nature into the home, curves and organic shapes are leading elements to make way this Spring. The deviation from hard lines and sharp angles adds softness to the home and embraces the unique qualities found within objects from nature.
From rounded and arched furniture to curvy accent pieces, all are essential to forming this balance and airiness that is encouraged in Spring decor. Using curved and organic shapes are not only visually intriguing as they produce harmonious balance within the home, but they are also versatile and provide more depth and rustic elements that creates an earthy, playful feeling.
If you're looking to fully refresh your interior decor, adding in curved sofas, coffee tables and accent tables are common ways to play on this motif. The soft edges of statement furniture are prominent in modern design, expressive of the elegance and structure within retro-styled or vintage furniture.
If you're feeling hesitant to fulfill those design commitments, accent decor is a simple, yet high impact way to bring curvaceous elements into your space. Handcrafted vases, sculptures and candle holders featuring raw edges and unique twirls offer an innate beauty and elegance. Pieces like our Goddess Sculpture, Terra Vessel, Paper Mache Bowls, and Descanso Marble Taper Holders perfectly establish this look.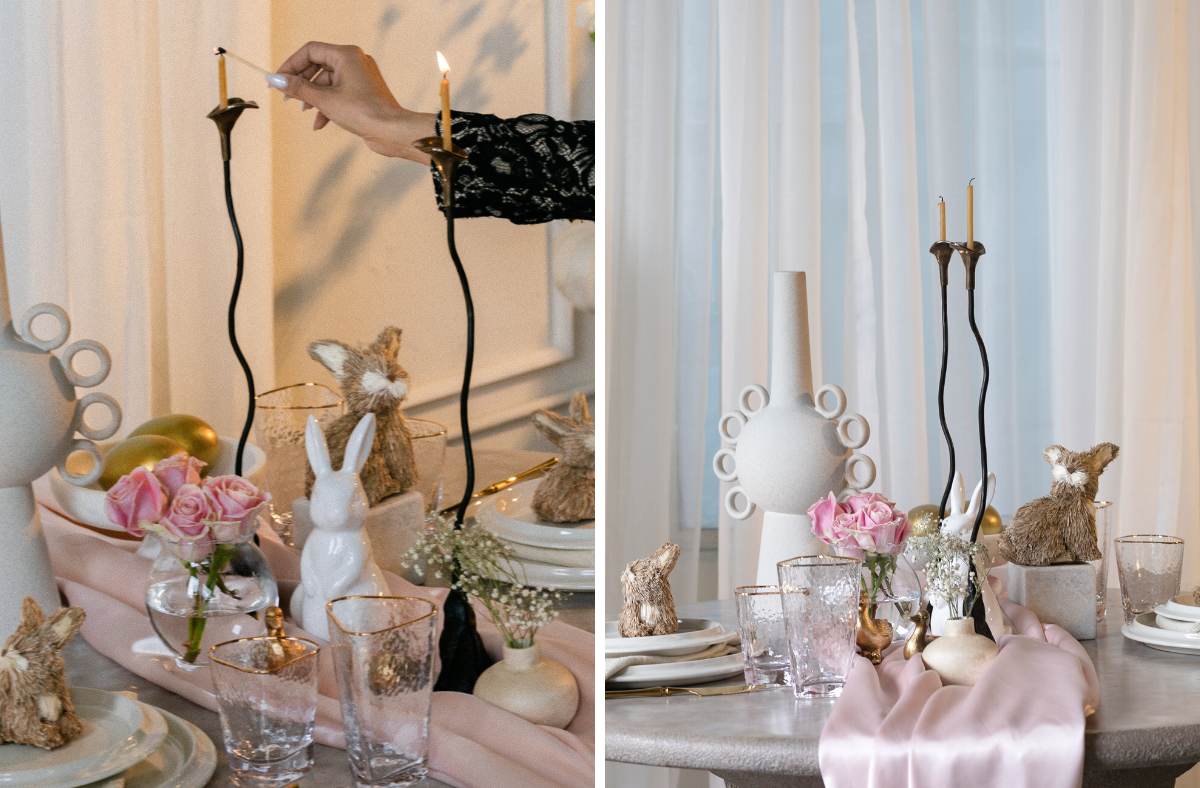 With the coming season, we hope you find inspiration in all that you are surrounded by. The beauty of nature is constantly evolving as the seasons change, and implementing these organic elements into your home will make for spring decor that is effortlessly charming and elegant. While spring decor can vary from featuring items for particular holidays, you can further invest in pieces that are versatile for everyday use. With these few spring decorating ideas, we wish you a happy spring filled of memories shared with loved ones, a home you are inspired by, and a space you enjoy being in.