As we perceive the transformation which comes with the fall season, the changing in the leaves and the crisp feel of the air, we are offered an enduring reflection of the beauty that comes with change, as well as a sense of comfort and nostalgia.
Autumn tends to evoke timeless memories and familiar motifs, like the warm allure of gathering with loved ones and the reminiscent scents of cinnamon and pumpkin.
With the holidays on the horizon, hosting for seasonal festivities becomes top of mind. Aside from the planning of savory dishes, coordinating with guests or adorning your front yard with pumpkins, crafting an idyllic ambiance for holiday hosting is a detail that must not be overlooked.
Whether you intend on hosting a formal soiree or a family cocktail hour, the perfect fall tablescape comes to fruition when fused with passion, attention to detail and the spirit of the season.
With a few tips for creating your desired fall table, we aim to allow you the confidence to host a dinner party with the special people in your life, whilst creating an environment that allows for inspiration, warmth and the opportunity to welcome shared memories and traditions.
The Dining Essentials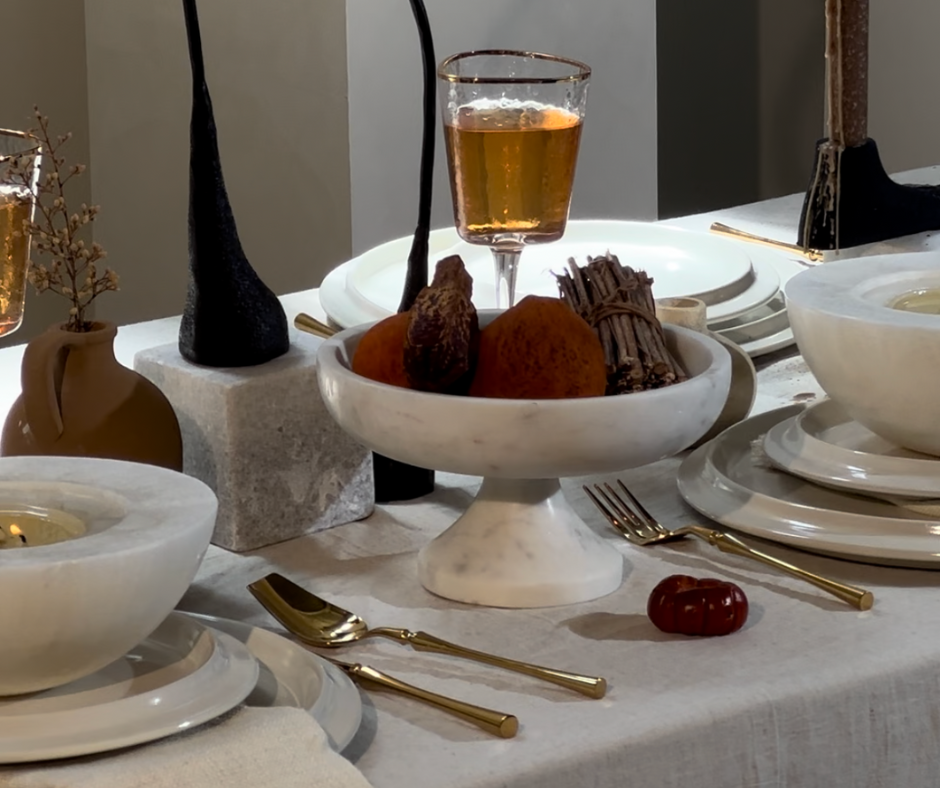 Featured above is the Oro Nero Silverware Set in Gold, Fel Fringe Linen Napkins, and Roma Wine Glasses. 
A beautiful table goes beyond aesthetic, as it is incomplete without the essentials of dining. From elegant table settings to luxe textiles, the perfect fall table will incorporate these necessary elements, implementing a warm, autumnal feel.
Elevated Textiles
The start of a beautiful fall tablescape happens when timely and thoughtfully planned. Decipher the color scheme you are aiming for, one that will appear cohesive within your existing home decor.
At the core of any fall table setting is a richly hued tablecloth and table runner. Earthy colors such as rich browns, burnt oranges, soft taupes, or warm beiges are often gravitated towards when styling a beautiful fall tablescape. Commonly utilized is linen or burlap, both in which add a natural appeal.
Exceptional Dinnerware
In the art of styling your fall tablescape, the presence of elevated dining essentials will enhance the aura of your table. Vibrant silverware, luxurious glassware and beautifully crafted dinner plates will take the table to new heights. Paired with further seasonal elements, your dinnerware will further enhance the intimate feel of your gathering.
Fall Foliage & Florals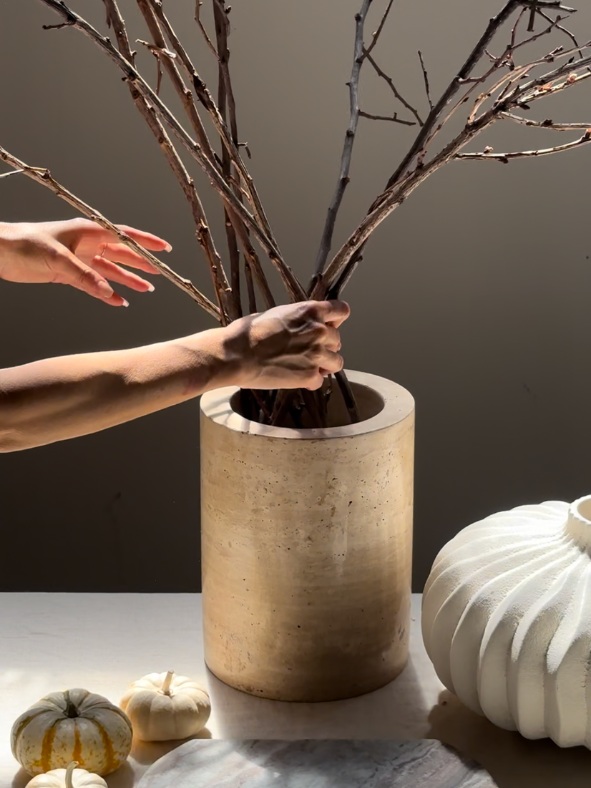 The grace of autumn is beautifully captured in the presence of fall foliage and florals. With an organic feel inviting a natural blend of texture and pigment, an arrangement styled within a charming vessel will be a breathtaking, lively element to include on your tablescape.
Among the array of common fall flowers to grace your dining table are Chrysanthemum, Dahlias, Sunflowers, Hydrangeas, Zinnias, Marigold and Pansies, as these reflect the warm hues of autumn, and can also be found in a neutral palette if you're looking for a minimalist look.
To infuse a rustic touch into your tablescape, consider incorporating maple, oak, or birch leaves, or perhaps some dried branches.
For a soft, delicate, yet meaningful and impactful touch to include on your table is to implement pops of greenery atop your folded napkins. Using eucalyptus, baby's breath, or a single bloom will elevate your table in a way that is subtle and graceful. A detail your guests will find comfort in!
Enchant The Room With A Seasonal Centerpiece
Crafting a centerpiece for a fall tablescape presents a chance to imbue your dining area with the warm and welcoming essence of autumn. This centerpiece plays a significant role as it becomes the focal point, anchoring the entire table and setting the tone for the gathering ahead.
A centerpiece can be accomplished in many forms; a statement arrangement of greenery, an elevated candelabra or a seasonal charcuterie board. Depending on the style and appearance you are aiming for, consider what centerpiece would look best for your table, in both aesthetic and feeling.
When designing your centerpiece, consider combining natural elements into your design, playing with various heights, colors and textures. This will create depth and dimension within your centerpiece, making for an eye-catching moment that contains an organic feel as well.
Ensure that your centerpiece doesn't obstruct sightlines or interfere with the comfort of your guests, allowing them to enjoy both the decor and each other's company.
Create An Illuminating Environment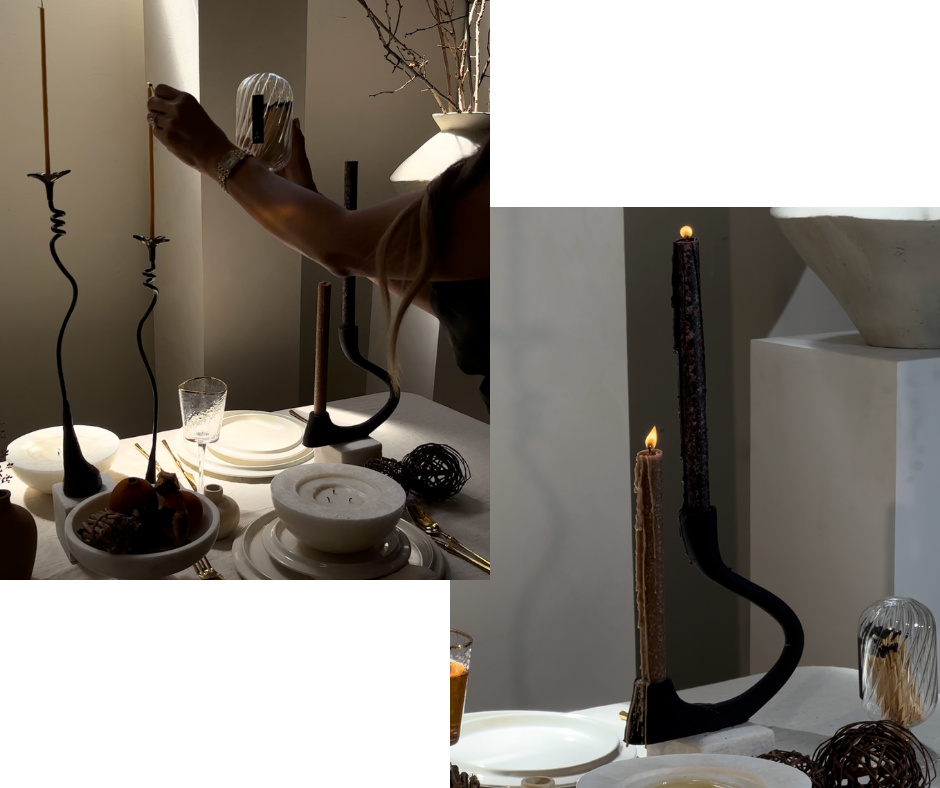 Featured above is the Ferra Lily Candle Holders, Petite Crystal Candle, and Ebony Muted Candelabra. 
Candles are the quintessential elements that breathe life into any classic fall tablescape. The gentle flickering of a candle offers an unmatched ambiance when it comes to creating a warm feel. Offering a sense of intimacy and enchantment, styling with candles are a necessary piece for a dreamlike tablescape.
Begin by selecting candles that showcase the autumn palette, such as browns, taupes, orange, and in some cases black if you are creating a moody look. Taper candles paired with captivating candle holders will add height and dimension, creating a layered effect.
Adorn Your Table With Fall-themed Accents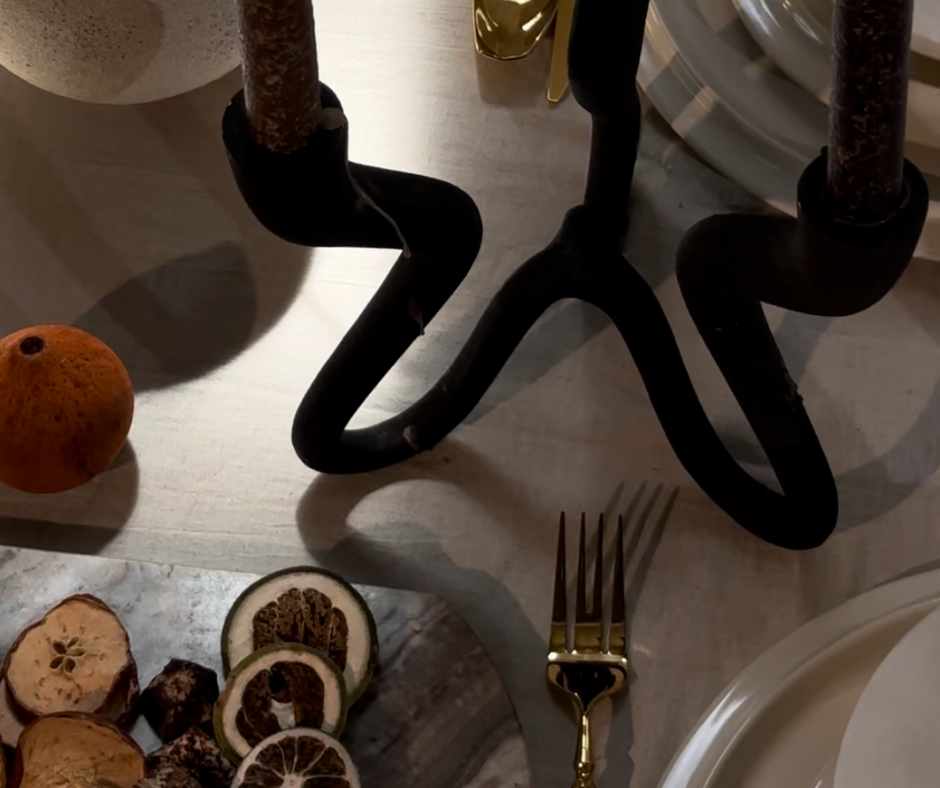 Featured above is the Ebony Muted Candelabra. 
A great fall tablescape cannot be achieved without the presence of fall-themed accents. Adding fall-themed decor pays homage to the season itself and allows you to celebrate its unique beauty. In virtue of the nostalgia that takes place when pondering fall, symbolic seasonal elements are necessary to achieve the cozy allure of this charming time.
Traditional fall decor like mini pumpkins, pine cones, dried fruit or leaves sets a festive tone for the dinner, making an ordinary meal into a special occasion.
The integration of such objects invites an organic mood to the table, mixing both autumn hues and earthy textures. Different textures and natural elements being showcased by incorporating fall-themed decor adds more than just a visual enhancement, but a reflection of seasonal essence.
The Perfect Fall Feast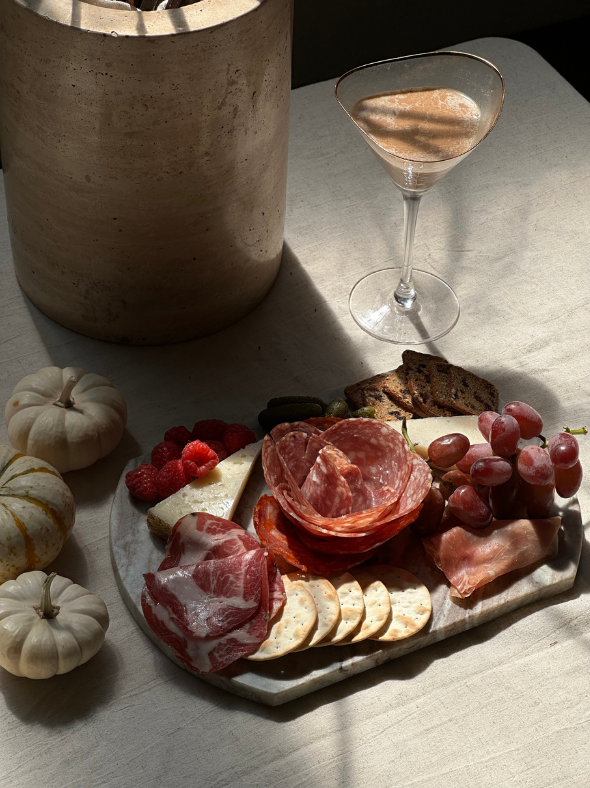 A beautiful fall table calls for a hearty and extravagant dining experience.
Planning a fall feast for holiday hosting is an artful endeavor that begins with selecting the perfect menu. Embrace the flavors of the season by including fall dishes like roasted turkey, butternut squash soup, creamy mashed potatoes, or sweet potato casserole.
Honor the beauty and tastes of seasonal ingredients by arranging an assortment of nuts, cheeses and seasonal fruit in a charcuterie board display. Consider including meats such as proscuitto and salami, paired with goat cheese and creamy brie, and delectable crackers or breads. Add on seasonal fruits, like pears, grapes and dried apricot to add autumnal color.
Featured above is the Organic Stone Marble Cutting Board and Roma Martini Glass.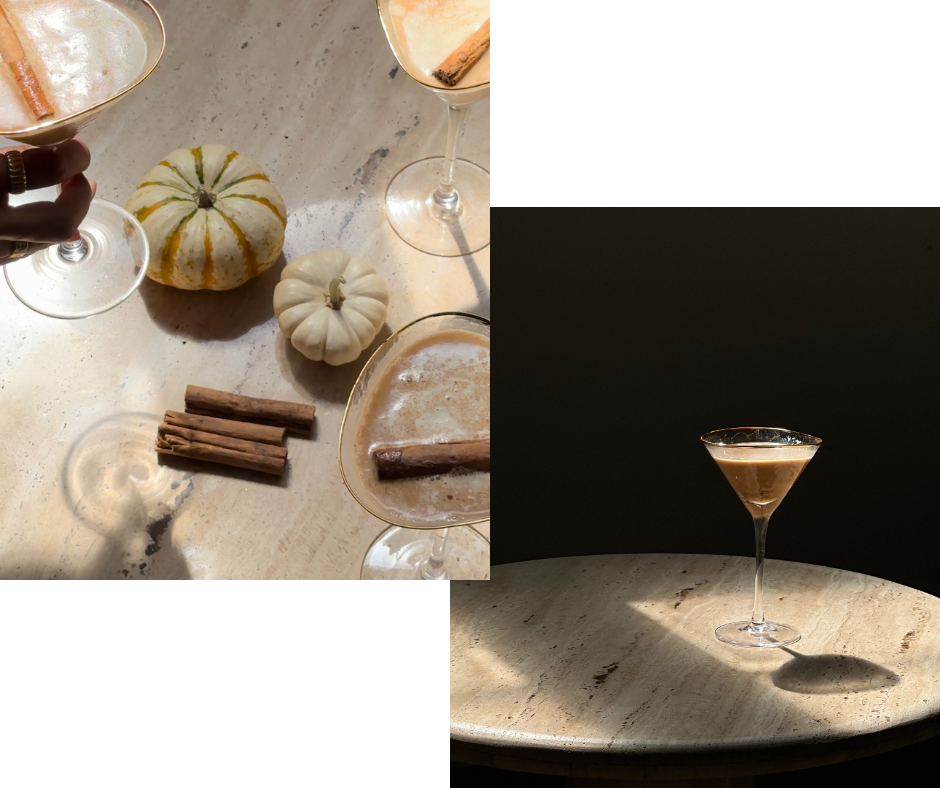 Featured above is the Roma Martini Glass. 
Every holiday dinner party is incomplete without fall cocktails. Infuse the flavors of the season by implementing ingredients such as apple, pumpkin, cinnamon or cranberry. Spirits like rum or bourbon offer a robust profile that resonates with the fall season.
Whether it be a comforting spiced hot toddy to warm up a chilly evening or a revitalizing apple cider sangria for a sunny fall day, a carefully concocted autumnal cocktail incites a feeling of both refinement and festiveness to your holiday hosting, ensuring a memorable experience for your guests.
Every Detail Is Essential
Just as any work of art, every detail is valuable to the feel of a space. Assure that each attribute on your table is in order. This could be ironing your table cloths and linens, the presentation of your food, or the liveliness of your greenery. When each element is accounted for, your table will generate an elevated, thoughtful appearance.
Balance Your Fall Table Decor
When every piece of your table is in place, assure there is visual balance to the overall look. Balance can be attained in various ways, including placement of your centerpiece, the space between objects and the height and layering of elements.
Experiment with symmetry or asymmetry, depending on your style, to create a visually pleasing composition. Symmetry tends to offer a sense of formality, whereas an asymmetrical design can bring an organic look to the table.
Assure there is space between each object, so guests can have appropriate moving room and don't feel cluttered at their seat.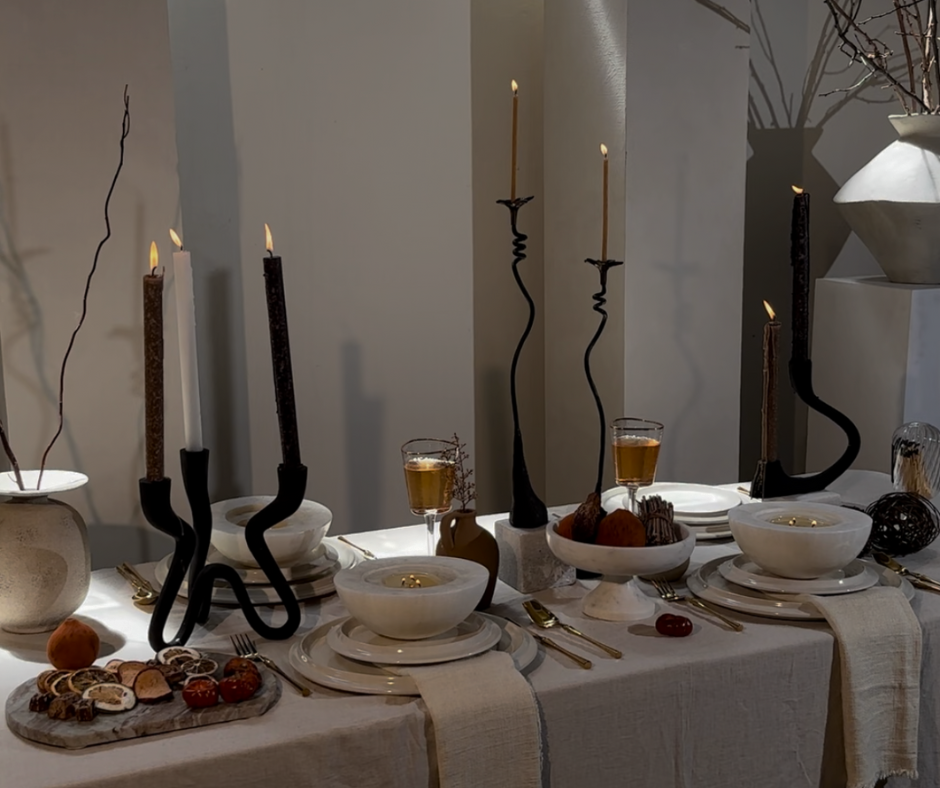 Autumn is the season for gathering with loved ones, sharing the mutual gratitude for one another and for making memories surrounded by comforting home cooked meals and autumn decor.
The altering of the weather and change within our environments reminds us to take the time to slow down, enjoy every moment, and bask in the embrace of cozy spaces.
For this reason, the importance of holiday hosting comes in the value of fostering the many relationships within our lives and taking the time to remind our loved ones of our thankfulness.
When crafting the perfect fall tablescape, it is beneficial and impactful to consider how every element supports one another in showcasing a beautiful ambiance that radiates the spirit of the fall season. Whether it be discovering elevated dining essentials or being encompassed by the glow of candles and the scents of cinnamon, each detail has a vital role in composing a harmonious environment.
As we have offered many decor ideas to creating a beautiful fall table, we hope you have so much fun in tapping into your creativity, being inspired by the surrounding symbols and traditions of autumn. We wish you comfort, warmth and full hearts this cozy season, as you invite the soul of fall into your home.