The day of love is almost here! Valentine's Day is a reminder to those we hold close to our heart of the shared love we feel towards one another. It is a testament to all of the memories that solidify our boundless adoration that continues to grow as time passes. Whether romantic or platonic, love can be held without limits and should be reflected upon as it can be one of our most powerful emotions felt.
While the love we feel can be honored and communicated every day of our lives, expressing your endearment to your special person, or people, on this dedicated day of love is thoughtful and will remind those you love of how important and irreplaceable their presence is within your life.
There are countless ways to show your loved ones they mean the world to you, from preparing the perfect table scape for an enchanting evening to finding the ideal gift that truly expresses your feelings. Whichever you feel is the most suitable choice, showing you care in a tangible way will provide warmth and happiness this Valentine's Day. Traditional options like cards, chocolates and poems are always an exceptional gift idea, however here's a few creative ideas to say I Love You to those special people in your life.
Set The Table For Two (or More)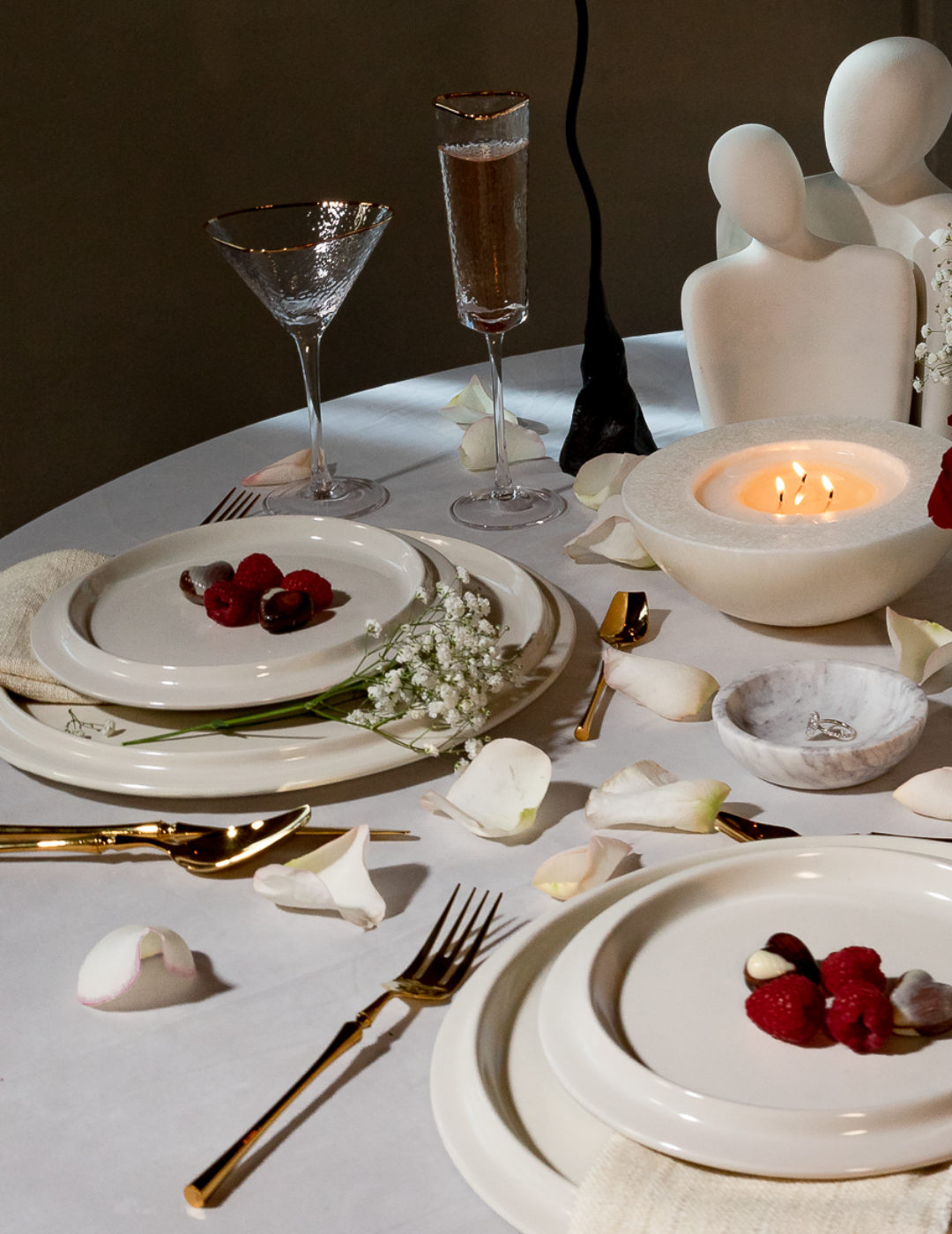 A sweet and warmhearted way to show your love this Valentine's Day is by hosting a dinner party and setting up a beautiful table scape that features pieces that are inspired by intimacy and romance, and sets a charming atmosphere. Whether you are setting the table for that special someone or with a group of your closest friends, styling your table in an elegant way will make for a night filled with endless love and happiness, and can further affirm your deep love and dedication within your relationship or friendship.
To start, envision a way to style your table that not only adds light, warmth and demonstrates your effort, but in a way that also represents your personality. Keep in mind a few key pieces to add to your table which are flowers such as roses, candles and candle holders, vases and timely dinnerware that is not only decorative, but that meets all of your dinner and serving needs.
Design your table with details in mind. While setting the table with dinnerware, such as plates and delicate glasses is superb and necessary, adding in the final touches provides a sense of soul and beauty. After all, a table scape is incomplete without the finishing details.
Begin by placing a table cloth, table mats and tableware for the precise amount of people that will be attending your gathering. This includes, plates for each entree, silverware, napkins and enough glassware to serve your beverages in, meaning some for water and a special drink. You should also leave enough room on the table to add in any centerpieces.
Once the dinner essentials have been set, you can begin implementing the details. A great way to brighten the table is by adding candles and multiple candleholders. This will not only set a dreamy aura with a dim glow, but will implement height and dimension to your table. Styling with different types of candle holders and candelabras will add variety to your table and make for an eye-catching moment.
Finally, you can add a vase filled with a beautiful floral arrangement to provide natural greenery and a fresh scent. This will bring life into your table scape and a delicate touch of color. We recommend using red, white or pink flowers, as these colors reflect Valentine's Day.
If you find yourself to be the host of your dinner for two or an intimate gathering with some friends, don't worry, we have got you covered! With elegant dinnerware, beautifully crafted candle holders and candles, and one-of-a-kind vases, we have everything to help you prepare for an exceptional night. We recommend the Fierro Candle Holder Collection and Valentina Ringlet Vase as must-have statement pieces.
Timeless Pieces For Your Special Person
Valentine's Day most notably includes chocolate covered strawberries, a bouquet of flowers and a cute card crafted in pink and red detailing. While this is an unwavering theme celebrated in each upcoming year, it is not the only way to say "I Love You" to those who hold a special place in your heart. If you're ready to tap into your creativity and show your love in a non-traditional way, gifting home decor is a wonderful way to do so, especially if your loved one is a decor, art or candle lover.
Love is a boundless emotion that can be carried and held as time will pass, blossoming into something so extraordinary and unimaginable. For this reason, gifting decor or decorating your space with timeless items that are long-lasting, durable, and full of emotion will symbolize the love shared between one another.
The Coppia Sculpture captures a true love story, as it crafted to illustrate a warm embrace. With a soft and delicate silhouette that eloquently outlines romance in every aspect, this sculpture is a meaningful gift in countless ways. Find this item in both black and white to accommodate any decor style.
The Crystal Candle is a luxe and versatile gift that is suitable for just about anyone! With a bowl-like crystalized outer shell that perfectly sparkles when light catches its curvaceous form, the coconut soy based wax and natural fragrance of white tea produces a warm sensation throughout your space when lit. The neutral color of ivory and timeless scent allows for this candle to be enjoyed in any setting and can work well within any decor style. Available in three sizes, petite, medium and grande, you can find a size that is perfect for any occasion and purpose.
View our website to find an additional variety of charming pieces that evoke deep emotion.
Wall Art Worth A Thousand Words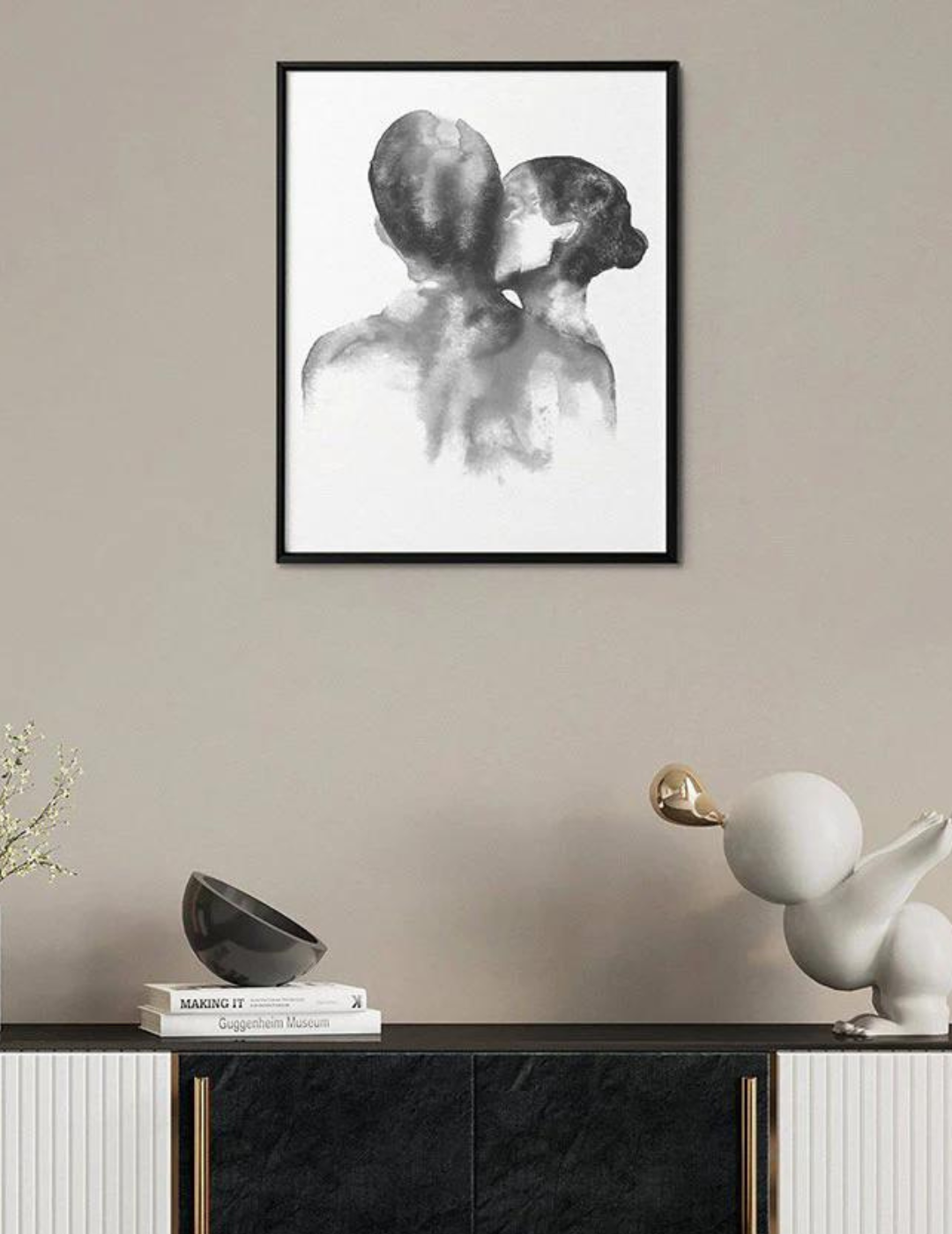 As the old saying goes, "A picture is worth a thousand words", meaning that a visual image can mean much more than what can be expressed simply through words. Wall art, whether it is skillfully crafted paintings, prints, or still professional photos, is created to provoke emotion and can remind us of significant memories or moments spent with those we hold close to our heart. They can produce a smile on the face of your loved one and are a creative way to profess your endearment in an artful way.
Choosing wall art for someone other than yourself can seem like a tedious task, however finding versatile pieces that work well within any home is a great way to start. Simply begin by deciding what message you are trying to convey. If you are looking to directly emphasize your love, find pieces that specifically do this by curating art that feels personal, such as a piece that incites a specific memory or shared experience. Some artwork can additionally represent love by what has chosen to be featured on the canvas, such as a romantic kiss or embrace.
It can also be beneficial to remain within a neutral color palette or black and white photography when determining the artwork you'd like to gift, as this will allow you to stray away from any decor that does not coincide with your love one's home.
Our collection of canvas prints are a great addition to any space, and furthermore serve as an exceptional Valentine's Day gift. While we carry an array of options to choose from, we do feature a few pieces that are especially designed to represent love. See our Love Is In The Air Canvas, Sweet Touch Canvas, and The Kiss Canvas, which are the ideal pieces to add to a gallery wall or as standalone artwork.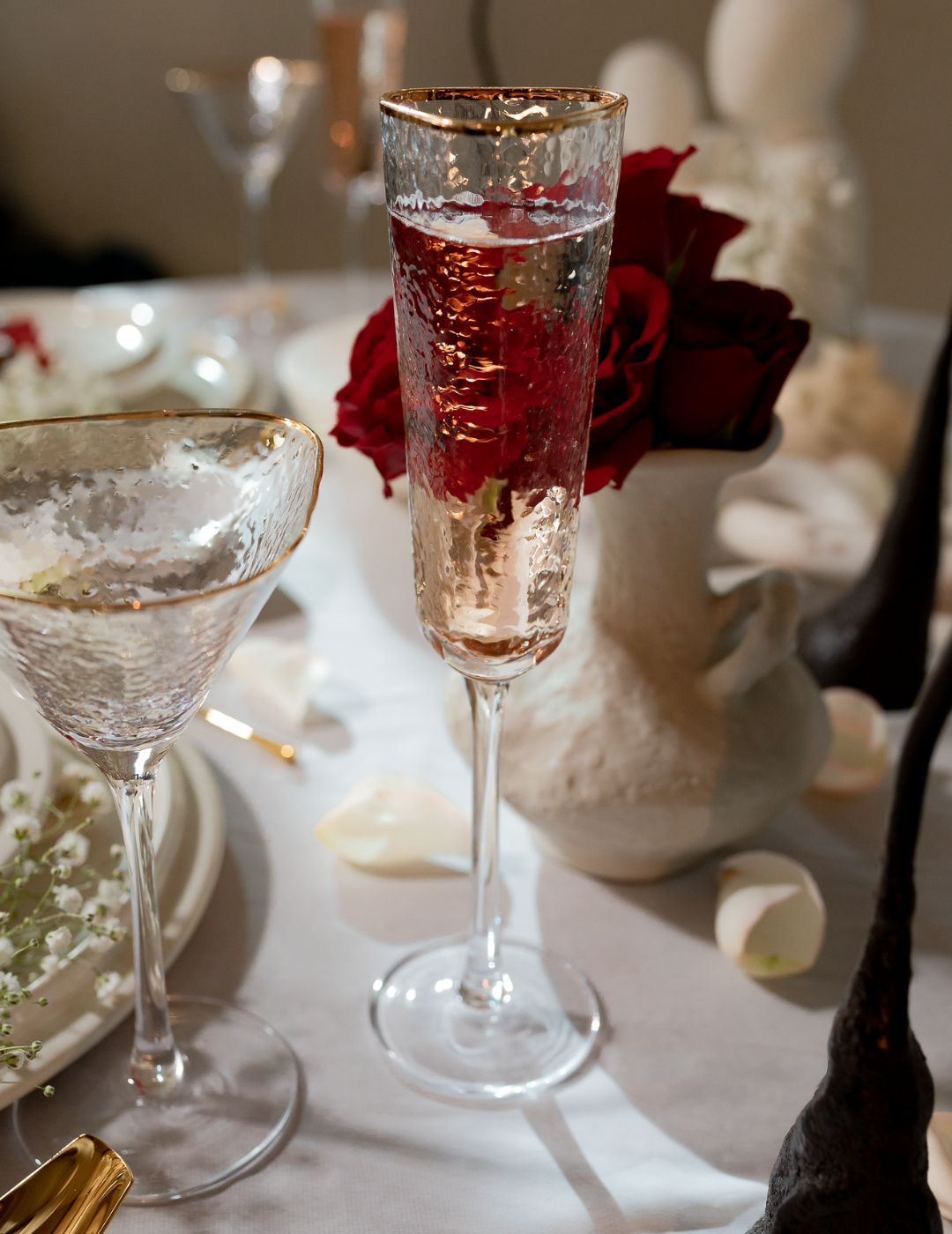 This Valentine's Day, we invite you to reflect on the power of love, as you celebrate those you hold close to your heart. Showing intention within your plans, gifts and words is an essential way to outline the importance of the many people in your life. Unforgettable moments will never fade, and creating a space filled with outpouring love is timeless and admirable.
With these ideas we have provided above, we hope you feel inspired to honor your loved one in the best way possible, whether that be with a gift, date idea or piece that reflects the love you feel. From creating a romantic dinner to finding a piece of artwork that solidifies your passion, we are here to support you with countless refined options. The best gift of all is the time you spend with one another and we are confident that our pieces will provide you with an atmosphere and experience that is unwavering in passion and love.
Regardless of what you plan for Valentine's Day, we hope you enjoy the quality time you will spend with the people you love in your life. Remember, you don't have to be in a relationship to celebrate this holiday, as you can visit with friends and family too.
Don't forget to checkout our wonderful options online to find the best items to make your Valentine's Day one to remember. Shop our Valentine's Day Collection, or browse our other selections of timely pieces that serve as exceptional gifts.