As we transcend into Springtime, we are inspired to embrace the innate beauty of our surroundings. Organic and soft colors, shapes and textures invite warmth and tranquility into the home. With an emphasis on these qualities, Japandi style is an effortless trend being more prominent within the design world.
This idyllic combination of form and function emphasizes the values within modesty, art and nature, reinforcing contentment, peace and slow living. At Bellari Home, we are inspired by the soft and modern beauty that is encapsulated within Japandi design, including clean lines, simple shapes, and warm, neutral tones. To learn more about how to incorporate Japandi style into your home, keep following along.
The perfect mix of Japanese and Scandinavian Styles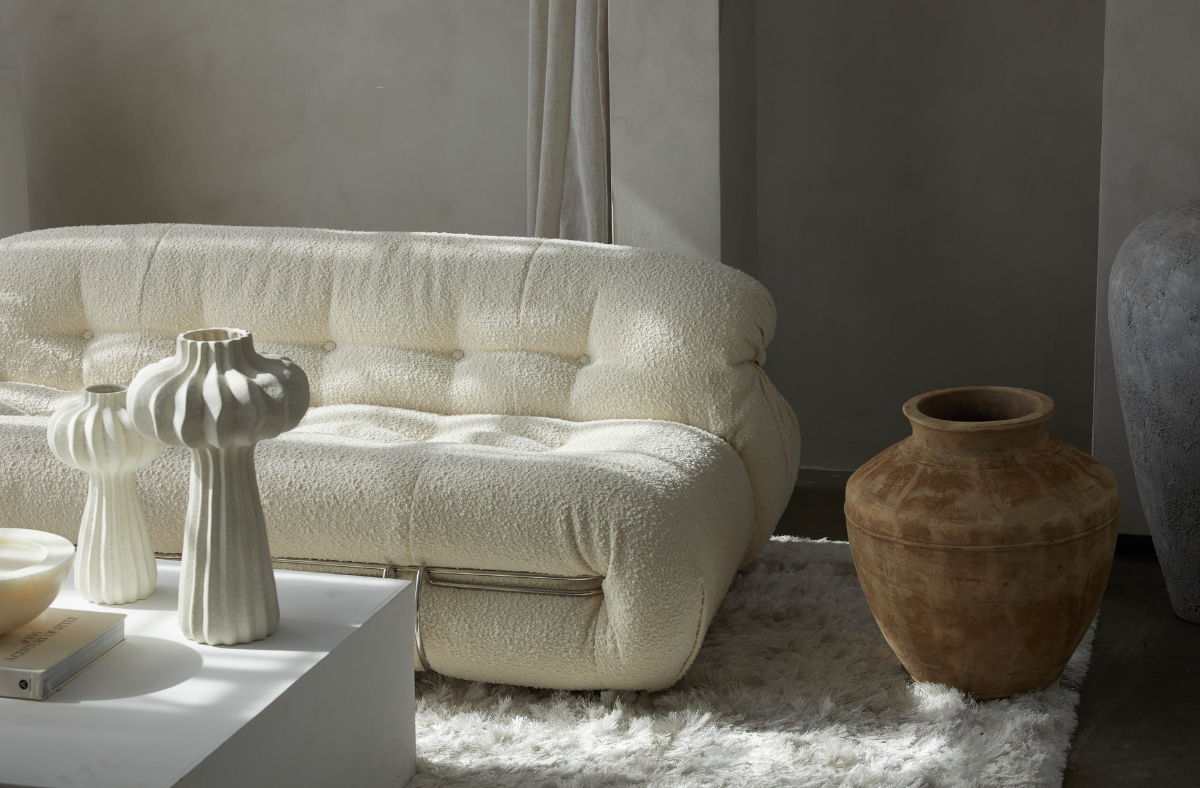 Japandi style is the fusion between Japanese and Scandinavian design, embracing a minimalist, clean and earthy feeling. Decor staples are aesthetically pleasing, as well as functional, and are developed through beautiful craftsmanship.
Scandinavian interior design styles, or hygge which translates to "cozy" in Danish, notably emphasizes coziness and comfort, and the establishment of making the home feel like a sanctuary in every aspect. In order to properly bring hygge into your home, you have to value and appreciate beautiful design, as well as wellness and contentment.
The Japanese design philosophy of Wabi-Sabi highlights the beauty found within imperfections and the appreciation of nature and authenticity. Wabi-Sabi is known for acknowledging that nothing lasts or is ever completely finished, and that perfection is not attainable. When these two concepts come together, Japandi style creates a space that is comfortable, intentional and minimalistic, serving the purpose of making a space feel refreshing and like a home you never want to leave.
The main focus of Japandi interior design is to maintain clean lines, natural tones and elements, functional interiors, and bright spaces.
Design With Natural Materials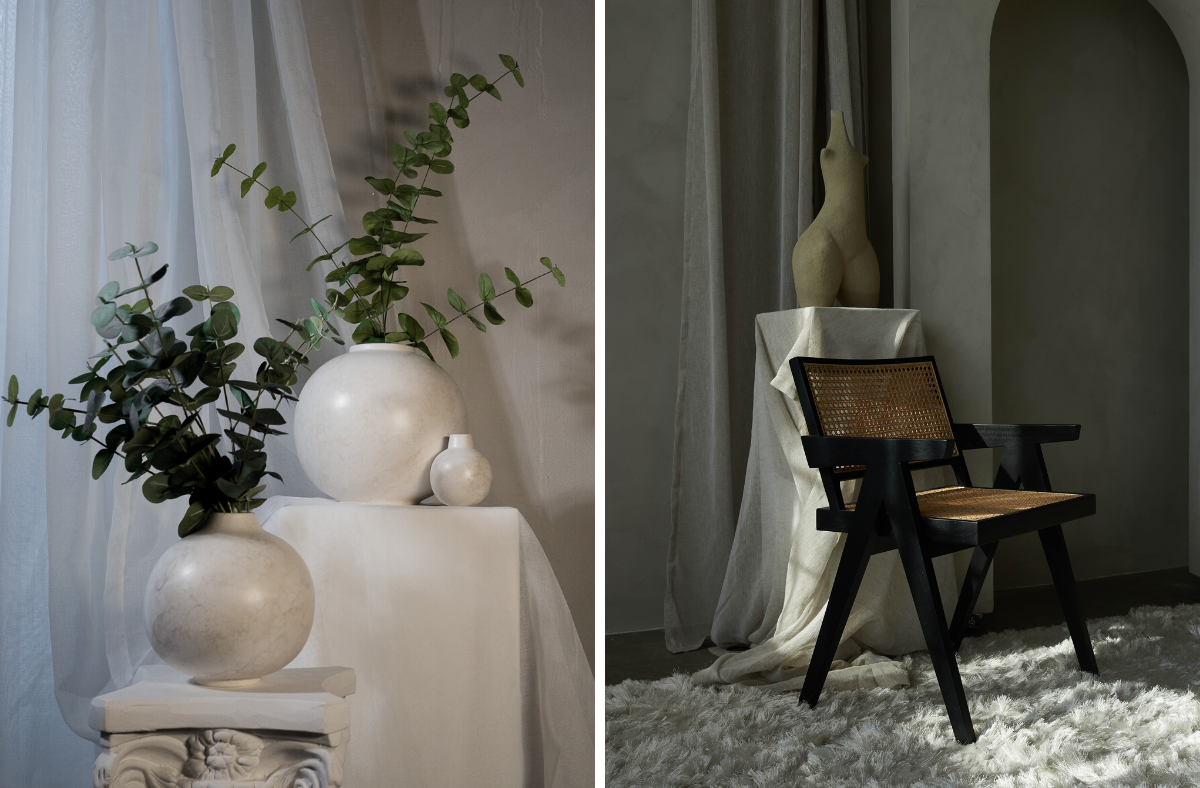 First and foremost, Japandi style focuses on bringing nature into the home, as it creates a relaxing and serene environment. Using organic and durable materials such as wood, bamboo and stone, among other natural elements, are frequently utilized within Japandi design. Both hard woods, such as mahogany, oak and beech, as well as soft woods like pine, redwood and fir are implemented into design plans.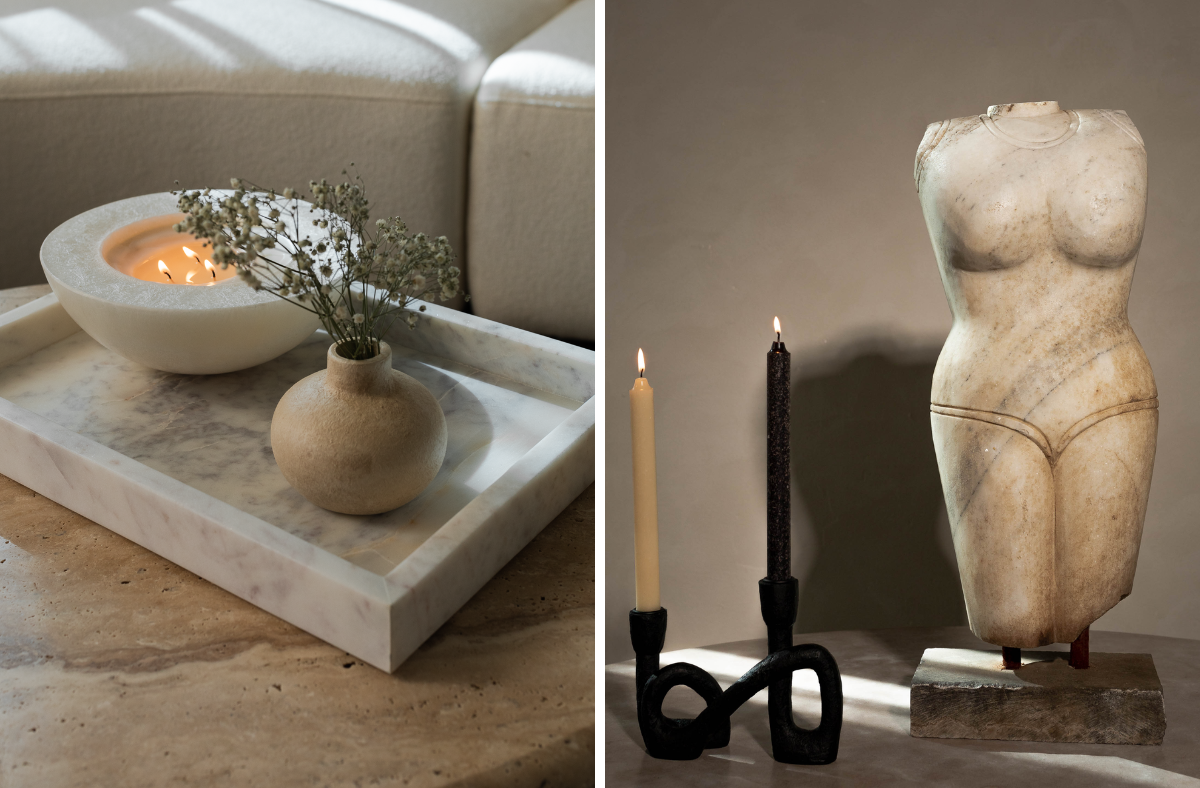 Natural stones like granite, marble, travertine and sandstone are seen in statement pieces, especially accent decor. Other accessory pieces are commonly constructed from metal with patina, ceramic, terracotta, and glass. You'll find these materials showcased in candle holders, vases, bowls and sculptures.
Textiles that are commonly featured include organic linen, organic brushed cotton, boucle and even velvet. These materials appear in throw pillows and rugs, or various Japandi furniture pieces like sofas and accent chairs. Combined with rustic and earthy elements, styling these natural fibers fulfills the purpose of inviting soft touches into the home - the perfect complimentary balance to straight lines and rigid textures often seen in Japandi style.
One of the key natural elements that is essential to fully achieve a Japandi interior is to bring greenery into the home. As mentioned, Japandi style focuses on the beauty of the natural world, and what is more organic than living plants. Plants are known to reduce stress, uplift your mood and improve your focus, which is why style with greenery is so beneficial.
As many organic materials are highlighted between the two styles, it is essential to optimally balance each when styling to avoid any focal overwhelm, as Japandi decor is all about maintaining harmony and minimalism within the home. The appeal of using different textures is to not only curate a home that feels comfortable and cozy, but one that visually appears this way as well.
A major benefit of using natural materials, such as wood which is the most sought-after material used in Japandi decor, is that pieces are often sustainable, long-lasting, and maintain their beauty overtime, even with some wear-and-tear - a philosophy that is embraced within Japandi design.
Use Earthy Tones & Neutral Palettes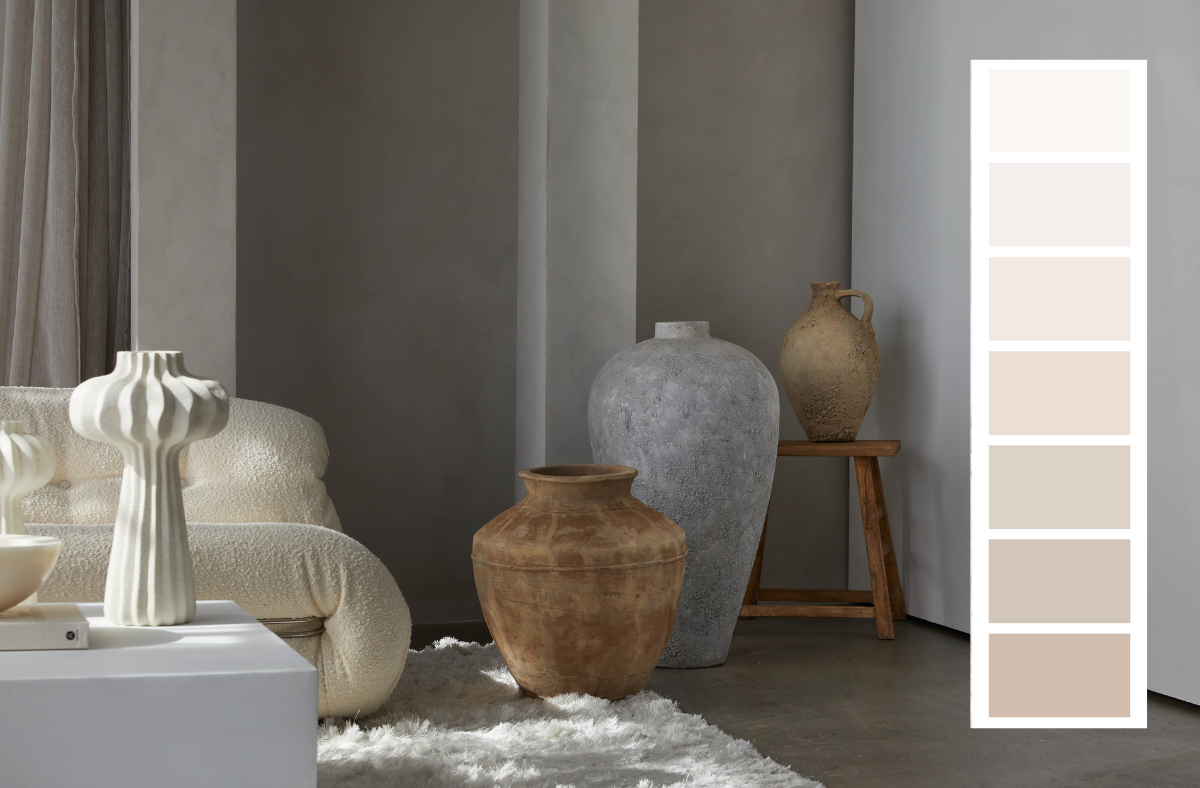 As both Japanese style and Scandinavian styles embrace natural elements, implementing a neutral palette and earthy tones is a fundamental feature seen in this interior design trend. Muted tones in brown, beige, green and terracotta, and even muted pastels, are often palettes that are attributed to Japandi design. Mixing light wood and dark wood are beneficial to adding warmth and dimension to your home, or style with ivory colored furniture to bring light into the room.
Japandi is quite minimal and airy, so common bases of light neutral colors, such as white and creme, are found not only as statement wall colors, but as major themes for decor elements. Light decor elements are used to create openness and vibrancy into a room and is essentially desired for the warm glow that is produced when natural light is ideally reflected off of the light colors, producing a feeling of ease and rejuvination.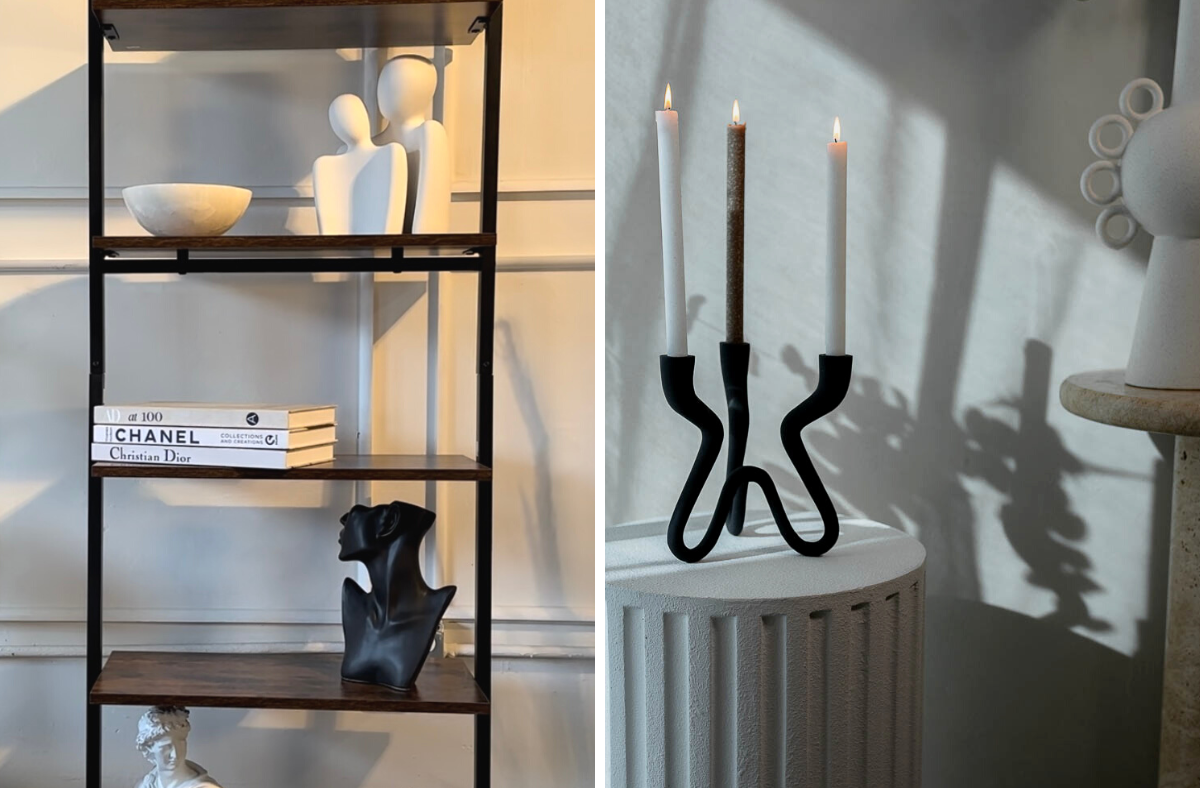 If you prefer to add a pop of bold colors or some contrast within your decor, use this in intentional and subtle amounts to sustain a fresh living space that doesn't stray from the function of Japandi design. Contrasting colors, especially black, are found in compact interior elements, like vases or bowls, avoiding the over-the-top look that can happen with adding dark colors to neutral foundations. Using pieces that juxtapose one another, adds dimension between your elements, that will elude the room from visually appearing flat.
Welcome Organic Shapes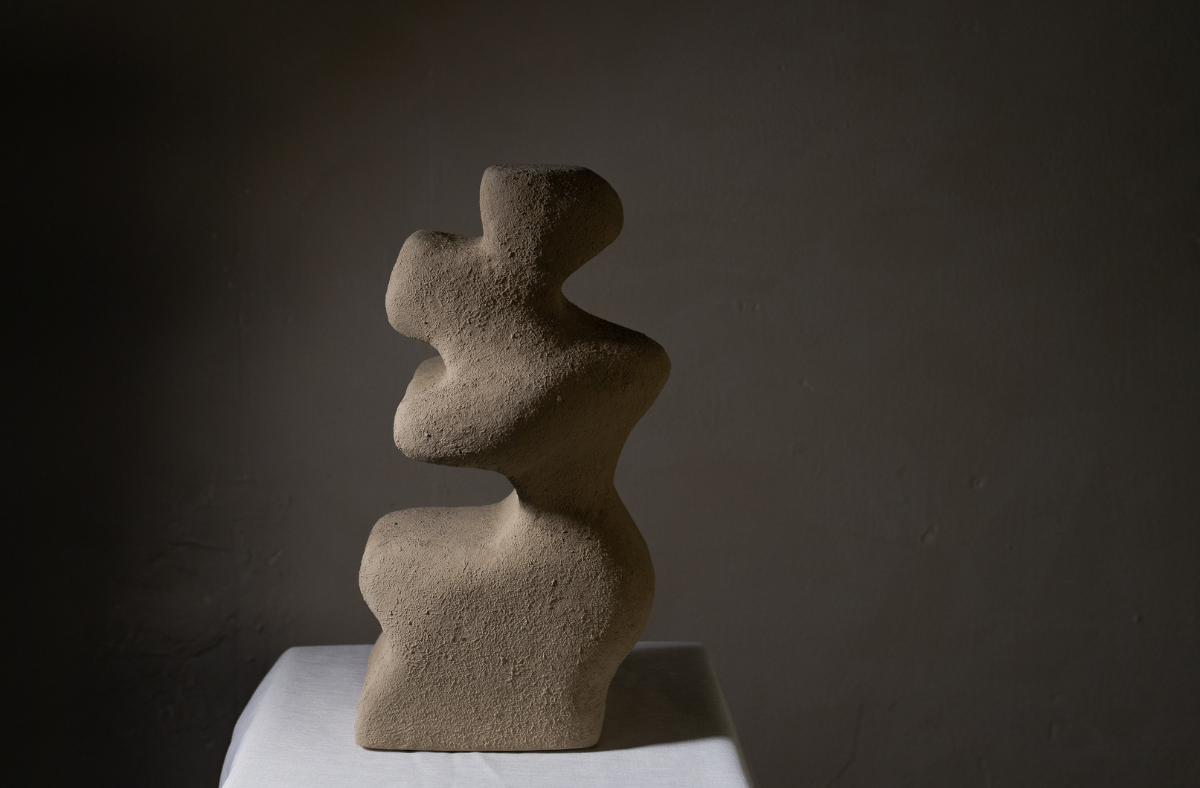 Scandi design commonly embraces organic shapes and curved furniture, as these are common silhouettes seen within nature, bringing delicacy into the space. Artwork featuring curved and abstract lines, sculptures and vases with asymmetrical designs, and sofas and coffee tables with soft edges and curvaceous forms, all add an organic feeling that promote harmony and balance.
While this styling element is counteracting of the common traits of clean lines and symmetry often seen in Japandi design, when curved decor and straight lines are placed together, a elegant combination is formed that creates focal balance and a dynamic space.
Minimalism Is Essential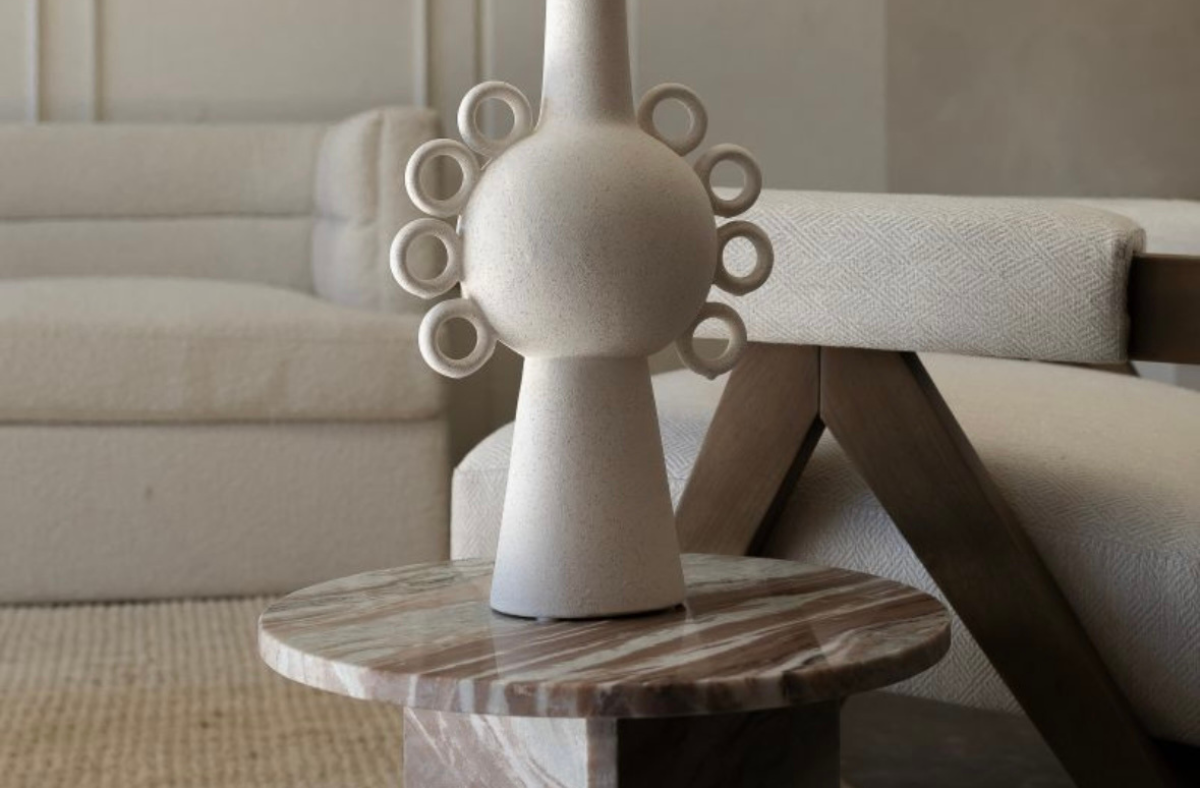 Japandi design focuses on bringing peace into the home so maintaining minimalism is exceptionally important for inciting calmness and tranquility within your space. To create a minimalist home, decrease the amount of elements used within your design, such as decor and furniture. Using minimal furniture or low furniture pieces, as well as multi-functional pieces, creates openness and focuses on the durability and essentiality of the objects that are being utilized.
Decluttering your home and avoiding bulky pieces are necessary for a minimalist home. Rid of the pieces that are no longer serving your needs or fulfilling their purpose, and keep the pieces that are needed to maintain your everyday routines and lifestyle. An open space will not only appear less visually overwhelming, but will generate this feeling within you, that is carried into your everyday life.
Finding Your Japandi Style At Bellari Home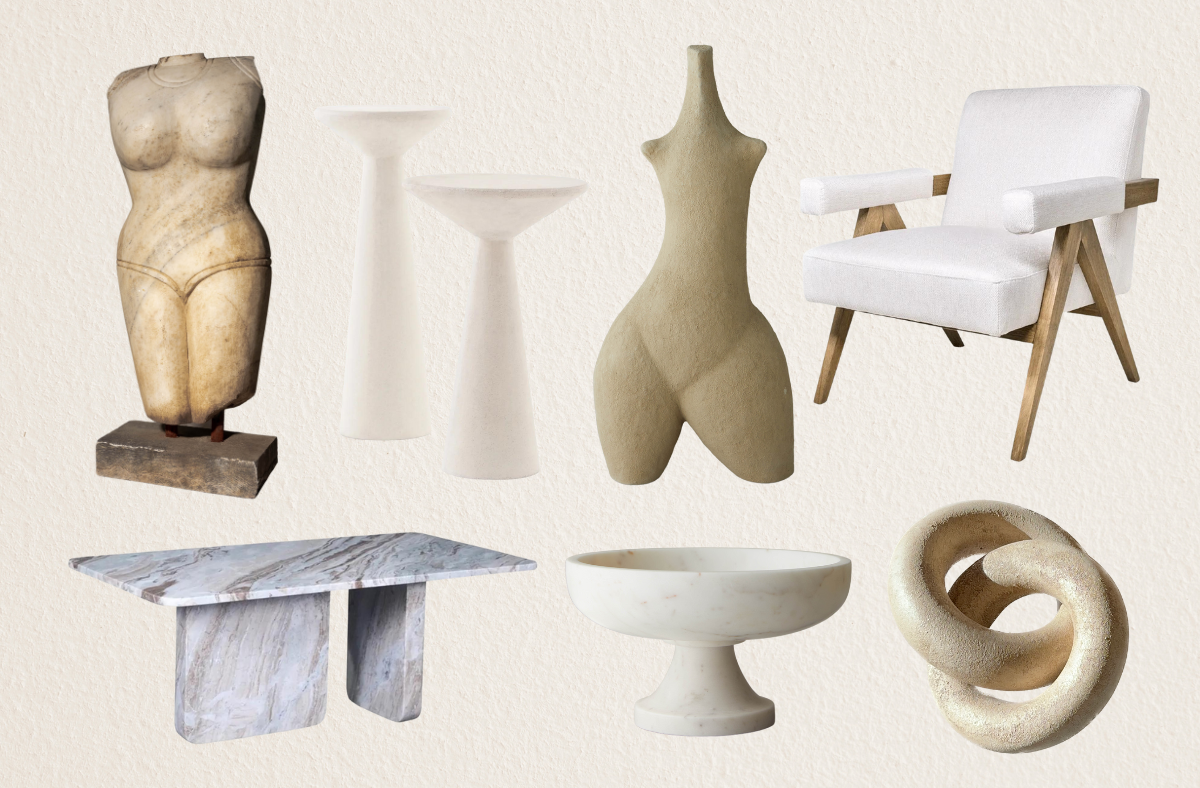 Now that we've touched upon Japandi interior design, if you're feeling inspired to transform your space into a Japandi oasis, we'd love to offer insight on which pieces would be the best to include. Although all of our decor items can be implemented into a Japandi home, there are a few that should be highlighted when structuring your Japandi style journey.
For the japandi beginner
Gradually shifting your home to Japandi style? If you are concerned on where to begin, start by styling accent elements into your space. We recommend viewing the Elevated Collection, for stunning natural stone decor and the Sandstone Collection for organic shapes and earthy textures.
For the japandi expert
So your home is already Japandi from top to bottom, and you're looking to spruce up your existing pieces? Our stunning furniture is functional, as well as beautiful and timeless, perfect for any Japandi setting, such as our Livella Marble Coffee Table, Livella Marble Side Table, Amare Accent Chair and Sicily Concrete Accent Table.
If you're looking for that perfect accent piece, shop our selection of high-quality, functional and rustically charming decor staples, ideal for taking your home to that next level.
Japandi style is an ideal way to create a home that represents minimalism, comfort, as well as elegance and aesthetic. With this interior design trend, you are creating a space that beautifully mixes both Japanese and Scandinavian design, highlighting the outstanding qualities of each that provide balance to your home. With a neutral color palette, highly functional accessories, and timeless pieces made from natural materials, a Japandi style home is beneficial for those that desire to have a space feeling as peaceful and refreshing as it appears.
Finding your interior style can be difficult, we hope that with this insight, you are encouraged to create a home that not only allows you to live as your best self, but one that inspires you to. While Japandi is increasingly known for the beautiful aesthetic that is elegantly showcased and the philosophy of comfort, function and minimalism, using this style within your home will benefit you in a surplus of ways, including your mental health, as it is calming and stress-relieving. Japandi is more than just interior design, it is a way of living.