Ah, can you feel the love in the air?
In just a few brief weeks, Valentine's Day will have arrived, meaning now is the time to start preparing for that special day with your favorite person. While we may show our endless love for our friends, families and significant others throughout the entirety of our lives, outpouring our love on this particular day is essential in reminding them how much they truly matter. From traditional gifts of roses and cards to luxury and elegant pieces that are long-lasting and versatile, finding a gift that says 'I Love You' is all apart of the fun.
Whether you intend on celebrating with a loved one, or treating yourself to an exciting self-care gift, the list of gifts is ongoing and there are truly no right or wrong ideas to choose from.
At Bellari Home, we source pieces that are versatile and can be utilized everyday, so you can experience luxury and a space you love, any time you desire to. Furthermore, we like to emphasize the ability to share and create memories with your loved ones through our extensive range of pieces, because what better gift is there than creating unforgettable moments with the people you love.
If you plan on gifting a unique and timeless gift that expresses your love in a one-of-a-kind way, why not take a closer look at our elegant selection of romantic pieces that serve as the perfect valentine's day gifts.
See below for a few gift ideas to express your love this Valentine's Day!
Say 'I Love You' With Candles & Candle Holders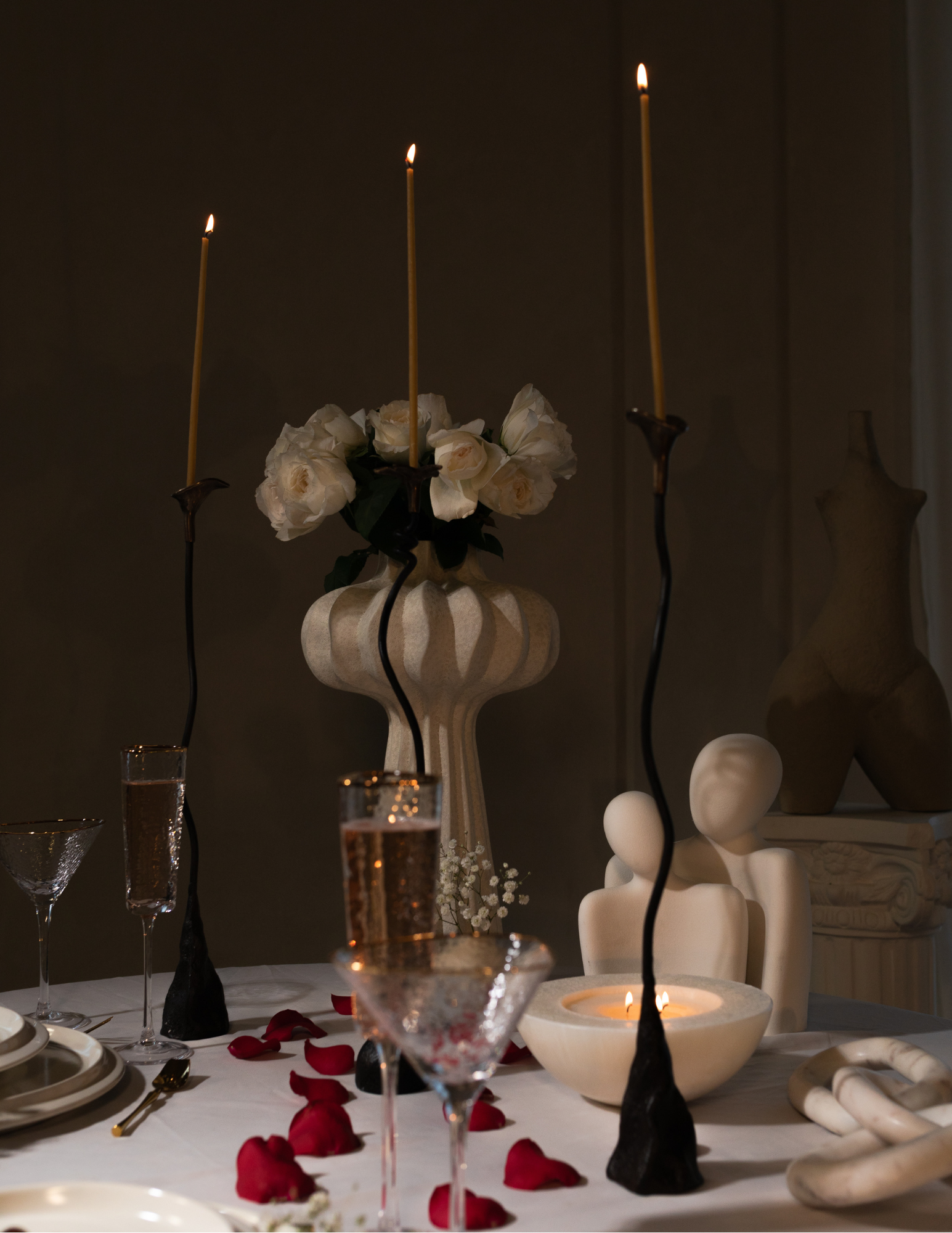 If you're opting for an intimate night in or an elegant dinner date night, the best way to spice things up is with candles and candle holders. Adding in a refreshing scent, with a moody ambiance will make for an exceptionally romantic evening and is a versatile gift even more so. Planning a surprise dinner, whether it be a first date, last minute gift, or another loving evening with your significant other, is an optimal choice as an irreplaceable present, as it allows for a memorable shared experience with someone you deeply care for. A priceless present as one may say!
If you're planning to share a romantic evening with your partner, or even with a friend, amplify your space with a few of our charming candle holders. Our Louvre Taper Candle Holders and Ebony Candelabra Collection, both add shape and variety to anywhere they are placed, as well as a touch of glowing iridescence once topped with a sleek and simple taper candle. With a visible allure and whimsical frame, these pieces will be a great pair to implement to any table scape, and nearly work with every style due to their structure and color palette. Once they have been used to enhance your table, they can be placed into your home as everyday decor. Both candles can be accompanied with a pair of our taper candles in accordance with their size.
A luxury candle, like our Crystal Candle, is a great gift for just about anyone! With a gentle scent consisting of an idyllic blend of white tea, a neutral color palette that can be styled in any home, and an effortless silhouette that adds the ideal amount of dimension, this candle will fill the room with pure enchantment. Since this candle is so luxurious and can function in any setting, anyone who receives this gift will instantly fall in love.
Find our selection of candles and candleholders to be the best Valentine's day gift or as a self-care treat.
Show Your Love With Our Most Romantic Pieces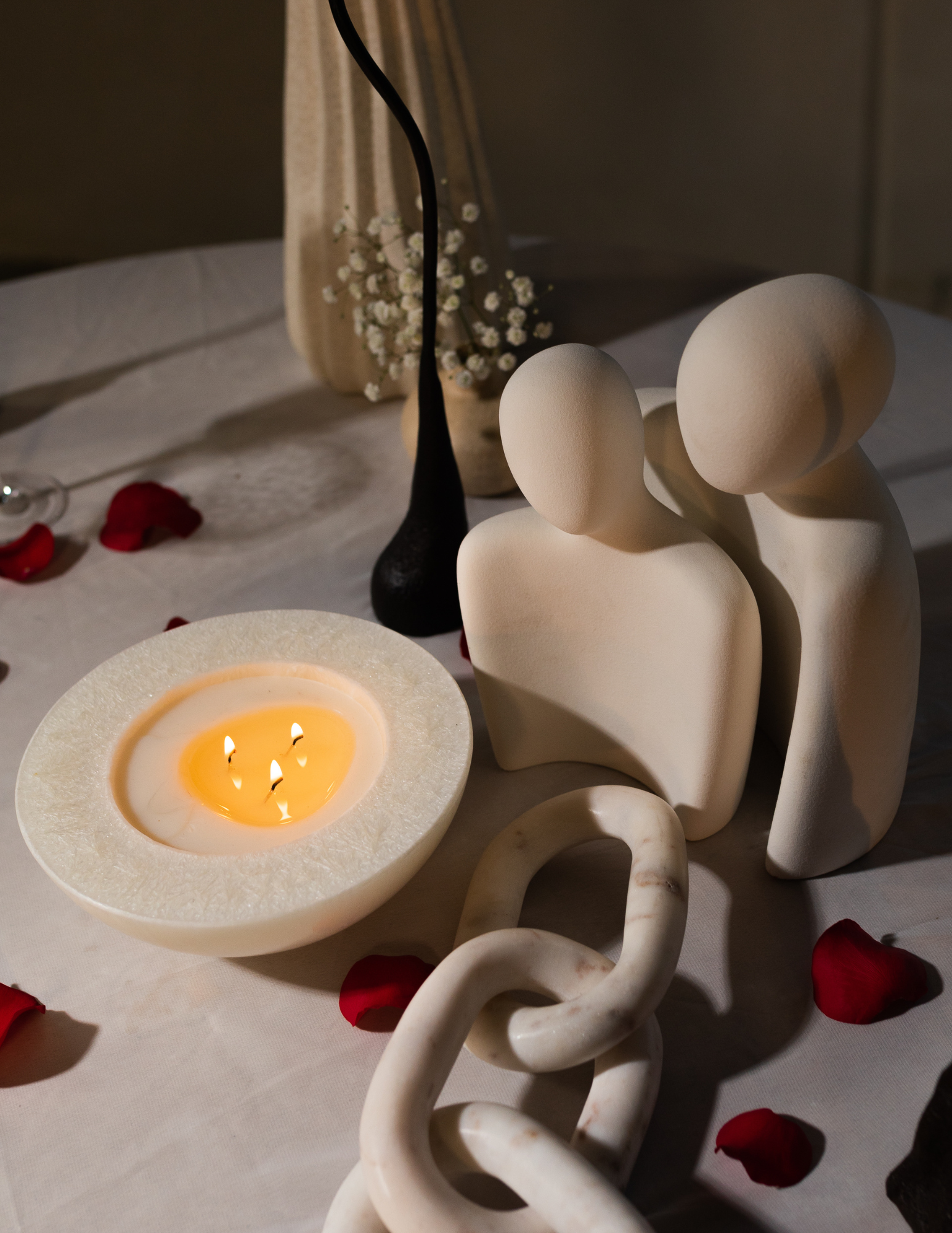 The perfect gift is one that is well thought out, from the heart and creates unforgettable memories. With our substantial line of captivating pieces that are durable, timeless, and one-of-a-kind, you'll absolutely find many romantic Valentine's Day gifts for your partner, friend or family member.
A true love story is embodied with our Coppia Sculpture. With a soft, romantic structure that eloquently showcases love and admiration, this sculpture is an extraordinary piece that outlines passion and romance in every aspect. Coppia meaning couple in Italian, is the perfect word to represent the chemistry between the two pieces, as they gently embrace one another. The Coppia Sculpture is a thoughtful gift that conveys a sweet message of pure adoration. Truly a unique gift to share with your special someone as a representation of your love.
The Testa Sculpture represents strength, confidence and beauty, all within its form. A romantic, yet sophisticated piece that is reminiscent of the passion and intimacy encapsulated in love. Gifting the Testa Sculpture to the person you admire will inspire a message of the curiosity and mystery, as well as lust and desire, all brought together by pure love.
Have a Toast To Love!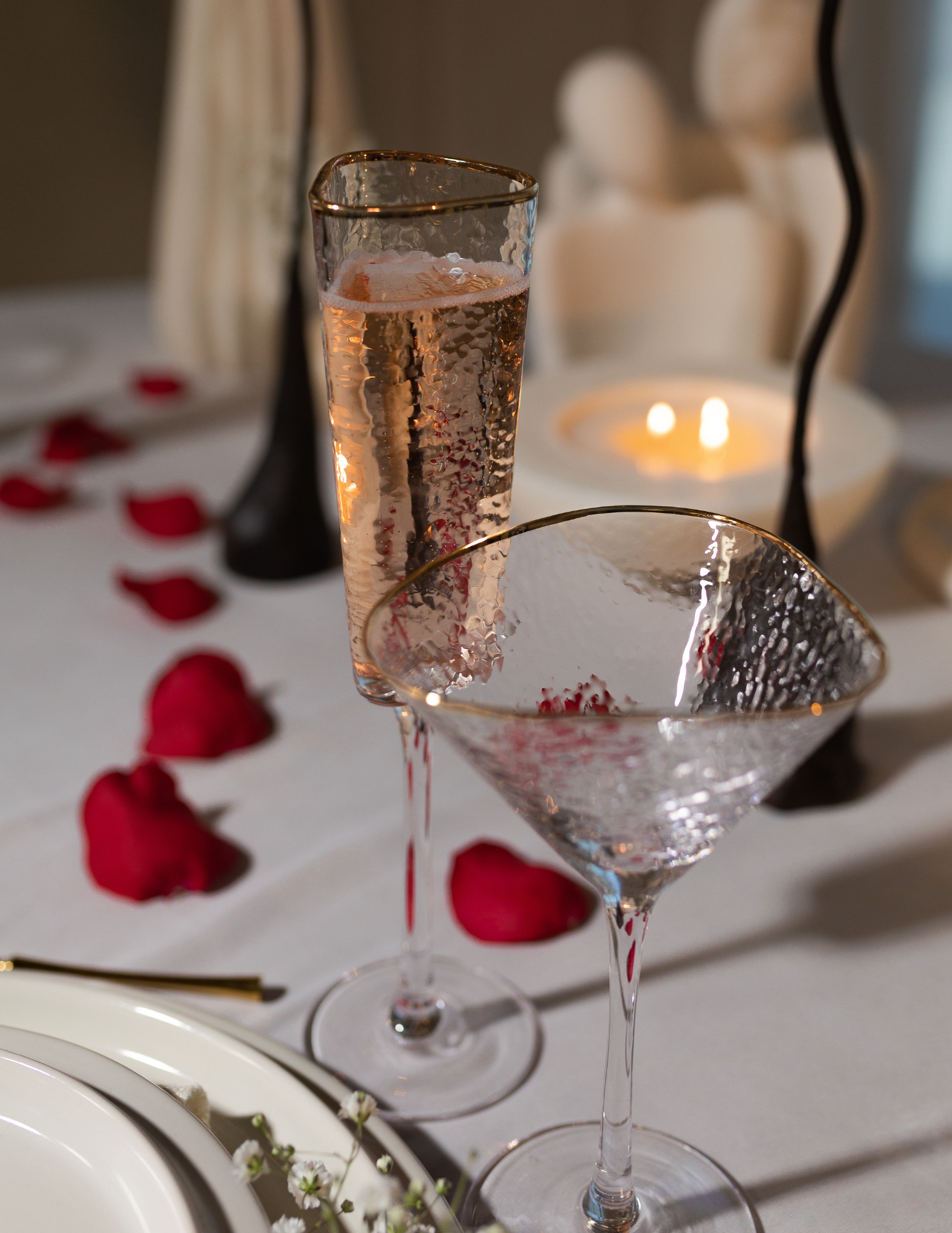 Raise a glass to love with an eloquent pair of glassware. As we know, Valentine's Day takes place during the crisp months of Winter, so staying in to celebrate is going to be a most favorable date idea. Spending quality time with your loved one calls for a cozy and romantic night, especially in the cold weather, so the best gift of all would be a mellow cocktail, or mocktail, evening inside. Create a decadent charcuterie board, or snag a snack you both love to pair with a delicious drink. Try a recipe you've been meaning to make, or one that is your absolute favorite, and fill up a beautiful pair of glass drinkware.
The Roma Collection, consisting of Flute and Martini glasses, are ideal for serving an elegantly prepared beverage, and can opt for a unique wine glass. With textured glass that sparkles at every turn and a 24K gold rim that gently glows when the light hits, enjoying a drink and a deliciously prepared refreshment with the person you love is one of the most romantic gifts a person could ask for. This will not only make for a relaxing and memorable date night, but can additionally be kept as a present to use to entertain guests, decorate a bar cart or as a treat for a night in.
Flowers Are A Must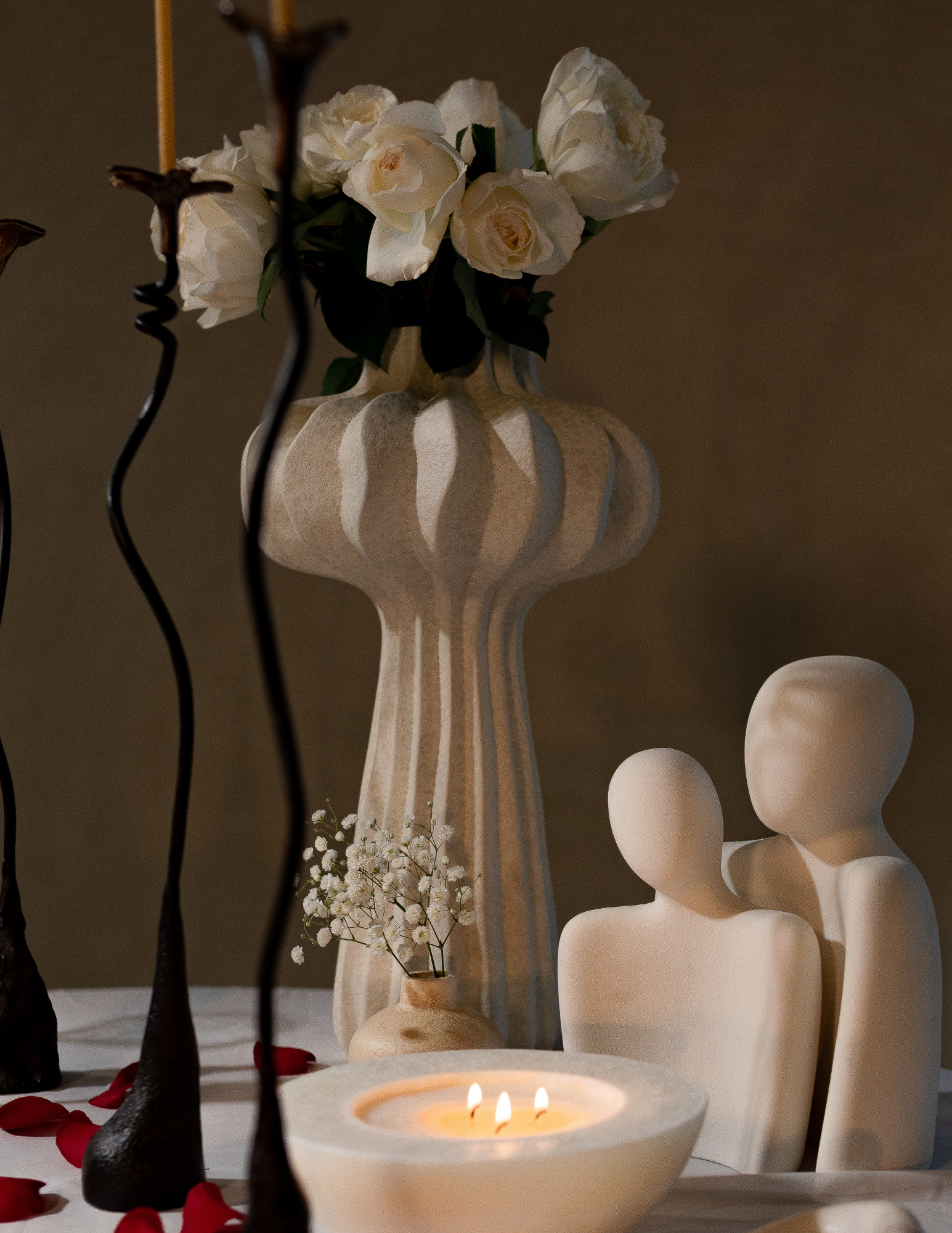 A traditional, yet lovely way to represent your adoration is by gifting a curated bouquet of flowers. Find the best arrangement at your local floral shop and place them within a vase that has a graceful silhouette. Not only will your date, friend, or family member love the thoughtful gesture of a floral arrangement, but will additionally have an elegant, long-lasting piece to keep in their home. Pair your bouquet with a love note, some dark chocolate, or a candle to establish an overall affectionate present.
Vases such as the Valentina Vase, Il Giro Stacking Vase and the Loretta Vase are breathtakingly graceful when embosoming a bouquet of flowers. With effortlessly, eye-catching beauty that will fill any room with a light and airy atmosphere, these vases paired with a fresh floral arrangement are the epitome of romance that can serve as personalized gifts, when paired with a cute card.
While these are just a few suggestions of vases that will showcase your love in an admirable way, see our larger collection of vases to choose from.
Looking For More Gift Ideas?

Finding the best valentine's day gifts can seem like a difficult task, however keep in mind that no gifts go unnoticed and as long as you take a meaningful approach towards designating a gift you believe will properly showcase your feelings, you are on the right track. A great idea is to think of what items the person you are gifting will enjoy the most, whether that be a gift that can be used for everyday wear, a sentimental present, or something they've always had their eye on. This option can also be an ideal way for long distance couples to show their gratitude if they are not able to accompany each other in person.
Gifts that can be used for everyday purposes, such as our Organic Stone Marble Tray which can elegantly hold a perfume collection, or our Marble Footed Bowl which can be used for serving purposes or as a style moment, serve as the best gifts as they can be used beyond a Valentine's Day gift. However, as previously mentioned, gifts that can create a memorable moment are the best gifts of all.
Find more of our extravagant pieces on our website, to find more gifts you are bound to love.
We hope this Valentine's Day gift guide helped you achieve ways to shower your special someone with admiration and warmth. Remember, in addition to presenting a physical gift to your loved one, the most thoughtful gift of all can be the best moments and memories you share with one another. With our beautiful products, we hope to offer you a shared experience surrounded by the people you love, not only as Valentine's day gifts, but as a present that will last throughout your life. The best gift is one that is from the heart, so the perfect valentine's day gift can be achieved in a variety of different ways.