The hues we implement within our home play a foundational role in crafting an atmosphere and shaping the way our emotions are affected. When designing your space, it is essential to reflect upon how every element holds it's own significance and translates a specific story. More often than not, designing a home with light, airy colors tends to create a space that feels open, fresh and serene, producing a welcoming and relaxing feeling.
Yet, beneath the emotional influence these soft, bright color palettes hold upon us, the timeless versatility and enduring allure of neutral colors offers a base that will function well in any home, creating the perfect canvas to your design plans.
Although often associated with expressions like overly monotonous or characterless, neutral colors, when designed with balance, thoughtfulness, and variety, can be sophisticated and charming. If you are one that finds yourself inspired by the solace and comfort of neutral spaces, we offer you this guide on how to efficiently decorate your home with a neutral color scheme. 
The Benefits To Decorating With Neutral Colors
The incorporation of a neutral color palette within the home is often thought to create a lackluster, dull space, however, when styled with intent, neutrals hold the ability to create a feeling and appearance that is far from this. The possibilities with neutral colors are endless, offering an abundance of visual, emotional and practical capabilities.
The charm of neutrality is found within the capacity to be soft to the eye and gentle on the soul, as it fosters an environment full of peace and vitality. It appears uncluttered, less overwhelming and promotes a sense of relaxation and tends to reduce stress, as it opens up the room. Regardless of whether you are decorating a large area or small space, light neutrals, such as white or cream, will expand the overall look and depth.
Further, neutrals colors, such as warm cream, muted beige, soothing taupes or soft brown, are versatile in nature, as they work well within various home decor styles. Their timeless appeal allows for effortless blending with diverse design elements, a valuable asset for those seeking decor longevity or contemplating periodic style changes.
Finally, neutrals are known to be practical and easy to manage. When it comes to everyday life, neutrals can easily conceal any flaws or minor scuffs that would naturally stand out on bolder or darker colors, ideal for households with pets or children.
Implement Various Neutral Shades & Tones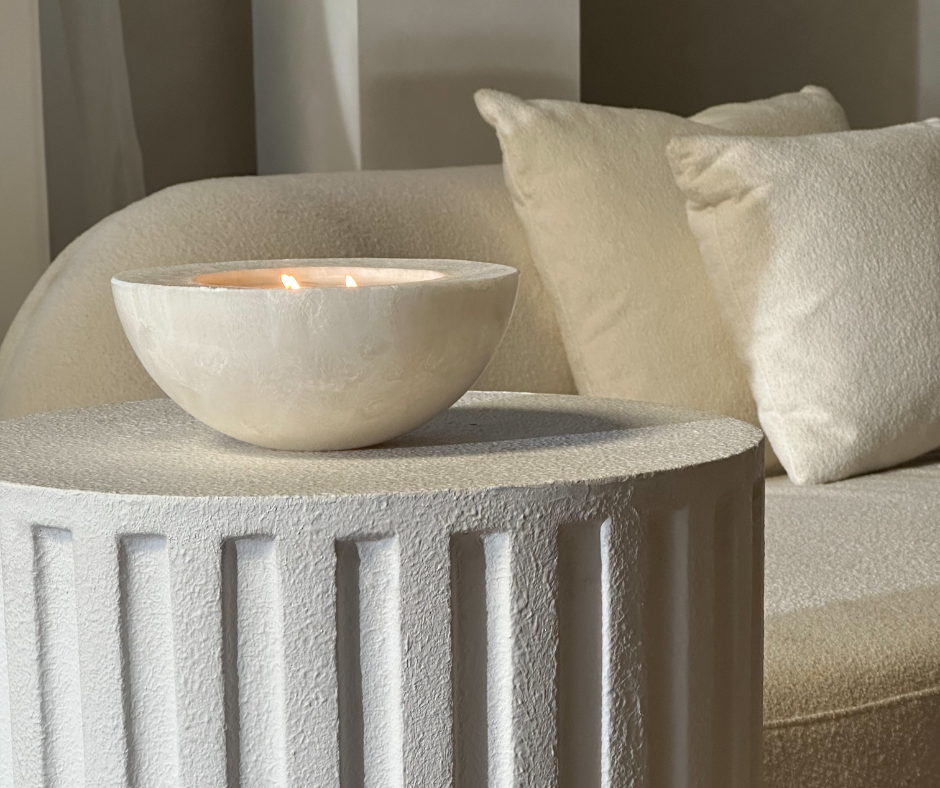 Featured above is the Column Fluted Accent Table and Petite Crystal Candle. 
In order to successfully style a neutral home, you will need to implement an assortment of neutral hues. Rather than styling the same color repetitiously, bring in different shades within the same color range to emphasize the neutral tones in a way that creates interest rather than a flat, dreary look. Examples can be to pair an off white shade with a warmer beige shade, to create a subtle variation.
In the midst of styling a monochromatic home, layering is exceptionally crucial, especially when it comes to mixing shades. Create a balance between warm and cool neutrals to create a harmonious aura. The subtle differences in hues will not only implement diversity to your neutral aesthetic, but can offer adaptability when altering your interior design plans or if you are consistently swapping accent colors.
Style With Natural or Earthy Materials
Texture is a fundamental element within interior decorating, taking a space to a multidimensional, elevated level. Whether adorning a neutral home or a vibrant, colorful abode, texture commands attention, as it is pivotal for a comforting, homey look.
In particular, a neutral home is incomplete without the presence of such tactile characteristics, and will appear lifeless if overlooked.
To bring both life and interest to your space, style with earthy or natural materials for warmth and allure. Wood tones, ceramic pieces, and natural stones are all suitable for this look. The organic beauty of natural tones found in materials like travertine, marble or terracotta will create a sense of inherent authenticity within the balance of your neutral color palette.
Use Greenery For Subtle Pops Of Color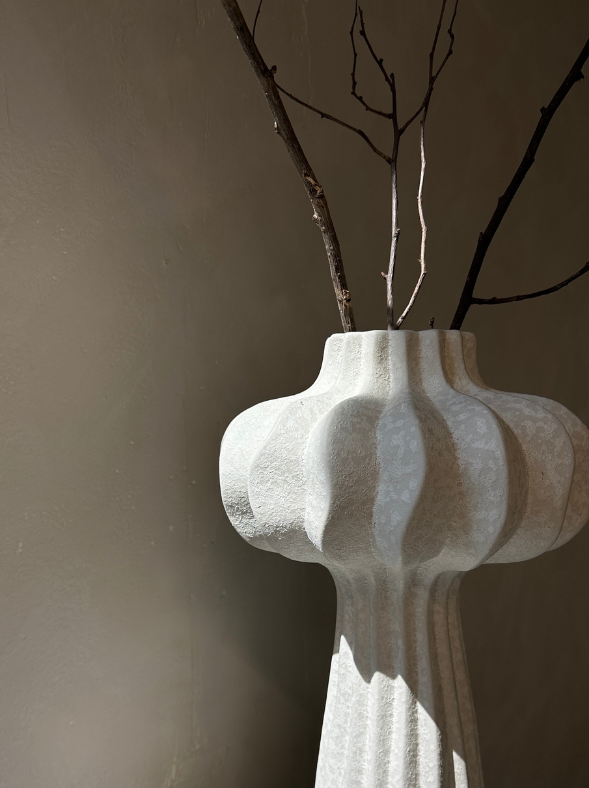 Within the walls of a neutral home, color can be fused in meaningful ways to defer from taking away from the appeal of neutrality. Adorning your neutral scheme with a touch of foliage offers an innate focal point within any room. Whether styling with leafy plants, rustic branches or vibrant seasonal florals, greenery invites a refreshing burst of natural color, that doesn't deviate from the feel of a neutral home, rather it promotes it.
When bringing these natural elements into your space, you are instilling a sense of tranquility and a beam of life, all that comes with nature. Further, you can feature a moment of personality and creative expression, as you are offered an opportunity to invite in your personal style.
Featured above is the Loretta Vase.
A Touch of Black With Accessories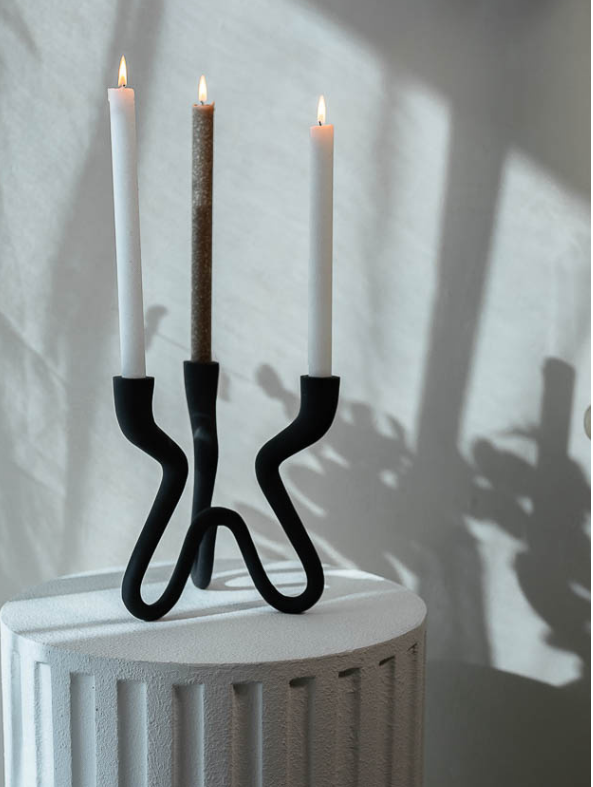 To create interest and a striking juxtaposition within your neutral rooms, consider utilizing darker shades for variance.
Black is often a suitable accent color that is gravitated towards, as it works well within a neutral space, providing contrast and a sense of drama to the look of a neutral room. When styled together, neutral colors and black establish a harmonious blend, as neither tend to overpower the other and ultimately work together to form a look that is vibrant and powerful, without the need to use vivid, colorful accessories.
These design elements can be implemented through architectural details, like staircase railing, accent accessories, like candle holders or vases, or in large amounts such as a coffee tables, lighting fixtures or rugs, all in which will command attention to the room.
Featured is the Ebony Elevated Candelabra and Column Fluted Side Table. 
Style With Interesting Silhouettes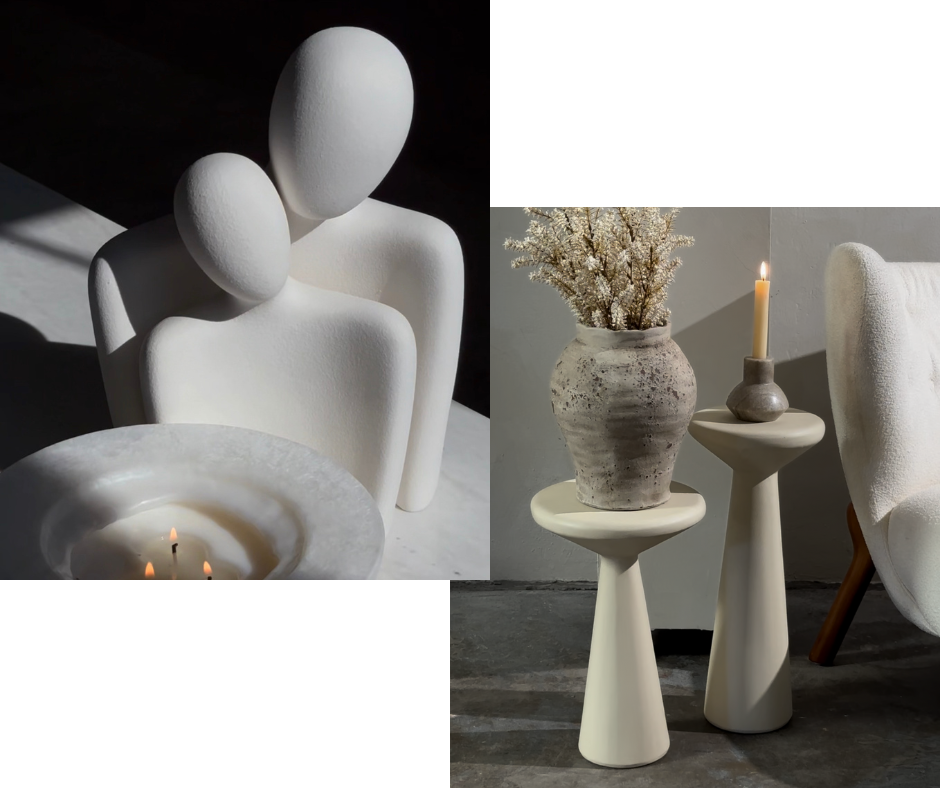 Featured above is the Coppia Sculpture, Petite Crystal Candle, Sicily Concrete Accent Table and Terra Vessel. 
Add depth to your space by styling with various shapes and silhouettes. Instead of opting for decor marked by sharp lines and defined angles, consider styling with pieces, particularly neutral furniture, that boast organic forms to incite visual interest.
Curved silhouettes allow for a play on shadows, inviting dimension and complexity to your space, altogether preventing it from feeling monotonous or uninspired. When styling with a restrained color palette, utilizing various shapes and forms can create distinct focal points, guiding the eye to particular elements within the room. The interplay of organic shapes will elevate the overall visual experience of your home, adding depth, character and personality, while maintaining the soft, chic value of a neutral room.
Layer Various Textures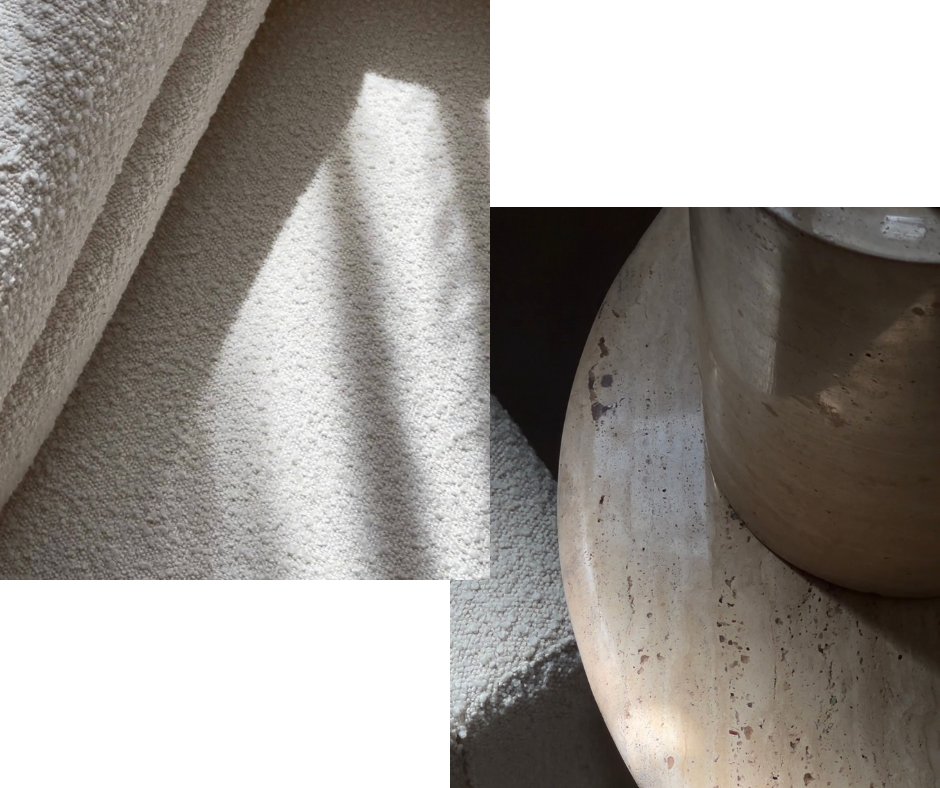 Featured above is the Bellari Sofa and Lucia Ottoman. 
An impactful way to decorate with neutral decor while creating depth and visual interest is to layer a variety of different textures. Mixing neutral palettes with textural elements, such as wood, travertine, linen, wool or boucle, will assure that you maintain the timelessness and overall appeal of a neutral palette, while also creating focal appeal.
The interplay of different textures, whether it's the softness of boucle or the roughness of natural wood, adds visual intrigue and balance to the serene neutrality of the space. Further, textures have the remarkable ability to enhance the functionality and comfort of a space, making it more welcoming and appealing to both the eye and the touch.
Keep Lighting In Mind
Lighting is a detriment part to the function of a room. When natural lighting casts a soft glow upon your walls, curtains, and furniture, the appearance of the colors and textures present tend to transform in perception.
When designing your neutral home, keep in mind the impact lighting has on setting the tone and illuminating the room. Natural light specifically tends to evolve the way a neutral shade will appear, creating a vibrancy that can be more captivating and warmer toned than artificial lighting, which usually casts a cooler hue.
Depending on the look you are aiming for, choose a color palette that is either a warm or cool neutral, as both can create differentiating affects. In some cases, mixing both warm undertones and cool hues can create a balanced feel to a neutral room, as light will reflect each differently.
Style Your Neutral Home Effortlessly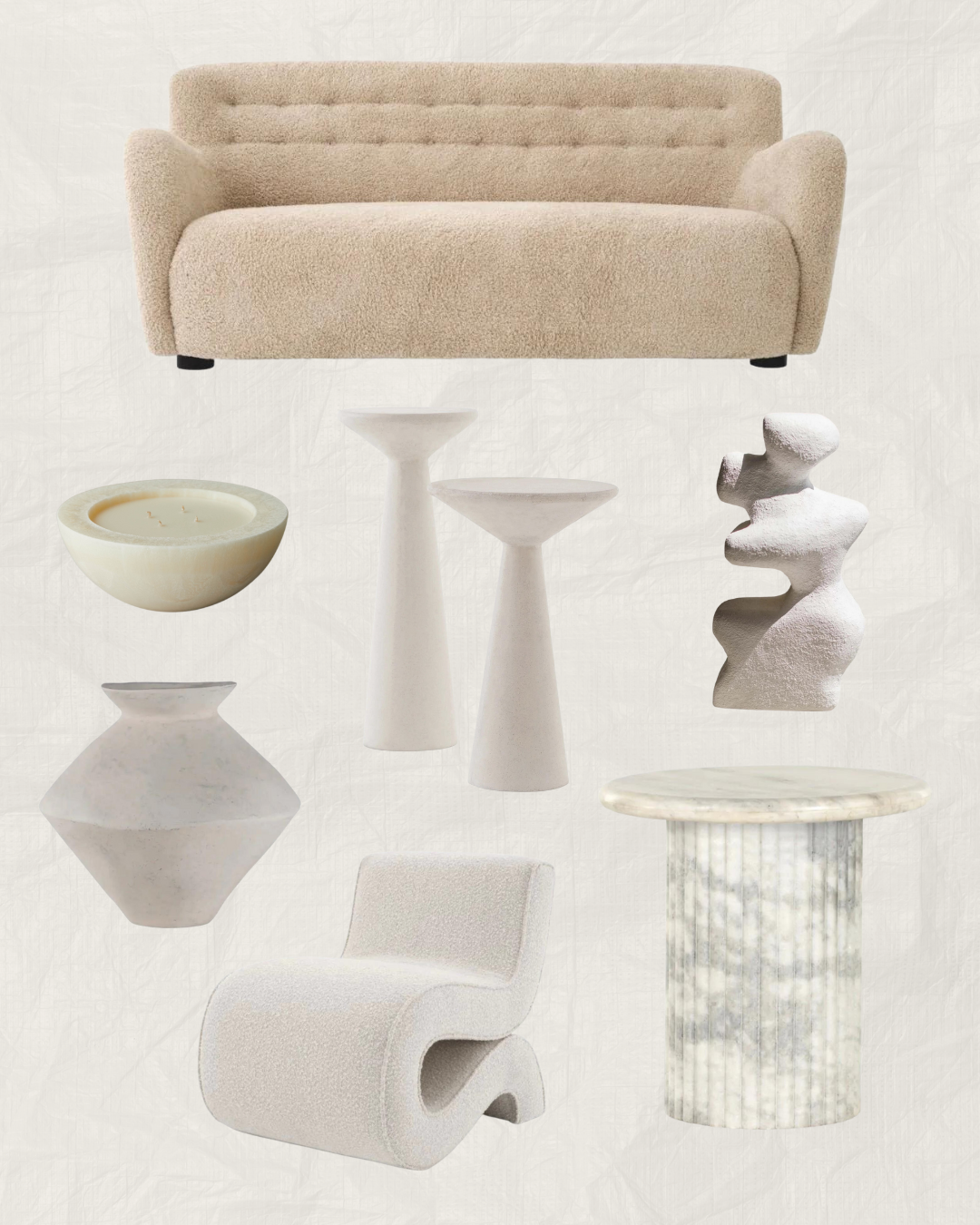 Featured above is Berlin Teddy Sofa, Crystal Candle, Sicily Concrete Accent Table, Sorento Sculpture, Medium Thora Vessel, Bellini Boucle Accent Chair, and Waverly Marble End Table.
Looking for more neutral inspiration? Check out our collections to choose from a surplus of on-trend, neutral decor!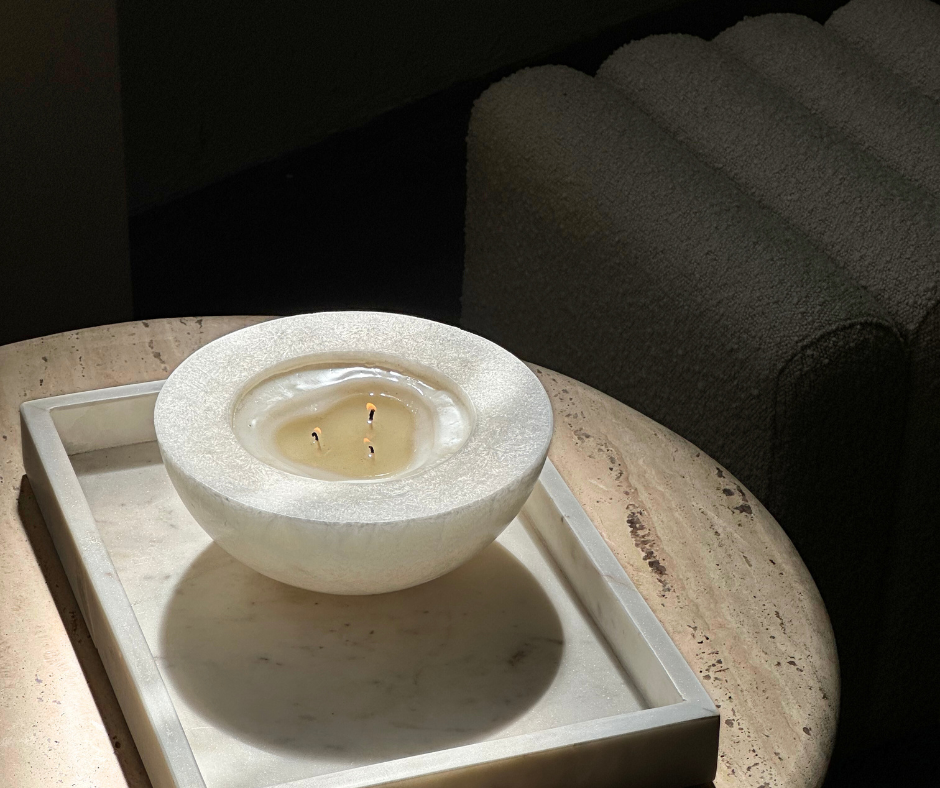 Featured above is the Crystal Candle, Lucia Ottoman, and Organic Stone Marble Tray. 
The art of styling the ideal neutral home lies in the ability to implement various styling elements with thought, care and balance. In the effort of achieving a space that transcends sophistication, serenity and clarity, it is imperative to be inspired by the forms in which neutrals can exist, such as texture, hues and shapes.
While styling a neutral home may be thought of as vapid or lifeless, creating visual interest and charm to a monotonous color palette calls for attention to detail, as well as a balance between each piece present.
The harmonious blend between the vast hues found in the depths of neutrality, in combination with the enriching textures within natural elements and textiles alike, creates dimension to an otherwise neutral space.
Further, the adaptability and versatility of a neutral home allows for timelessness when it comes to designing your home, and an ease to the mind when deciphering which pieces to include to your collection.
With our guide to styling your neutral space, we hope your inspiration will lead you to decorating with neutrals in a way that speaks to your character and allows your love of all things neutral to transpire in exceptional ways.